WJTA Forges Ahead in 2021
By Peter Wright / Published February 2021

2020 has proven to be an eventful year at WJTA despite the cancellation of the annual tradeshow, and the association is looking forward to a return to relative normalcy in 2021, with the opportunity to work on a number of continuing efforts. 
Safety and Workforce Development
     The association has finalized revisions to the Industry Best Practices for the Use of High Pressure Waterjetting Equipment, which was made available January 2021 in a new, full-color format with improved layout and imagery. The revised manual is accompanied by an update to the pocket-sized handbook version, which contains the same content in an easy-to-access format.
     Despite the COVID-19 pandemic and its limitations on in-person gatherings, WJTA's training and certification program was successfully launched in May 2020 and has expanded with several train-the-trainer courses held in Houston and more planned for 2021. The program includes a computer-based training module (Foundational Training) and an in-person, instructor-led module (Field Verification). These courses provide instruction on best practices for high pressure waterjetting jobs as well as hands-on instruction across manual shotgunning, line moling, and flex lancing operations. Updates have also been released to the training materials and the computer-based training program to reflect the revised best practices manual.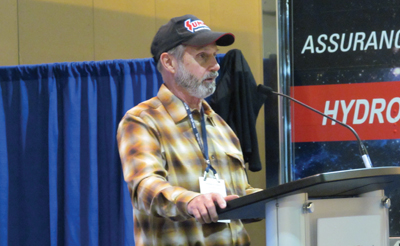 The three-hour, computer-based hydroblaster Foundational Training module is currently available through safety councils across the country, with additional delivery options for locations without an independent safety council or testing center in close proximity. Rollout of the hands-on Field Verification training module will continue through 2021 as additional trainers become accredited to deliver the course.
     Committee work is currently in progress to develop a similar training and certification program for vacuum truck operators based on the WJTA Recommended Practices for the Use of Industrial Vacuum Equipment as well as a hydroblasting module covering automated/robotic equipment. Several contractors and asset owners have requested certification offerings for both hydroblasting automation and industrial vacuum operators.
Membership Update
     With the cancellation of the 2020 Expo, WJTA launched a series of free, live webinars beginning in July. The webinars have been well received and have covered topics including turnarounds, field leadership, confined space safety, and vacuum truck grounding and bonding.
     The webinars will continue in 2021, with a schedule to be announced on the WJTA website, www.wjta.org, and social media. Recordings are archived on the website for association members to access on demand.
     In addition to the webinars, WJTA members enjoy access to many resources, including a subscription to the Jet News, industry updates, discounts, member-to-member networking, and much more.
     Members are also encouraged to submit nominations for the WJTA Board of Directors through March 31, 2021, and participate in the year's board election. The newly elected directors will take office in fall 2021.
Conference & Expo
     WJTA is continuing to prepare for the 2021 WJTA Conference & Expo, which will be held October 26–28 in New Orleans. It is expected that the event will proceed in person, and necessary precautions will be taken to ensure the safety of participants. 
     Abstract submissions are being accepted, and accepted papers will be presented at the conference and published in the proceedings. A full educational program will be announced. 
     WJTA 2020 was expected to build on the 2019 Conference & Expo's increased attendance and positive momentum, and WJTA members are anticipating a successful return in 2021 with the opportunity for attendees to reconnect in person.