Whisper Wash: An American Manufacturer with a Worldwide Teach
By Adia Walker / Published May 2014

In the vibrant city of St. Peters-burg, FL, a company by the name of Whisper Wash is making a big impact on the pressure washing industry across the world. Specializing in professional rotary spray systems, the company manufactures a complete line of flat surface cleaners that are used on a daily basis by a multitude of end users spanning five continents. "Our overall mission is to strive to provide high-quality cleaning equipment built in the U.S. and backed by excellent customer service," says Brad French, President of Whisper Wash.
Supporting French in his mission are the company's nine employees who work out of the 20,000 square foot facility in Florida's "Sunshine City." Another group with a vital role in fulfilling the company's mission is the large network of domestic and international distributors who help Whisper Wash move their equipment to a wide variety of customers who have come to depend upon the quality and service offered through Whisper Wash machines.
"Our distributors are really important to us," says French. "We try to foster these relationships as best we can." The longevity of the company's business affiliations—some currently exceed a decade—is evidence that the work put into maintaining these connections is well worth it. "Our goal is to give our distributors a great product and stand behind it," continues French. "This helps us retain them." With a full year warranty on all their machines, Whisper Wash enables their distributors to feel confident when selling the product to industrial pressure cleaning users throughout the world.
"We count our distributors as part of our family," French explains. "We're nothing if we don't have them." The Whisper Wash family is a far- reaching entity, with strongholds in Australia, South Africa, Puerto Rico, Canada, Ireland, and South America, in addition to the great network they've built within the United States.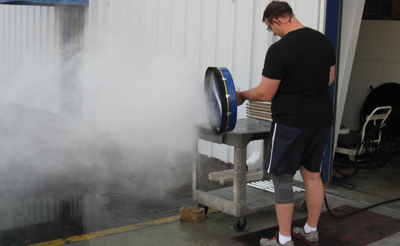 This global entity started out like most great success stories: as a vision in the mind of someone who was able to turn ideas into action. This "someone" was a man by the name of Barry Logan, who was a businessman in the abrasives industry out of Clearwater, FL. In 1995, after seeing how some pressure washing machines worked, he decided he could manufacture "a better mousetrap" as the saying goes. Working with friend and engineer, Michael Logan (no relation), he produced the original design for the swivel, which is the main heart of the machines manufactured by Whisper Wash. "They got a patent and it took off from there," says French.
"When we started in '95, we were in a really small workshop building one machine at a time," recalls French. The 4000 square foot shop, though small, did not stifle the group's creativity; they continued to evolve throughout the years, developing new machines to offer an expanding clientele. "We went from making one machine to manufacturing seven different machines," says French.
The company's most popular pressure washer is the Whisper Wash Classic, which is the original flat surface cleaner to utilize the company's signature Professional Rotary Spray System. Another product line known as The Big Guy comes in a close second. Aptly named, this machine is known for covering a wide surface area to clean with efficiency. When French and his team are not coming up with new product lines, they are working on enhancing the parts in their existing machines. "We are always trying to make our current products better, provide new options, and come up with new products all the time," explains French.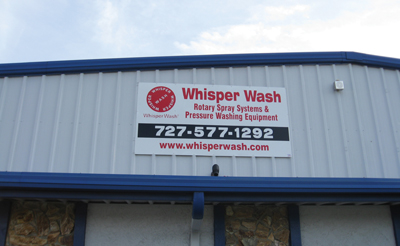 "Three years ago, we came up with a third-generation swivel," he continues. "This is the best one yet; it is much more re-buildable and can be rebuilt in the field within a very short timeframe. We even have a YouTube video that can walk you through the steps." French explains how pressure washers used to carry two swivels in their truck in case one wore out while they were cleaning. The new design encases all the swivel's inner workings in a cartridge, which can be easily removed from the machine and quickly reconstructed. This results in a more efficient process for the end user of Whisper Wash machines.
"Our products are widely used by commercial cleaning contractors who are out cleaning places you will probably go somewhere this week," says French. "They use them to clean pretty much everything from amusement parks to shopping centers; I even saw one on the TV show, Undercover Boss."
"The machines are often run 10–12 hours a day, seven days a week," notes French. He also points out that, despite their hard use, they last for a very long time. In fact, an old version of The Big Guy pressure washer graced the cover of the March 2014 edition of Cleaner Times | IWA.
Though the machines manufactured by Whisper Wash are certainly distinctive in their own right, French believes the most unique thing about his company is the atmosphere created by those who work there. "It feels like a big family," explains French. "On the first Friday of every month, we all eat lunch together in the break room. We get together during holidays, and everyone knows everyone else's family." This environment has helped to create longevity in the workforce; in fact, the first two original employees of Whisper Wash still work there.
While French and his team are careful to spend time ensuring a comfortable atmosphere within the company, they also make an effort to give back to the pressure washing community. "We try to do this in a number of ways," explains French. "Sometimes we will donate machines for training demonstrations or give them to charity auctions held at some of our trade shows."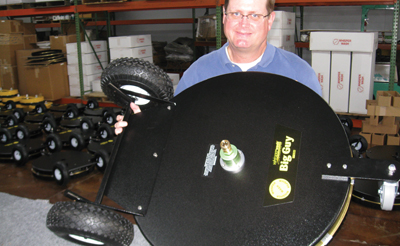 "We also try to make things easier for people by creating videos that can help walk them through things they don't know how to do," French continues. These videos can be posted online and can be brought up on tablets or smartphones in the field. "We always try to provide as much information as possible to people who are new to the industry, or to people who are having a hard time with equipment, even if it's not ours." By serving the industry in these ways, Whisper Wash is building a reputation for having a wealth of knowledge that can literally be at the end user's fingertips.
Besides the company's individual contributions to the pressure washing industry, they also support several of the industry's associations. "We are members of CETA (Cleaning Equipment Trade Association), PWNA (Pressure Washers of North America), and ARA (American Rental Association)," says French. "Maintaining membership in these associations is important because they give back so much, not just to us as manufacturers, but to our distributors and end users as well. They offer a lot of training, certification courses, and educational seminars. There is just so much knowledge you can gain by taking part in these groups and getting their newsletters. They really help to make the whole industry a better industry."
Through his various association memberships and contributions, it is obvious that French is invested in the pressure washing industry. However, this was not his first profession. "I was born in Park Ridge, IL, but I lived in Clearwater pretty much my whole life," says French. He went to Clear-water High and graduated from Clemson University with a marketing degree. "My first job was in the automobile industry as a buyer for CarMax in Atlanta," he recalls. Wanting to move back to Florida, French joined forces with his father, and the two of them opened a car business back in Clearwater.
It was through this forum that he met Logan. "Barry was really into cars too," says French of his company's former owner and founder. "In 2006, when he decided he wanted to do something else, he gave me the opportunity to buy the company. Since that time, I've been learning a lot, taking on new things, and really having a great time doing it."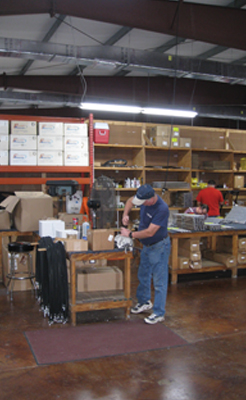 French's first business, AutoXTC, is still operating out of Clearwater. "It's really small now," he says. "We mostly sell accessories for corvettes." Though his automobile business may be small, his love for cars is not; "I'm still a car nut," he admits. "I love playing with cars." He is also a huge sports fan and follows his alma mater, Clemson, as well as all the local Tampa teams. "My dad and I have had season tickets for the Bucs every year since we moved here in 1979," French says. He is also a big Manchester United fan and enjoys playing golf.
One of his personal philosophies that carries over into his professional life deals with giving others a chance to show you their skills. "I believe in always trying to give people an opportunity to impress you," he says. "Tell them what needs to be done, see how they go about it, and let them get it done. It works most of the time; sometimes it doesn't, but then you both get to learn something from the shortcoming."
This is a philosophy French gets to practice both in his personal life, and as the President of Whisper Wash. "In my role with the company, I am a jack-of-all-trades," he says. "I oversee the whole operation, do forecasting, monitor supply line issues, work hand in hand with research and development to make new products, and also work on marketing. I do a little bit of everything."
According to French, the most interesting aspect of his job is meeting new people within the industry. "I really like the people I get to deal with," he says. They are from all different walks of life. On a daily basis, I talk to a CEO or a guy that works in the field at night. Some people have been in the pressure washing industry for more than 20 years. There is so much you can learn from these people; it's exciting to me."

As French continues to learn about the industry, his company continues to grow and expand while looking toward the future. "I don't foresee any major changes in the future as far as what we are trying to provide," French says. "I do think we will be offering new products and expanding the products we offer. We want to continue to build our products here in America, because that's important to us. Reclaiming water is going to be an area that we address soon. In fact, we're working on that now, but it takes some time trying to get it just right. We are picky when it comes to developing a product."
By taking the necessary time to develop the highest quality of products, Whisper Wash is yet again doing its best to give back to the industry to which it belongs.