What Lurks beneath a Dumpster…Dumpster Pad Cleaning with a Dual Lance
By Maddie Albright / Published November 2022

Dumpsters lurk everywhere: hiding behind fenced-in enclosures; sitting in plain sight in parking lots, loading bays, public garages, and commercial parking lots; tucked inside sports arenas; and waiting just outside restaurant back doors. Every single one of them is used and abused. Some are shiny new blues and greens; others are rusted after years of harsh treatment from dump trucks and weather. Every day they're filled up with trash…all kinds of trash—oozing liquids, rotting foods, chemicals, fluids, and who knows what else. All of that can seep out and onto the concrete pads below.
     So, considering all of that, keeping a dumpster pad clean is important, and using a dual lance is key.
     Veloci Performance Products in Burnsville, MN, has helped the cleaning industry keep the state clean for 20 years by supplying parts and accessories that power up pressure washers and other equipment needed to clean concrete, industrial equipment, and more—and yes, dumpster pads, too.
     "Buildup, grime, and smells just happen when there's a dumpster," says Mike Grindle, longtime sales director and one of the lead product experts at Veloci. "Regular and effective cleaning of not only the dumpsters themselves, but also the pads beneath them, can keep the dumpsters from becoming a smelly eyesore." Plus, he says, there's a safety component to all this in the same way as well as the need to meet cleanliness standards.
Down and Dirty Details on Dumpster Pads
     Made of concrete with wire mesh or rebar underlay, dumpster pads usually extend 10 to 15 feet beyond the dumpster itself. These dumpster pads must hold an extraordinary amount of weight; not only are the dumpsters heavy when filled with various types of content, but heavy trash trucks must back up to them in order to empty them. Repeated raising and lowering of the dumpsters adds to the weight the concrete pad must withstand, especially when lowering means dropping the dumpster back to the ground.
Best Equipment For Cleaning Dumpster Pads
     Veloci Performance Products is the exclusive North American distributor of Italy's MTM Hydro, the leader in design and production of components and accessories for high-pressure cleaners. With its attention to detail, innovative design, and strict quality controls on the finished products, MTM Hydro sets a high standard for compliance with safety rules. Grindle and his team are proud to pass that quality on to their customers.
     "Our customers work hard to clean the dirtiest jobs," he says. "We want to make sure they have the best equipment in their hands, and with MTM Hydro, we know they do. MTM's dual lance is an exceptional product and perfect for cleaning dumpster pads."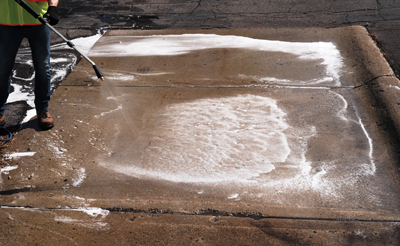 He goes on to explain that they reworked their dual lance valve about two years ago, and ever since it has been a favorite product of his. The DLE series offers a single-turn valve to open and close it, making chemical application and high-pressure cleaning faster than ever. "When I am cleaning a dumpster or the pad, I don't want to be doing it any longer than I have to, so the DLE is always my first choice."
    MTM Hydro's equipment is ideal for hot water pressure washing dumpster pads and reminds readers that you must have a hot water machine. "When possible, choose hot water when cleaning grease, as it assists with rapid breakdown of the adhesion properties, especially with the correct chemical use. He says to couple that with superior cleaning tools like the SG easy pull guns or RotoJet turbo nozzles, and you have a scenario where cleaning time is cut down to a fraction so that you can get onto the next job.
     Something else Grindle mentions is that using a non-marking hose is important when cleaning dumpster pads. "If you are going to spend the time cleaning light-colored cement, then don't waste the effort by cleaning off scuffs from blue or black hose after you have finished the grease removal. KobraJet grey has a silicon jacket that will not leave marks, so the pad is left in excellent condition for your customers." 
     Here, Grindle shares his equipment list to get the best results when cleaning a dumpster pad.
Dual lance: MTM Hydro DLE28 dual lance contains an internal valve that allows you to change from chemical injection to spray nozzle by simply twisting the handle.
0-, 15-, 25-, and 40-degree nozzles: Each degree size varies in fan spread and stream strength. Have all four standard sizes at the ready in every type of cleaning application.
SG spray gun: The SG35 offers high durability with upgraded easy-pull handling and shock-proof reinforced plastic ribbing throughout.
Chem injector for dual lance: Developed for downstream chemical injection, Veloci's chemical injector can be used with lances or foam cannon and in this case works seamlessly with the dual lance. Swap between chemical application and power washing by turning the handle on your dual lance.
KobraJet blue hose: It features a thick inner wall to prevent gashes and ruptures and is great for any pressure washing application.
SS QCs: KobraJet's smooth blue non-marking hose with preinstalled stainless-steel fittings keeps the ground around you clear of hose markings.
Bucket for solution: because you just have to have a great bucket!
     All of the above listed products are available for purchase on www.vppdealers.com.
     Head over to Veloci's YouTube page to see Mike Grindle clean a dumpster pad.