What It Means To Give Back
By Beth Borrego / Published February 2016

On December 7, Roger Gothorp and his small crew were working on their last log home restoration job of the season. About half way through the scope of work, Roger's ladder went out from under him. This is the story of Roger and Celeste Gothorp, owners of Carolina ProWash out of Graham, NC and what Celeste has described as "their Christmas Miracle." It's a story of industry solidarity, fellowship, hope, and giving back.
The job site, located in Stafford, VA, was about four hours from their home. DeWayne Adams and his Uncle Mike Cook witnessed the accident and immediately tended to Roger, making sure he was seen at a hospital and finishing the work they were in the midst of completing. Both DeWayne and Mike described the incident as almost being in slow motion, with the ladder going down, then Roger going down on top of it, bouncing upwards with the ladder, and then back down again. During the landing after the bounce, his right wrist became caught underneath, the hard fiberglass ladder shattering it under his weight. Mike and DeWayne visited Roger at the hospital and made sure he had what he needed.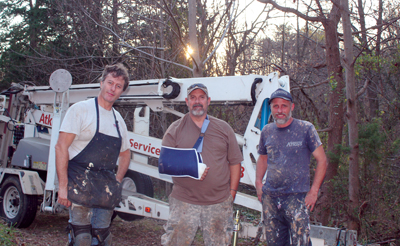 Aside from the injury and the incredible feat of trying to complete a job with a shattered wrist, there was the matter of the Gothorps not having health insurance. Like many small business owners, they could not afford it, and again, like many small business owners they exempt themselves from workman's compensation. There was no safety net.
Back in Graham, Roger's wife, Celeste, was beside herself with worry and slightly panicked. "When he first called me, I wanted to be sick. I was worried that he had other injuries, and I needed to be there" said Celeste. To her rescue, former employee Kody Fowler drove them both four hours to Virginia from North Carolina. Kody was happy to return to work to help Roger complete the job, and then drive Roger's truck back, towing his trailer home.
The wrist was not one that you could set and just let heal. Celeste and Roger met with the orthopedic surgeon on December 10, and learned then that he was facing a six month rehabilitation and recovery from the injury, cutting into next year's busy season. The surgeon referred them to his mentor in Hickory, NC, and while it was still two hours from home, they were very comfortable with the level of skill the surgeon possessed. The surgeon in Virginia said that screws, a plate, and an external fixation device would be necessary, emphasizing that the surgery needed to happen quickly, before the bones began to mend.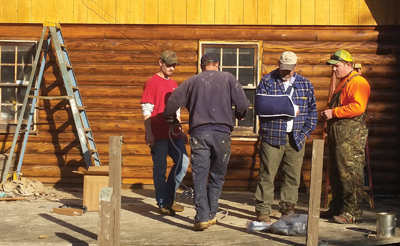 Rod Rodriguez and Beth Borrego, owners of See Dirt Run! Inc. have known Celeste and Roger for many years now. When Celeste reached out to Borrego privately over Facebook, seeking a friendly ear, a shoulder, and a level head to offer advice on how to get through this, Borrego's reaction was simple; it's time to ask for help. Remembering that a photo of Roger's broken wrist had just been posted on Facebook, she used it to create a GoFundMe account for the benefit of helping to pay for Roger's medical bills. Privately, she told Celeste that her goal was to raise both monetary donations and voluntary labor to get the job finished so that Roger could put the job behind him and get the surgery he desperately needed. "Beth took the reins and made things happen. We have not participated in the industry in five years. Between the GoFundMe and the voluntary help, it was a Christmas Miracle. Knowing we had professional help outside of our own company was incredibly comforting and a huge relief. We could never have finished this job without the help, and I can't imagine the outcome without it. It was life altering." Celeste explained. Roger echoed the sentiment and added, "It was a big relief knowing people were coming to help, but it was real hard to step back and let people help. It drove me bonkers."  To date, the GoFundMe account has raised just over $3,800, which is a healthy start and a tremendous help. Surgery and hospital costs are estimated at roughly $10,000.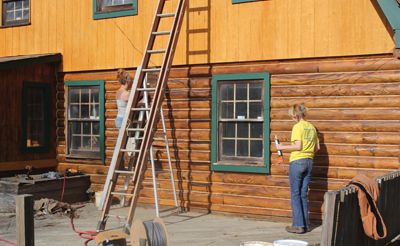 Rodriguez and Borrego set aside their own business and began to plan their part of the project and how they could help. Overall Rodriguez worked on the job for four days, and Borrego spent three days working on site. Between them, they worked on December 9, 11, 12, and 13. Together they considered the scope of work, the products specified for the job, and the length of time they estimated it would take to complete the work, trying hard not to let on that they were deeply concerned. "I understand what it's like to be injured and need help" explained Rodriguez. "I was fortunate that I had the help I needed then to get me through those tough times. We understood the severity of his injury and the fact that it made it impossible for him to complete the job on his own with the help he had. It caused us to act. We decided to help him finish the project so he could get the medical attention he needed."
Rick Atkins, owner of Atkins Deck Treatment Service in Leola, PA, saw Borrego's GoFundMe post and contacted her offering two days of help on December 10 and 11. "Helping a fellow contractor in need is just the right thing to do. He was in dire need" Atkins said. After the first day, Atkins drove home for his daughter's evening holiday recital returning the very next day, with a 60-foot lift to work on the back side of the house, which was three stories high with a tricky slope and was difficult to reach otherwise. "My main concern was getting safe equipment, my lift, so we didn't have another accident" Atkins said. "Having proper equipment, ladders with levelers, being safe, and making safety a primary issue instead of a secondary thought is extremely important. Job location safety has been a major focus for us over the past several years" Atkins added. Atkin's extremely generous gift of the lift eliminated many concerns and cut the completion time considerably. The lift was exactly what the job needed. Rodriguez credits Atkin's lift as lifesaver, saying, "The lift saved us a tremendous amount of time and aggravation due to the landscape that was extremely challenging. Rick's lift saved us a couple of days in job time." The job wouldn't have finished as quickly, had it not been for Atkin's incredibly thoughtful donation of the use of his lift, which he towed down to Stafford, VA, from Leola, PA, in heavy traffic.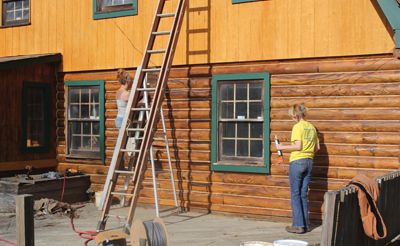 Stress is something that you can visually see; the strained looks on their faces, the panic that seemed to come and go in waves, and the visible difficulty Roger had letting go of his job and handing the reigns to friends who wanted to help. In the end, he had no other choice. Celeste felt that "The panic stopped when See Dirt Run! Inc. and Atkin's Deck Treatment Services, Inc. pulled in to the driveway." As everyone worked, photos were posted with the link to the GoFundMe campaign. The donations continued, and both Roger and Celeste were visibly overwhelmed. Roger admits, "I would have soldiered on myself and not asked for help. I knew I wasn't going to stop after I got out of the hospital, well, until two particular women showed up." Their names were Celeste and Beth. It was common to see tears of joy, as the stress melted away. Roger shares, "It felt amazing. It made me feel really blessed to get the help. It really touched me to see people donate time and money." Each day as we finished, everyone received their thanks and gratitude; it was all anyone really needed, or wanted.
On Sunday as everyone worked, there was a point where Rodriguez and Borrego were confident of finishing, and did their best to set the pace and call out to the other helpers, DeWayne Adams, Rob Carter, and Kody Fowler that this was the final push, so let's get it done and go home. On Monday, December 14, Carolina ProWash loaded the trailer and left for home. The generosity continued, and they received another offer of help from Charlie Soden, owner of Apex DeckSavers out of Cary, NC, to handle a local job they needed to complete on December 18 and 19 just before Roger's scheduled surgery on December 22. Soder expressed, "It's my pleasure to help. I wish I could have sooner."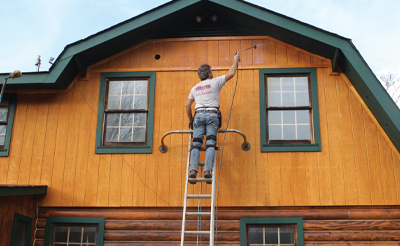 No one ever thinks of an accident as a blessing, but certainly there were many here. The overwhelming generosity of the donations from so many people has been a huge relief to the Gothorp family, who can now focus on Roger's recovery. The weather for December was incredibly warm, much more like October than December. And because it happened toward the end of the year, two seasoned log home restoration companies were able to work on the site voluntarily. Having this happen during a slower time should allow Roger Gothorp to heal for next year. Roger expresses his gratitude to everyone saying, "Never take anything for granted because you never know when something's going to happen. Words don't begin to express the feelings I feel toward those who helped. It means so much to me and my family on the road to my recovery."  Celeste added, "This industry is like no other. Our industry cares." Rodriguez agreed saying, "Everyone did what they could, monetarily or in labor. It all helped." Atkins reflected, "I've noticed over the last four to six years, with those in the industry that we don't look at each other as competition, but with a spirit of camaraderie and being helpful." Every cloud has a silver lining, each obstacle in front of us has an answer, and, in our industry, we're blessed to have so many who rallied to help by donating money, time, and also to help the Gothorps once they come home. Each of us as contractors knows and understands the impact that an injury can have on our business. Thank you to all who have helped.
The Gothorp Family would like to express its deepest gratitude and appreciation by acknowledging those who were able to contribute to the surgical fund regardless of the amount:
Helping Hands
• John & Kathy Tornabene
• Beth Borrego & Rod Rodriguez
• Dwight Rowe
• Hannah Gothorp
• Tim & Sandy Fields
• Jason Wellman
• Mitch Wood
• Perry Tait
• Mike Tricarico
• Dino Tahinos
• Larry Hildreth
• Travis Mandli
• Guy Blackmon
• Carlos Gonzales
• James Twist
• John Orr
• Sean Kilgore
• Larry Hinckley
• Allison Hester
• Greg Rentschler
• Charles Soden
• Michael Tessaro
• Sumy Guzman
• Shane Brasseaux
• Jonathan Ellis
• Adam Poe
• Robert Crowell
• Dave Ott
• Jackie and Brandon Gavett
• James Foley
• John Greene
• Chris Lambrinides
• Michael Hinderliter
• Neil Spencer
• Jason Fisher
• Everett Abrams
• Mike Movila
• Meg and Bo Josetti
• Bunny Shelhamer
• Yvonne Morrison
• Steven Jaycox