Wesley Bloeme Encourages Business Start-ups
By Diane M. Calabrese / Published December 2020

Is this the time to think about starting a business? "Yes," is the short answer from Wesley Bloeme, the owner of WiseGuys Pro-Wash LLC in Atlanta, GA.
     Bloeme, who is 25 years old, began laying the foundation for his company in 2014. He used his freshman dorm room as a base. After working with a friend for a month, he then parted ways amicably (with the friend following a corporate route after college).
     In 2018, Bloeme's company became an LLC and took its current name. He and his father brainstormed over the moniker until Bloeme's dad hit upon the name. It ties together wisdom and friendliness and signals energy, and is fitting, given the energy level of the company's owner.
    "I always knew that I wanted to start a business," says Bloeme. "My dad has several small businesses." Yet Bloeme explains he had "no idea" what kind of business he wanted to grow. Power washing seemed reasonable. 

    Initially, the only tool at hand was a pressure washer from a box store. Bloeme's first lesson was that he had a lot to learn. He set out to do so, while doing a few other things as well.
     Bloeme continued his studies and played on the tennis and football teams at Maryville College in Tennessee, earning a degree in finance/accounting and graduating with honors in 2017. During his college years, he also worked at Home Depot.
    Keeping the many dimensions of his life balanced throughout college years taught Bloeme something important: "Time management." Formal studies taught him essentials about everything from leveraging debt to the intricacies of financial decision-making.
     Where has the path begun in 2014 led? "My company is one of the fastest growing and highest rated (according to Google reviews) exterior cleaning companies in Atlanta," says Bloeme. "We have 13 team members and eight trucks…" Revenue has surpassed seven figures.
     Consequently, yes, Bloeme would tell aspiring entrepreneurs who are considering a power washing business to take the first step. "I think they should do it," he says. "I think they should be investing in themselves—especially in this time."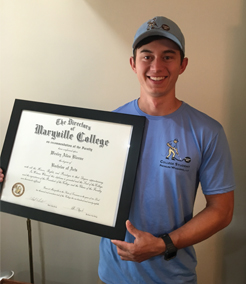 We all know the meaning of "this time" too well. Bloeme acknowledges adaptation is part of any business plan. To be sure, the pandemic has required adjustment.
     "Last year, my company did 40 percent commercial and 60 percent residential," says Bloeme. "This year, it's 20 percent commercial and 80 percent residential."
     Much of the commercial work Bloeme's company did was for homeowner communities. The communities are trying to build reserves, he explains, given that fee and rent collections have dropped during the health crisis in 2020. Pulling back on exterior cleaning is an approach some communities take.
     Peachtree Corners, which lies just northeast of Atlanta, is the site of the consolidated 3,500-sq.-ft. warehouse and 1,500-sq.-ft. office space into which Bloeme's company moved in 2019. The location is just 20 minutes from the (north-central) Buckhead district of Atlanta, a thriving commercial and residential area. Much of the company's work is in Buckhead or within a 10-mile radius of it.
     The roster of services offered by Bloeme's company includes power washing (driveways, sidewalks, curbs, pool decks, etc.), soft washing, roof washing, exterior washing, and window cleaning up to six stories. Window cleaning is offered only in conjunction with another service.
    Xero carbon water-fed poles with Tucker brushes and deionized water are used for window cleaning. Pressure washers are Pressure-Pro GX690 models, each with a Honda engine and an 8 gpm pump from General Pump. Surface cleaners are all WhisperWash Classic models. Bloeme wants uniformity in models of pressure washers because it makes it easier to obtain and stock parts.
     "We ran five crews last peak season," says Bloeme. The days are long at 12 hours. Business ebbs in January and February to about half of its seasonal high.
     Many of Bloeme's employees are college students. Word-of-mouth and Indeed.com are the main sources of applicants. "I have a preference for students, someone in school," says Bloeme. He explains the willingness to earn and learn demonstrates applicants are motivated.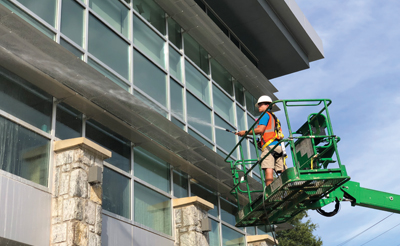 Hiring people new to the industry often makes it easier to train employees, says Bloeme. "I'm all about consistency and quality." He uses a combination of training videos and hands-on training, as well as hands-on testing.
     Bloeme says one of the biggest challenges he had to confront early on is learning how to price jobs. He got a quick immersion when he had the opportunity to quote a price for a 126-townhome community. His quote came in somewhere in the middle, he says, and he got the job.
     The townhome project became "a big turning point" for two reasons, says Bloeme. It added a large, successful commercial project to his company's portfolio. And it gave a big boost to revenue.
     These days Bloeme is usually on-site at jobs only when training new employees. "I'm still very much involved in the day-to-day of the company," he explains, adding time available demands he prioritize his activities.
     Given the rapid growth of his company, Bloeme plans to get some assistance. "I need an operations manager and a sales manager as well."
    Expanding the managerial team may in course allow Bloeme to bid on some larger six-figure jobs. He receives requests for proposals that are intriguing. For now, though, he must weigh the time-consuming nature of developing a response against the odds of winning the bid, he explains.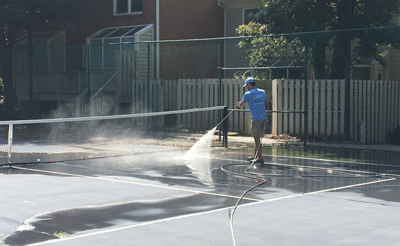 Learning is something that never stops for Bloeme. "I have been going to every PWNA convention for the last four years," he says. "It's the people that you meet there, the relationships…The first convention I attended I met veterans of the industry."
     And the industry veterans could not have been more helpful to a novice, says Bloeme. The conversations and the invitations to visit and shadow in the workplace built his confidence and his expertise.
    "I have had a lot of mentors," says Bloeme. "Josh Latimer was a huge mentor. I'm very lucky to have someone like him in my life." (Latimer offers courses and online advice on how to start a business.)
     Another person who has been a great help to Bloeme is Jonathan Conner at North Georgia Airless in Gainesville, GA. Conner sold Bloeme his first commercial unit, a Mi-T-M machine, and has been a source of solid advice ever since then.
     Bloeme has had a strong role model in his father. Observing the initiative and resilience of his father, who runs more than one business, put him on strong footing.
     There is no perfect time to start a business. Getting started has a great deal to do with an entrepreneur's outlook. "It's having the self-discipline" to get going, says Bloeme.
     "If you believe in yourself," do it, explains Bloeme. Beyond that? "You've got to keep the promises you make to yourself."