Veteran-Owned Businesses
By Diane M. Calabrese / Published October 2017

One out of every twelve U.S. business owners is a military veteran. There are more than 405,000 veteran-owned businesses in the United States, according to the U.S. Census Bureau.
With nearly 19 million military veterans in the United States, every part of the economy benefits from the expertise and perspective of veterans. November 11, 2017, is Veteran's Day, and we will soon be able to participate in annual events that formally thank veterans for their service.
Here, we thank three military veterans and members of our industry who speak to us about their businesses. They are Kevin Palladino, owner of PALS Power Washing LLC in Southington, CT; Kyle O'Hearn, owner of PowerGreen Pressure Washing in Olmsted Falls, OH; and Michael Drummond, owner of Supreme Pressure Wash LLC in Jacksonville, NC.
Cleaner Times [CT]: What Motivated You To Start Your Business?
Palladino: My wife and I married in 1992 and purchased our first home, a white vinyl-sided raised ranch. The house was dirty like others in the neighborhood, so I purchased a small walk-behind cold-water machine… After doing some research, it took about six hours to clean the house. Soon after, my neighbors all asked if I could wash their homes. I was in the military at the time, and when I had the weekend off, I would wash houses for extra money. In 1996, I registered the business as an LLC and received permission from my commanding officer to start a small business, as long as it didn't interfere with my military duties.
O'Hearn: I joined the Marines to make a difference, to be bigger than myself. I found that my role in the military was being limited at the end of my five-year enlistment, and I wanted to continue to grow and follow my ambition. All I knew was that I wanted to start a business that I could grow and shape; and after much research, I settled on a pressure washing business—something I enjoyed doing and something I felt I could make successful. 
Drummond: After serving 11 years in the Marine Corps and completing a deployment to Africa and two deployments to Afghanistan, I wanted to have a career that would allow more time with my family. Using the Montgomery GI Bill, I earned a bachelor's degree in business administration and a master's degree in business administration with a concentration in finance. Owning a pressure washing company allows me to spend time with my family, earn an honest living, and use my education.
CT: Did Your Military Service Help Prepare You For Being A Business owner?
Palladino: Absolutely. To this day I thank those who have helped me succeed. In the military (Army) you had a reporting time, and you are held accountable for your actions. Also, you must be able to present yourself; I learned how to talk to one person or a group of people…Responsibility and accountability—the military taught me how both of these words will have an impact on my military career. I have adapted these principles into my everyday business life… That means being on time, calling if late, writing neat contracts, and having a logo on the company shirts and vehicles.
O'Hearn:  Right at the start of a conversation I usually have my customer's respect, so from that point all I have to do is keep it. I accomplish this by being completely honest with the customer about my pricing and their needs. I also think my time in the Marine Corps has prepared me to adapt to any problem that comes up and always get the job done. Dealing with difficult and sometimes life-threatening situations has prepared me to deal with the day-to-day stress of being a business owner and also taught the much-needed patience that is required. We all know things never happen when we want them to. We need persistence to push through the hard times and ride the roller coaster of emotion that goes with being an entrepreneur. 
Drummond: The time I spent in the Marine Corps has helped prepare me tremendously for owning a business. Mostly, the Marine Corps breeds a 'never quit' and 'I will make it through whatever you throw at me' attitude. That environment and the leaders whom I was fortunate enough to serve under shaped me into a disciplined business owner who never turns away from a challenge.
CT: What is the Most Interesting Job Your Company Has Completed?
Palladino: Washing with hot water. I have been fortunate to get a lot of commercial jobs working for Yale, Apple, Starbucks, and Macy's. We offer gum removal and often work at night taking gum off sidewalks.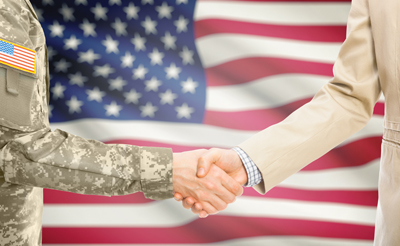 O'Hearn: We got a request to clean a parking garage on a compressed schedule. They called at 9 a.m. on a Thursday and wanted the garage dry by Saturday morning ready to restripe for parking spaces. We took a crew of two with one unit—that was what was available on short notice. After working all day, we went out Thursday night and worked until Friday at 8 a.m. We cleaned more than 50,000 square feet of garage that was covered in broken asphalt, rocks, trash, and oil, hauling out 500 pounds of debris.
Drummond: Each year, we clean houses and gutters for wounded veterans and Gold Star families at no charge. I feel that it is extremely important to give back to those who have given so much for our country, and showing up to pressure wash their house and clean their gutters for free makes me proud of my company.
CT: What Do You Enjoy Most About Being A Business Owner?
Palladino: I love what I do. I don't mind the long hours. I love talking to people and try to get on a subject that they are comfortable talking about, whether it be kids in school, family vacation, or a hot rod in their garage.  Then I'm able to find out what their needs are. I like a challenge—like when someone has been trying for two weeks to remove the rust stain…I will grab a brush and spray a little F9, and it's gone in five minutes. I strive to provide good customer service and take pride in exceeding customers' expectations. 
O'Hearn:  I love the thrill of hunting for my own food and providing for my family. As a society, we have become so accustomed to the corporate lifestyle [earn money at a job, pay the bills, and keep the lifestyle we've been accustomed to]. I now make my own path, and if I fail, it's all on my shoulders, but if I succeed the glory goes to me, my family, and God. No risk, no reward. I hope to one day be in the position to offer people in need a secure job so they can find the thing they love to do. I also love being able to provide an honest, high-quality service to the people of my hometown, Cleveland, Ohio…
Drummond: The best part of owning my own business is the freedom to try new ideas. With no board or management group, I can try any marketing or business strategy I deem best. Additionally, I enjoy being able to employ people—it is a great feeling to watch your employee purchase a new vehicle.
CT: Would You Tell Us A Bit About Your Military Service?
Palladino: I entered into the Army in October 1981 and retired in July 2005. I stayed enlisted to the rank
of Sergeant First Class. My MOS (Military Occupational Specialty) was 92Y Logistics. I started as a Unit Supply Specialist and worked my way up to Battalion Supply Sergeant. Along the way, I attended Basic & Advanced NCO Schools. In 2001, I was deployed to Bosnia as part of SFOR10 at Camp Comanche. While in Bosnia, I received my BSBA in Business Management.
O'Hearn: I joined the Marines and left for boot camp one day after high school graduation. I was a Helicopter Crew Chief. This basically means I am a mechanic both on the ground and in flight, a navigator, a gunner, a loadmaster, and a troubleshooter. I was in the United States Marine Corps from 1998 until 2003, when I got out at the end of my 5-year enlistment and got my degree in multimedia. I am proud of my service, and I carry that over with my company, offering special prices for veterans and wounded warriors. I also only hire vets for my field techs. It makes me proud to display all the services insignias on my uniforms and vehicles. 
Drummond: I joined the Marine Corps in March of 2004 and served as an Operations and Training Chief at HMH-461 on Marine Corps Air Station New River in Jacksonville, NC. During my 11 years of service, I deployed to Djibouti, Africa, in 2006 and then to Afghanistan in 2013 and again in 2014. Additionally, I served as a recruiter in Chicago, IL, from 2008–2011. My favorite times in the Marine Corps were when I was deployed to Afghanistan in 2013 and served as a machine gunner on the CH-53E helicopter, and when I went to provide assistance to those affected by Hurricane Katrina in 2005.