Upselling Is Us-selling
By Diane M. Calabrese / Published April 2019
G
et Up To Speed
Working with a customer to make certain that he or she buys the services or products most suited to his or her requirements…that's upselling.
Think of the "up" as a shorthand for helping the customer get up to speed on why there's an optimal approach or a better option. Upselling is good for the customer and good for the industry.
When customers are satisfied with a service or a product, they form a favorable opinion of their seller and the industry. Thus, upselling is also "us" selling—buyer and seller taking the time to look at the possibilities together before the customer chooses.
Sharing expertise with a customer and making good recommendations are part of upselling. Such efforts do not always result in a sale, but they ensure that customer needs and seller offerings are aligned well when a sale does take place.
"Sometimes a customer wants a service that he or she does not need or that is not suitable for their conditions," says Jeff Price, owner of Sparkling Clean Maintenance in Conway, SC. That's where a discussion begins.
After explaining why there is a mismatch between what the customer wants and what would be suitable, a contractor must sometimes decline the work, explains Price. The contractor wants a good outcome for the customer.
There are also issues of liability. Doing it the customer's way—if not the best way—can result in problems after the fact. There's only one way for a contractor to complete a job, and that is using best practices.
Any seller—contractor, distributor, or manufacturer—takes seriously the obligation to be sure a customer has all the information needed to make a good buying choice. "When working with prospective customers, I feel exposing them to other options, upgrades, detergents, and add-ons is imperative to help them find the right cleaning solution for their cleaning needs," says Dean F. Fernholz, general manager at Hydrus Detergents in Graettinger, IA. "It is more beneficial to provide them with what they need instead of what they 'think' they need."
Fernholz emphasizes the give and take of the discussion with a customer. (In fact, the welcome page at his company's website stresses that products and recommended approaches have been informed by that give and take. It concludes with a note that they have been "developed with you, for you"—a nice encapsulation.)
Helping a customer identify "something that is much more useful and works better for their application" is the priority, explains Fernholz. "The salesperson is the expert and should point out everything that may be valuable to the prospect. The salesperson should have had similar situations with other customers and be able to draw on that experience. It is not what they ask for but what they need.
"Your prospect should want and expect your expertise to guide them," continues Fernholz. "When making a purchase of something unfamiliar to them, they need to rely on the salesperson for teaching them all about the benefits of their product, even if it comes in a bit higher than expected."
The time invested in discussions with prospective customers strengthens bonds. "The interest in doing your homework with the customer is that you gain a long-term customer," says Fernholz, citing the trust that develops.
When a customer values the knowledge of the seller, the customer is more likely to return to that seller. "They become dependent on your knowledge," explains Fernholz. "It minimizes the competition. The customer trusts your expertise, and your competition becomes less important to your customer."
Building bonds with customers may involve several steps. "Ask a lot of questions," says Fernholz. "Find out exactly what the prospect is trying to do. Give reasons for your recommendations and the experience you have had with specific products. If they want to buy something that is not suited to their needs, if possible, offer to clean their product on the spot to make a point."
Qualifiers
When a seller has the best interest of the customer in mind, upselling is all good. It is unfortunate the word upselling sometimes gets tagged with a negative connotation.
Many instances of telemarketers using deception have been documented (and drawn serious scrutiny from the Federal Trade Commission). Similarly, there are reports of rogue call initiators using threatening sales tactics. Such manipulative interactions also happen when sellers and buyers are face to face.
Contractors, distributors, and manufacturers in our industry are committed to honest and helpful exchanges with customers. Fanciful claims for results (i.e., better than new after cleaning) or speed (i.e., soft wash a roof in 30 minutes) or products (i.e., an ounce does the work of a gallon) are never part of the marketing lexicon.
It's a bit disheartening, then, that because of the transgressions from some who operate beyond professional bounds, everyone is monitored. For instance, the Contractors State License Board (CSLB) in California has investigators watching for sellers of unnecessary remedies.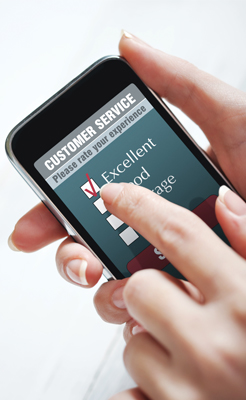 The CSLB is particularly concerned about things such as contractors telling consumers they need a new heating unit when they just have a minor problem that has an easy fix. But the board has a wide scope as it seeks to identify what it labels "hard-sell tactics" and failure of contractors to comply with requirements for right-to-cancel clauses and building permits.
Even a cleaning contractor can fall into the CSLB net. If the contractor is taking on "minor" deck repairs in advance of cleaning a deck, a permit may be required. If the homeowner decides after the fact that the repairs were not wanted—just the cleaning, the contractor must have a clear contractual agreement for protection.
Incidental deck repair can be part of good upselling. But there must be an agreement to do it in place to protect the contractor. (See the "Contractor's View-point" article on page 40 in this issue for more about the CSLB, an entity not unlike those emerging in other states.)
Multidimensional and wholly positive upselling—some use the term cross-selling—should flow easily from a solid marketing strategy, a strategy updated regularly. What is the target market of the contractor, distributor, or manufacturer?
The services or products that complement one another will differ with region. Mold is not going to be the problem on exteriors in Phoenix, AZ, that it is in Biloxi, MS.
Buyers of services and products want sound and reliable advice backed by demonstrable expertise. They also want to have a professional and pleasant interaction with a seller. Making things as easy as possible for a customer is a business practice that sells.
Ease of interaction may not be upselling per se, but it is part of ensuring a good outcome. Make it easy for customers to pay by the method of their choice—check, credit card, cash, and online. Give customers confidence by citing professional credentials and certifications of the seller. Point to the seller's environmentally friendly methods and products.
Different customers want different things. Being able to accommodate the varied preferences of would-be buyers is a good way to move a discussion quickly to approaches or products. That makes it the faster still that seller and buyer can arrive together—via the "us"—at the optimal solution.