Understand Risks and Strive to Minimize Them
By Diane M. Calabrese / Published November 2017

S
afety Essentials
Late summer 2017 focused our minds on safety. Hurricane Harvey and Hurricane Irma affected many of our readers directly. We all have been concerned for family, friends, colleagues, and everyone in the danger zones. Many people will still be engaged in recovery and rebuilding when these words appear.
When we consider the preparation required for safely confronting a natural disaster, we ought to embrace with ease the day-to-day task of maintaining a safe work environment. Unfortunately, a placid day in any season, a good-humored group of coworkers—the many pleasantries of life—may lull us into a false sense of security.
Things can happen. To make it less likely they do, we must first understand the risks and then strive to minimize the risks.
A 56-page Small Business Handbook published by the Occupational Safety and Health Administration (OSHA) is a must-have for business owners. Download it via https://www.osha.gov/Publications/smallbusiness/small-business.html or order copies from OSHA.gov.
The handbook enumerates four basic elements to all safety (and health) programs: management commitment and employee involvement; worksite analysis; hazard prevention and control; and training for employees, supervisors, and managers.
Dean Steger, the safety manager at Mi-T-M Corporation in Peosta, IA, gives us an industry perspective that aligns perfectly with the OSHA guidance. "I can truly say that safety is our number one priority," he says. "Upper management plays an important role in assuring we have the resources needed to provide the safest work environment possible."
Ascertaining that employees know how to do their jobs is a must. "Training is the main ingredient in establishing a safe working environment," says Steger.
How does one keep employees focused on safety? Steger explains that reminding employees of how important safe practices are is one way. Ask employees to think about what their situation would be like—what their family's situation would be—if they suffered a workplace injury and were unable to work.
"It is vital that your safety department have a good rapport with employees," says Steger. "Safety department members need to be visible and available to all departments. We do this by making daily rounds to each department, talking to the employees, and asking them questions about their jobs and if they have any safety concerns that need to be addressed…"
Any contractor working on site must be immersed in the same culture of safety as employees. That's something that must not be inadvertently overlooked.
Contractors must adhere to the same safety rules as employees, says Steger. "Some contractors may need to be trained on some of your safety rules. If you currently do not have a written policy for outside contractors, it would be a good idea to create one."
Assessment and Control
Well-trained employees understand risks and know how to minimize them. Staying focused is the challenge.
All of us must learn to put our personal concerns aside in difficult times in order to concentrate on work. For contractors, it is particularly important to "leave your personal concerns at home," says Randy Wahl, owner of Advantis Pressure Washing in Sarasota, FL.
Compartmentalize concerns so they do not interfere with the job. Coworkers must always be ready to step in if they notice someone working unsafely. A good way to do this in a helpful manner is to have employees on bigger jobs work in teams.
"Work them like a powerline crew," says Wahl, reminding us that when electric linemen work, there is a spotter. "There is always someone watching what is going on."
Contractors in our industry can take a similar approach, says Wahl. "For example, the person pulling or the hose keeper can watch for obstacles the washer cannot see."
Some employers also use the motivation of awards for certain intervals of time without a workplace incident, says Wahl. It's something to consider.
Again, aligning with the four-part strategy in the OSHA handbook, Wahl puts a great emphasis on the need for site analysis. The tools being used should be included in that analysis.
"Chemicals and detergents begin the list of components to assess," says Wahl. "Guys are carrying a bomb and do not realize it. Not all chemicals play well with each other, and they can go off if not mixed properly."
A contractor must understand the limitations and capabilities of the tools being used at a job site. Take trailers, says Wahl. A contractor must know what the snap weight is of a ball, trailer tongue, and axles.
"I see a lot of overloaded trailers," says Wahl. "I have been told that the axle was upgraded, so it will be fine. But the trailer tongue is not able to hold that kind of weight—along with using the wrong size ball."
Similarly, contractors too often neglect to adjust trailer brakes, which means brakes are not working at full strength, says Wahl. And wheel bearings must be serviced regularly, when too often they are not.
Proper maintenance of all tools is part of safety. "If high pressure hoses show a crack or rust, it's time to replace them," says Wahl.
Remember fire extinguishers. Wahl laments seeing too many trailers without a fire extinguisher on them. "I have three fire extinguishers—two on the open trailer and always one in the truck," he explains.
Thinking through possible scenarios of what would happen is a good way to identify ways to do things more safely. Consider everything. For instance, is it a good idea to lock doors on enclosed trailers under all circumstances or to lock the trailer tongue to the ball with a key lock? Perhaps not, except when parked and a distance from the trailer. "You never know when you might have to get in the trailer fast—just one less step to do that…," says Wahl.
Engagement and Outcomes
Distributors have a unique role to play as the industry as a whole aims for safety 24/7. Dealers answer questions for contractors, relay concerns to manufacturers from contractors, and keep their own employees focused on safety.
"We constantly try to remind them to stay focused on safety," says Dennis Black, president of McHenry Pressure Cleaning Systems Inc. in Frederick, MD. At a monthly meeting, safety is a topic. And there are reminders in the form of signs placed around the facility. Black also provides employees with safety glasses and hearing protection.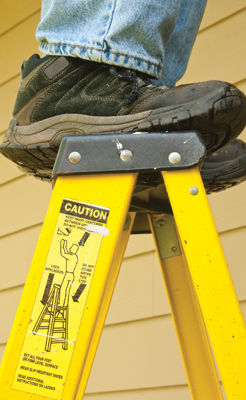 Distributors may have a bit of advantage over manufacturers and contractors. It derives from the proximity of coworkers who can reinforce safe practices in conversation.
"Regular reminders are important," says Black. "In a small business where we do not have dedicated safety
people, it is more difficult—or easy to become complacent." On the other hand, a momentary lapse is more likely to be noticed by a nearby coworker.
Risk analyses yield different rankings of concerning issues in different settings. Across all workplaces, some issues pose a greater potential threat than others.
"Electrical safety can be taken for granted," says Black. "Our people are constantly using and being exposed to many different types of electrical services and situations on customer sites. We try to teach that you never take any electrical service for granted. Always check service—and that power is off, etc."
When hiring employees, an employer may tap into experience that will bring in new workers with the good work practices that strengthen a safe environment. "Employees that come from commercial or industrial settings are normally more exposed to safe training and practices," says Black.
Training, as all members of our industry know, is an ongoing process. There's plenty of help available from professional organizations (CETA, PWNA, UAMCC, and so on) and OSHA itself. The OSHA handbook cited in the first section also provides self-inspection checklists and many other assists on a long list of topics ranging from portable ladders, electrical, and compressors to transporting employees and materials. It genuinely is a must-have resource.
The OSHA handbook sums up the many ways that a safe (and healthy) workplace adds value. Businesses save directly with lower workers' compensation premiums, reduced medical expenditures, reduced absences, high-quality products and job outcomes, and much more.
Indirect costs also are slashed in a safe work environment. That's because productivity increases, product returns or re-dos at job sites are few to nil, morale increases, retention increases, and much more.
There are so many plusses to tally, yet time and money spent on workplace safety are modest cost centers.
Ultimately, it's not just the business or the industry that benefits from a scrupulous adherence to the essentials of safety, but also every employee and family. Besides the monetary consequences of a workplace incident, there is a human toll. An employee who must take a pause from work because of an injury may experience mental as well as financial stress.
Workplace safety and day-to-day activity are inextricably linked. With safe work practices firmly established, businesses and employees will be steeled for handling the real challenges of safety—natural disasters, such as the recent ones that have us all concerned and wishing those recovering well.