Touchless Wash Techniques
By Diane M. Calabrese / Published June 2021

Less is more. Touchless wash techniques conserve water, labor, energy, and time and get the job done. 
      "Over the past five years, we have experienced growth in touchless cleaning solutions in the automotive industry and with facility maintenance service providers," says Robert Bridgeforth, vice president of sales and marketing at Veloci Per-formance Products in Savage, MN. 
     "Good outcomes play a big part in the growth, but more than that, our cleaning solutions allow for more efficient processes that are repeatable and easy to follow," says Bridgeforth. "Additionally, pressure washing-based solutions use less water than an average garden (water) hose or car wash tunnel, making them environmentally more sustainable."
     Bridgeforth gives us a few examples of the potential for reducing water use. "An average car wash tunnel uses 45 gallons of water per vehicle," he explains. "An average garden hose uses between 6 to 12 gallons per minute. An average pressure washer only uses 2 to 4 gallons per minute."
     Success with touchless wash techniques derives from attention to several variables. "Water quality, type of chemical, and hardware all play a vital role in the results you get," says Bridgeforth.
     A recent addition to the product roster at Bridgeforth's company stands alongside an array of market choices. "The MTM Hydro PF22 Foam Cannon and Magnum kit have really helped drive this segment," says Bridgeforth.
     The machine is a keen competitor among high-quality machines. "The PF22 produces an unmatched layer of lubricity and can spray up to 20 feet," explains Bridgeforth.
     "Once your cleaning solution emulsifies, it lifts the debris and other contaminants off of the substrate so that you are not marring the paint with bug deposits, tar, road grime, grease, pollen, and brake dust," says Bridgeforth. He adds that "the bad rap" sometimes given to outcomes with touchless wash on vehicles is very often due to issues of using the wrong cleaning solution and/or water quality.
     At Atlantic Pressure Washers in Linthicum Heights, MD, Josh Wagner, retail manager, and Josh Lee, assistant retail manager, who often refer to themselves collectively as Team Josh, get lots of questions about touchless methods. "It's not uncommon for our customers' clients to request touchless for certain applications," says Wagner, responding on behalf of Team Josh here and in the following.
     A common question: Is touchless a good idea? "It all comes down to expectations and the desired outcome," says Wagner. 
     "That said, touchless washing does not have the same limits it did five to ten years ago," says Wagner. "As detergents have improved and processes have been refined, we see a drastic increase in what results you can achieve through touchless methods."
     Products vary. Surfaces vary. The match is important.
     "One of the products that we've seen perform the best in touchless applications is Kraken Wash by Dirt Killer," says Wagner. "This is a formula we spent a lot of time developing in 2019 and 2020 before releasing it to the public. As the demand for oxidation removal has increased, the request for brushless or touchless removal has increased as well."
     Team Josh's company responded by formulating Kraken Wash, which it field tested with some of the most experienced contractors it serves. "We utilized their feedback to deliver what we believe is an all-in-one touchless approach to oxidation removal," explains Wagner. 
     Apply. Allow to dwell. Rinse, pulling away oxidation in the process. All good, but there's another consideration, says Wagner. Con-tractors must understand what they are cleaning. 
     "As the physical construction industry evolves, those of us who are on this side of the cleaning industry are forced to evolve with it," says Wagner. "As lower quality building materials are used, they become more prone to certain stains."
     Wagner cites excessive algae growth on vinyl, which brought forward soft washing with sodium hypochlorite. "In this sense the industry's evolution is awesome because it gave us all the ability to work on the ground level and get better, longer lasting results—safer work conditions, longer periods in between cleaning, and faster cleaning processes—while sacrificing nothing."
     Team Josh sees more industry tasks being performed by touchless/brushless/soft-washing techniques in the future. 
Brush Burning
     "Should we burn all the brushes?" says Chad Reiffer, a detergent and truck wash specialist at Hydro-Chem Systems Inc. in New Caledonia, MI. "Not exactly. However, with regular touchless washing, an understanding of the cleaning factors, and consideration of the expectation level of the end user, there may only be a need to brush a minimal percentage of the time."
     The brushes may be needed to agitate heavier deposits of road film and bugs or complete a "restoration wash" for a vehicle that has not been regularly cleaned and maintained, says Reiffer. When that's not the case, operators who understand the factors affecting results achieve great success with touchless washes.
     "Water quality, temperature [water and air], detergent, pressure, dwell time, and vehicle conditions all must be considered when performing a touchless wash technique," says Reiffer. Operators must adjust as factors require, but operators are interested.
     "Expansion of social media, user forums, and industry education contribute to the increasing acceptance of touchless techniques," says Reiffer. "The success of our products and touchless processes is documented through reviews, videos, and marketing."
     Reiffer's company has been a leader in fleet and industrial cleaning since 1971, beginning as a one-person, one pressure washer mobile fleet-washing operation. Now it supplies touchless detergents and two-step cleaning technology for fleet and industrial cleaning applications to the full spectrum of customers, ranging from the nation's largest mobile fleet washing contractors to entrepreneurial individuals.
     "As labor continues to become as much of a commodity as any other raw material, the demand for increases in efficiency and consistency without sacrificing quality has significantly impacted the fleet washing industry," says Reiffer. "The success of our touchless washing detergents and equipment enables businesses to invest in new cleaning technology."
     Demand for more frequent washing and enhanced sanitary standards are permeating the transportation industry, says Reiffer. Touchless wash techniques are a good fit for those initiatives. 
     And, of course, the touchless wash technique has value in ways already well established. Among them are making acid washes safer and reducing or eliminating the risk of micro-abrasion to a surface, particularly a surface of a vehicle.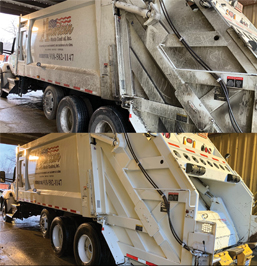 Innovative products and equipment (automated and manual) to support touchless wash techniques are integral to the trajectory of Reiffer's company. "Within the last few years, we have released touchless two-step detergent combinations like #1 Supersonic Presoak and #2 Grizzly along with #1 Counterpunch Presoak and #2 Panda," says Reiffer, noting they have become favorites for aggressive and polished aluminum cleaning applications.
     "For automatic touchless cleaning systems, we have focused on developing high performance yet lower maintenance equipment that can provide the end user with a fully touchless vehicle wash in five minutes or less," says Reiffer. And the company's two-step gun wash system has been upgraded for pressure washing applications. 
     The company's two-step gun connects with virtually any pressure washer and delivers high pressure detergent application without injecting chemicals through the pressure washer pump, explains Reiffer. "Our system features a modified downstream injection system with a combination of manual valves on the wand, resulting in on-demand switches between rinse, detergent 1, and detergent 2 in the touchless two-step wash process." 
     Savings of all sorts—labor, water, energy, and time—add up to make touchless techniques worthy of consideration by all contractors. The return on investment in equipment and chemicals is good.
     "I like to say, any wash method or any detergent can be touchless depending on the desired outcome and the expectation level of the customer," says Reiffer. "By this I mean there will be various detergents and techniques used when washing for the variety of fleets in the field. The cleaning application, expectation level, and overall cost per wash for a $500,000 show truck will vary greatly from that of your standard LTL [less-than-load] or regional/national carrier, which may operate and maintain thousands of units."
Contactless
     "Lafferty Equipment Manufacturing has been in the touchless wash arena from our inception nearly 50 years ago, but no one really used the term touchless then, although that was the concept they had in mind," says Brad Watson in marketing at the company based in North Little Rock, AR. Serving food and beverage manufacturers was the initial focus. 
     Today, the interest in using chemicals to clean in a contactless way is enormous. "Look no further than hood and vent cleaning," says Bob St. Lawrence, vice president of sales at the Arkansas company. "For years they used pressure washers that did most of the cleaning in the rinse cycle, where they peeled off the hardened grease and grime. It also involved a bunch of hard manual scrubbing.
     "Today a more touchless application of very aggressive caustic foam is applied and allowed to provide most of the cleaning without the blasting or elbow grease needed in the past," continues St. Lawrence. "With the time and labor savings, less mess in the targeted area, and a better outcome—happy client—the benefits are clear."
     Balance is key in any cleaning application, especially that between water pressure and chemical used on softer surfaces like shingles, wood decks, fencing, and stucco. "Our foamers and airless foamers restrict water flow to a lesser psi, and the generated foam is projected through larger nozzles that produce course foam droplets with a softer impact on the surface," says Watson. 
     "Simply put, what we do at our company is design, engineer, and manufacture use-specific systems" that project an appropriate and accurately diluted chemical onto a surface to make it as effective as possible, explains Watson. The product roster includes units that allow an existing 3000-psi water or pressure wash system to apply foam at a lower pressure, then apply other cleaning or sanitizing agents as a spray, and rinse with clear water at full pressure or with adjustable pressure control.
     "In recent years, our high-pressure bypass systems have been refined and the line-up expanded, and they have been deployed into a wide range of uses, from on-site large or fleet vehicle wash to building and construction cleaning to agriculture and farm applications and more," says Watson.
     Multiple functions in one tool reduce changeovers for contractors. And Watson's company offers them.
     "A contractor can connect our bypass system to his pressure washer and easily switch between a reduced pressure airless foam application, a spray application, and a full-pressure rinse through one hose—without the chemical running through his pressure washer pump," says Watson.
     In certain models, up to three chemical concentrates can be connected to the system and the incorporated injector will draw the selected chemical into the water stream to produce an accurately diluted solution at the time of application, explains Watson. "Precision metering tips control the dilution ratio."
     The most recent model additions at Watson's company include one that can be used with a wide range of pressure washers. It is the Model 22 SS Double Bypass unit. "The Double Bypass unit features a diverter valve that controls water psi and flow during application, which lowers active psi by diverting excess clean water volume back to the holding tank for later use," says Watson.
     Another recent addition is the Portable Model 20 SS 2-Way Bypass unit, which is a foam/rinse/spray applicator that connects to high pressure water to clean and sanitize/disinfect hog barns and meet similar agricultural needs. "One of the key features of this system is that it works over a wide range of pressures with foam throw distance and coverage speed varying based on the water pressure, giving the user a variety of application options," says Watson. 
     Mark Sheppard, an engineer and the general manager at Watson's company, sums it up with a question: "When we think about the basics of touchless cleaning, aren't we talking about a chemical application system that projects accurately-diluted chemical onto objects or surfaces in a way that is appropriate for the surface being cleaned and which helps the chemical be as effective as possible?"
     Yes, we are.