Three Generations of Ingenuity at Eldred Environmental 
By Adia Walker / Published September 2014

Innovation has always played a vital role in the pressure washing industry; it helps to solve real world problems, develops successful businesses, and fosters productive partnerships. Without innovation, there would be no progress. As Albert Einstein put it, "If you always do what you always did, you will always get what you always got."
In the early 1950s, it was the innovative nature of a man by the name of Giles Eldred that spawned the creation of a small business that grew into the major manufacturing and export company, Eldred Environmental & Export Company, Ltd. The interesting story of this third generation, family-owned business is one of ingenuity, hard work, and dedication.
Eldred worked in the business loan department of a small bank in Rock Island, IL, in the early 1950s, when he met a customer who was applying for a loan to start a company that repaired fire trucks. Eldred's grandson, Chad Christensen, current Vice President of Eldred Environmental, knows the story of his company's origins well. "In the conversations that my grandfather had with this customer regarding the firefighting industry, the issue of providing water was a common topic," Christensen begins. "In some rural areas where fire hydrants were not available, firefighters were staging water in temporary water reservoirs fashioned out of extension ladders tied together in a square with a canvas tarp draped over them."
The problem faced by these emergency responders stuck in Eldred's mind, and he began to wonder if there was a more efficient way to create a temporary water storage container. "One day, when my grandfather was folding my mother's playpen, he got the idea for a folding tank that could easily be stored on a ladder rack in a fire truck."
Eldred went to work designing his first portable folding tank, and in 1954, he applied for a patent. "It was that same year that he began marketing the product heavily with fire departments and fire equipment distributors," says Christensen. "He started the company under the name Fol-Da-Tank while he was still working at the bank. He had a retired farmer welding the steel frames, and a local tent and awning company was making the canvas for him. After work, he came home and assembled the tanks in his garage."
For the next two decades, Eldred ran the business out of his home while working full time at the bank. In 1974, he retired from the bank and focused his full attention on his growing business. He soon bought a facility that became the new manufacturing location.
"In 1975 my father, Jan Christensen, bought the company from him," says Christensen. "My father was really responsible for expanding the market share of the company. It was still a very young business when he took it over at the age of 31. He was able to market and increase the number of fire equipment distributors to sell our product."
When the elder Christensen bought the company nearly 40 years ago, they were still purchasing the frames and liners from outside manufacturers. At that time, he and his business partner were the sole employees. "Within a matter of three or four years, they had about ten employees and were manufacturing their own materials," says Christensen. Over the years, the expansion continued as new products were added, and in 1988, the Eldred Environmental Division was added to provide secondary spill containment equipment.
"My father retired at the end of June," says Christensen. "Currently I am the sole owner." Christensen is proud to be a third generation owner of the family-operated business. As the main product designer and sales manager, the younger Christensen designs most of the new or custom products. He is also responsible for purchasing, advertising, sales, and collaboration efforts within the industry.
"We work very closely with fire truck manufacturers and the USDA forest service," says Christensen. "I personally work very closely with a group of fire school instructors and consultants. I am primarily the one who does most of the traveling to all of the fire schools that we partner with."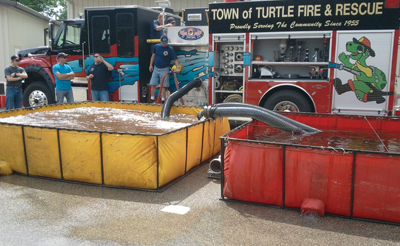 Eldred Environmental provides equipment for the fire school instructors to use in various rural water shuttling classes. In addition to his contacts at the fire schools, Christensen has another group that he collaborates with regularly: the Ohio state fire chief's Water Delivery Technical Advisory Committee. "The Technical Advisory Committee in Ohio has been working very closely with us to promote some concepts they've been perfecting over the years," explains Christensen. "We've helped them refine the single lane tank system, which has improved safety and efficiency for rural water shuttling, particularly on narrow roads." Christensen initiated the partnerships with the schools back in 2012; "We felt we needed to be more involved with educating companies on our products," says Christensen. "Our company is 60 years old, and a lot of our long-time customers are retiring. There is a new generation that is not that familiar with our company."
According to Christensen, the partnerships also help to improve the company's products, making them safer, more efficient, and easier to use. "We're also developing customer loyalty," he adds. "And while we are developing this customer loyalty, it helps me to learn more. Because I'm not a firefighter, these partnerships help me to learn more about all the different operations involved on the scene of a fire. Now I have a greater understanding of fire ground management, fill site and dump site operations, and water delivery officer operations."
"The knowledge I have gained from this experience naturally spills over into the fabrication of our spill containment products," he continues. "It helps with learning techniques to improve our products and to make them more durable and user friendly."
The spill containment products Christensen is referring to have also seen increased sales and market  share throughout the years. Eldred Environmental sells a wide variety of containment mats, or berms, that are used for chemical spill or wash water containments. "We cater to industries including pressure washing contractors, the oil and gas industry, and the military," says Christensen. "Pressure washing contractors, as well as the oil and gas industry, are our two biggest customers of the spill containment mats."
"A lot of the pressure washing contractors who buy from us are those who wash fleets of commercial vehicles and aircraft," he continues. "They use a lot of contaminants that are toxic to the environment so it has to be contained and processed before it can be released. Wash mats, or spill containment mats, are also used frequently in the oil and gas industry for storage bladders for fuel and fracking fluids."
The mats are a very popular item in Eldred Environmental's inventory. The company is currently producing a wide range of custom configurations for the oil and gas industry, and gaining new customers with strong footholds in the industry.
Another popular item is the flexible bladder tanks, also known as the pillow-style bladder tanks. These are used to store fuel, drinking water, general purpose spray water, and black water. "A couple of years ago, we manufactured 10,000 gallon and 20,000 gallon tanks for use in Bristol Bay, AK," recalls Christensen. "They were using them to contain sewage because the town's sewage system could not contain the additional sewage from the seasonal fishermen. It had to be contained and trucked off to a facility."
In addition to the spill containment equipment and custom orders, Eldred Environmental still sells the portable folding tank. "That's still our biggest seller," says Christensen. "We currently sell about nine or ten different styles of portable tanks using frames and without frames. Folding frame tanks are standard equipment on a lot of trucks for rural fire departments."
Eldred Environmental sells these products all over the world. "The direction I see us going is continuing to expand our market share as more and more contractors, primarily the mobile contractors, comply with EPA regulations for the containment of wash water," says Christensen.
This expansion will likely occur hand in hand with the continued innovation that the company provides. "I think our main contribution to the industry is our ability to custom design and manufacture equipment to meet the needs of our customers," Christensen replies when asked about the impact his company has had.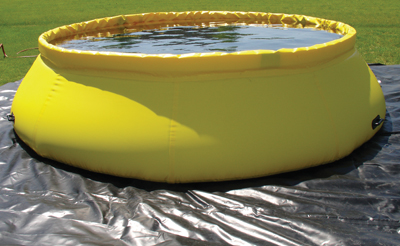 The ingenuity of the company's owners is apparent not only by their success and contributions, but by a list of patents as well. "The company currently has four patents," says Chris-tensen. "My father still has a patent pending and I have two pending."
Christensen, his father, and their staff of 15 work out of a 20,000 square foot facility in Milan, IL; the business office and manufacturing facility are all under one roof. "We have our employees perform the entire manufacturing process for all of our products," says Christensen. "From cutting the raw material patterns, heat sealing, and final assembly, we do it all here. We also employ welders, metal finishers, and painters."
In addition to the father and son duo, two other key employees work in the office side of the building. "My mother, Diane Christensen, works here part time, helping out with the billing and general office work," says Christensen. "Rebecca Tallman, our office manager, handles shipping, Web maintenance, customer service, bookkeeping, and human resources."
Outside of his office, Christensen also cultivates professional relationships to help him in his career. "The person I'm closest to in the pressure washing industry is actually Chuck Prieur from Cleaner Times|IWA," says Christensen. "We have a lot of general conversations about the industry, what equipment is out there, who uses it, and who doesn't. He's given me a lot of insight into the industry."
Christensen's background has also lent to his success. After graduating from high school in Moline, IL, he studied business at Bradley University in Peoria, IL, before obtaining his degree in Physical Education from St. Ambrose in Davenport, IA.
"Throughout my time in school, I had always worked part-time and full- time at the company manufacturing our products," Christensen says. "I put in quite a few years in the manufacturing department and for the last 10 years, I've been involved with advertising, sales, research, and the design of products, as well as education and training."
Christensen has given nearly 20 years to the company, and in this time, has developed a sincere passion for the industry. "When I was 19, I started working for my father in the shop," he recalls. "I performed almost every operation that we do in our facility, which has helped me in the sales side because I have a great understanding of all the products that we make. I am also involved in equipment maintenance and repair."
This extensive experience helps the company's vice president as he designs new and custom equipment. "I've always been a creative person, which gives me an edge when I'm trying to design products," he says. "I'm also self-taught in CAD design."
When he's not working, Christensen loves to spend time with his wife, a third grade teacher, his nine year old daughter, and his seven year old son. "I enjoy swimming and boating with my family," he says. "I'm also involved with my kids' sports activities." Whether he is coaching his son's little league baseball team, or working to fulfill his grandfather's mission of helping people solve problems, Christensen's dedication to family and ingenuity is apparent.