The Tie that Binds
Selling to the Painting Industry
By Diane M. Calabrese / Published June 2021

Removal is as important as application when paint is the subject. Removal is likely the first process that comes to mind when members of our industry think about paint. For power washing contractors, it is likely the removal of graffiti produced with architectural paint. 
     Manufacturers of high-pressure waterjetting equipment and abrasives serve the painting industry with tools needed to remove failing coatings from structures, such as bridges and boats, as well as industrial containers and machinery. Many distributors serve both power washing and painting contractors by supplying chemicals to remove contaminants such as mildew and algae from painted surfaces. 
     The toll that moisture, wind, sun, salt, and biological organisms take on paint is one researchers engage fully—all in an effort to thwart the toll. (We return to this in the second section.)
     Graffiti gets attention first, though, because it is often made with architectural paint. And most of the time, the preference for those who find it—on the sidewalk, sides of buildings (including homes), walls, and signs—is to have it removed.
     Those seeking someone to remove graffiti may turn to a power washing contractor. Or, they consult a painting contractor. Distributors who sell graffiti removal products should expect to sell to both, and they are backed by manufacturers who understand the crossovers.
     ITD Inc. in Tucker, GA, is a manufacturer well known to our industry. It also supplies its products—chemicals/chemical solutions—to the painting industry, explains Joseph Daniel, CEO of the company.
     "We do provide chemical products to the painting industry, particularly the paint removal industry," says Daniel. "We have several coating strippers designed for particular applications."
     At the end of March, Daniel's company introduced a new product. "We finished developing and released a new graffiti remover called Face Off 21."
     The new offering from Daniel's company is designed to remove graffiti spray paint from porous, nonporous, coated, and uncoated surfaces. Water-based (no harsh solvents) and self-neutralizing, the two-component system soaks into porous surfaces, releasing paint from the surface and subsurface layers of masonry to remove paint and shadow. It is designed to be sprayed or brushed on and washed off with a pressure washer. 
     "Graffiti removal is a very difficult job for contract cleaners, and there are very few products out here that really work, especially on porous masonry surfaces such as the side of a commercial building—concrete, brick, etc.," explains Daniel. "Generally, the products that work on porous surfaces are too harsh for non-porous or coated surfaces, but ours works on both." 
     The more a contractor, distributor, or manufacturer knows about the needs of the painting industry, the more possibilities emerge for selling. Contract cleaners might well find ways to collaborate with those in the painting industry, working to link services together in tandem.
     A power washing contractor who focuses on cleaning commercial and/or residential exteriors can sell services to the painting industry in several ways. First, be ready to step in as a subcontractor on a painting project and do the surface cleaning to clear the way for the painting contractor.
     Second, get to know painting contractors through local and regional professional organizations. Point out availability to go in and clean an exterior before the painter sets to work. Yes, painting contractors can do their own cleaning prior to painting, but focus—especially when clients are waiting—expedites completion of projects. 
     Contract cleaners should look at the painting industry in broad terms; that is, think coatings. There are opportunities to ally with companies that specialize in deck restoration. 
     Not only should contractors in our industry consider selling their services directly to painting contractors, but they should also consider alignment in marketing. A contractor may complete an exterior cleaning project on a home and notice it would be much improved by painting. A local painting company might become a partner in advertising, so that a contract cleaner would suggest the company to the homeowner and get a small fee for every referral that leads to a job.
     Most distributors in our industry do sell to the painting industry in some way. Graffiti removal products and many of the ancillaries that contract cleaners buy bring painters to their shops or websites—if not routinely, when there is an acute need. 
     Air compressors, heaters, generators, and wet/dry vacuums sold by distributors in our industry also see service in the painting industry. Respirators and cartridges also are important crossover products. When setting up search optimization for a company website, a distributor should make sure to be visible to members of the painting industry. 
     During busy seasons and in robust economies, members of the painting industry may be looking to buy a compressor or other tool without even a short wait. They will seek alternatives to their usual industry-based paint and equipment supplier. Distributors with service centers can also sell service to painting contractors.
     Manufacturers of pressure washers and waterjetting equipment already do a brisk business in sales to the painting industry. Removal tools (such as jetters and abrasives) and cleanup tools (such as wastewater collection apparatus or additives and coatings protective against mold and algae) are among the many products manufacturers that serve our industry also sell to the painting industry.
Difficult By Design
     Technically, paints and coatings, which are synonymized in general usage, are different. Paint is a special type of coating that includes pigments for color or ultraviolet screening (two examples). A coating is a protective cover designed to forestall degradation and corrosion.
     The topic of corrosion of metal structures and metal braces, joints, gaskets, etc. is huge and hugely interesting. Fundamentally, though, metals are reactive, and they react with water, oxygen, acids, and so on. Dirt and grease are among the many surface-soiling agents that can facilitate the contact between the corrosive entities and metal. A coating, carefully applied and scrupulously maintained, protects the metal.
     The more difficult a coating is to penetrate or circumvent (e.g., through crevices or connections), the longer the integrity of the metal will persist (e.g., no corrosion). Coatings on wood or coatings on any substrate are designed ultimately to put a barrier between the environmental agents of degradation and the substrate.
     For structures where integrity is fundamental to safety, such as bridges, the value of a tight grasp in coatings that prevent corrosion is easily appreciated. Coatings are difficult to remove by design. They would not accomplish their mission if they were not.
     Solvent, resin, and pigment may all be present in a coating. All coatings contain resin. The solvents in coatings, which are often volatile organic compounds (VOCs), get a lot of attention from regulators because of properties harmful to the environment and human health.
     But solvents are crucial parts of coatings. They dissolve resin, as well as make the coating sufficiently liquid (less viscous) to apply. Solvents also improve coatings in other ways. Thinners are solvents.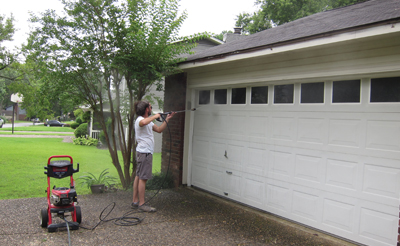 Alternatives to VOCs in coatings interest everyone. Coating manufacturers strive to do the most with the least solvent. Solvents that do not contribute to ozone formation (because they do not react with ultraviolet light) have already been incorporated into coatings.
     It's the resin in coatings that adheres to a surface. If the coating is a paint and has a pigment, the resin may be called a binder because it binds pigment to substrate. 
     Besides color (architectural paint), pigments add an array of properties to coatings.
     The wide array of pigment properties include resistance to corrosion and resistance to mildew. Skid resistance and abrasive resistance are two among many more examples in the array. 
     In short, coatings are intended as barriers to inhibit degradation. Strong adhesion makes them protective and hard to remove. 
     The range of abrasives that manufacturers who serve our industry and the painting industry have contributed to coating removal is enormous. Garnet, slag, food byproducts (e.g., corncobs, walnut shells), and glass beads are a few familiar examples.
     Abrasive (wet or dry) cleaning and waterjetting are welcome methods of removing coatings (surface preparation for a new coating) because they do not add more chemicals to the mix. Chemical stripping does add.
     When selling to the painting industry, manufacturers, distributors, and contractors in our industry should know its overarching goal is a familiar one: Do the most and achieve optimal outcomes with the least chemical, water, energy, and waste.
     Sponge abrasive, soda bicarbonate, and dry ice blasting all contribute to coating removal in a way that generates less impact on the environment. When selling to power washing or painting contractors, distributors can forge lasting ties when assisting them with low-impact methods of removal.
     According to the Environmental Protection Agency, architectural paint is the biggest volume contributor to the household hazardous waste (HHW) stream. It is very expensive to collect and recycle, which many local governments do. Anything that preserves the life of architectural paint on surfaces (good preparation with cleaning first) reduces its contribution to HHW. 
     Our industry has a significant role to play in linking the surface cleaning (power washing and waterjetting) industry and surface preparation and preservation (painting) industry together. Selling to the painting industry is a good way to strengthen the tie.