The Seasons Are Changing…Making the Most of Your Winter
By Diane M. Calabrese / Published November 2013

W
inter Work
Woolly bear caterpillars, weather almanacs, achy joints—everyone has a favorite prognostication tool when the subject is the intensity of the next winter. At higher latitudes, especially, preparation takes precedence over prediction. And that includes bolstering a business so that it stays strong irrespective of accumulated inches (or feet) of snow, ice, wind, and cold. Two veterans of the industry offer tips for staying in balance throughout it all.
D.P.W. Sales & Service in Louisville, KY, works on both the contractor and the distributor side of the industry, explains Rory Wilson. (Wilson and James Roberts are partners at the Bluegrass State company.) "On the contractor side, we are very lucky," says Wilson. "In Louisville, we have a big convention center. We do cleaning and detailing." That convention center, explains Wilson, goes full throttle throughout the year with an auto show and mobile home show events between Thanksgiving and Christmas. Then, between Christmas and the New Year, there is a home show.
It's not just the convention-centered work that keeps things humming. "We do kitchen exhaust cleaning 365 days a year—unless it's really, really cold," says Wilson.
One type of cleaning that Wilson's company no longer does is truck washing. "We got out of truck washing in the 1990s," says Wilson. He considers the shift away a "bellwether scenario" of changes that were buffeting the industry and the economy as a whole. Some companies brought fleet cleaning in house. Other companies were beginning to contract for more hauling, leading to consolidation. Providing mobile services became more costly with rising fuel prices. The list of factors is quite long.
"We've been in business for over 30 years," says Wilson. With that deep experience, it's somewhat easier to see when adjustments must be made. Even so, any structural reorganization will cause a bit of quiet upheaval. "The bad thing about kitchen exhaust cleaning was that we had to convert day workers to night workers," says Wilson. "When we phased out truck washing, it took some persuading of workers."
Configuring the distributorship side of the business for a four-season latitude also took some creative thinking. "On the retail side, we tried to sell waste-oil heaters," says Wilson. "But we are not far enough north." In fact, the same middle latitude means there can be opportunities to sell in winter. "If the weather is good in January, power washers want to get going and get started," says Wilson. And they keep buying equipment.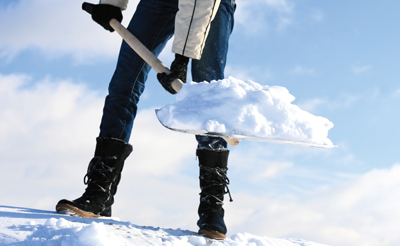 The corollary of the ongoing work among contractors is that it often results in additional sales for Wilson's shop. "We can get busy in winter," says Wilson. That's because "human error" sometimes causes problems for contractors that forget a mild day might be followed by a harshly cold night. Contractors that leave equipment out may subject it to freezing, broken coils, and damaged pumps. For the equipment distributor, it means more business in sales and service.
Of course, on the flip side, Wilson cautions that contractors should take all precautions to protect equipment from damage. The contracting arm of his company works outdoors in cold weather when possible. "We don't look for much else except consistent weather," says Wilson. He adds that anti-freezing the truck is a must and so is a commitment to dress properly.
There again, opportunities exist for distributors. With contractors extending their season, they require clothing and ancillaries (for example antifreeze) to ensure that they and their equipment are capable of meeting the elements.
Many contractors use 40 F as the temperature cutoff for winter work. The consistency that Wilson cites is a must. Temperature fluctuation that leaves a water-covered walkway, patio, or deck an ice rink will not win the praise of customers or safety regulators. Moreover, many chemicals used by contractors must be applied at temperatures well above freezing to act as designed.
Wide Scope
There's nothing like a cold, windswept, and snow-covered day to clarify thinking. And many distributors have at one time or another had the experience of taking in a pristine—and quiet—landscape and realizing that a broad reach can bring in business year around.
Also, geography matters. "At our retail store, sales begin to fall off as the cool weather comes upon us and do not rebound until the warm weather begins again in March," says Jeffrey Paulding, President of Dirt Killer Pressure Washers, Inc. in Baltimore, MD.
Paulding shares a chart with us to illustrate the correlation between seasons and sales for the wholesale and retail sides of his business. "The wholesale business sells to the entire United States, while the retail sells just in the Baltimore and the Washington, DC area," he explains. There is a "quite dramatic" change "from season to season." Like other manufacturers and distributors, he has explored ways to offset lower sales in cooler months. "We have not developed any products to offset falling sales in the colder months," says Paulding. "We have tried but have been unsuccessful so far."
In lieu of selling more equipment in winter, Paulding's company strives to sell service. "We do encourage our customers to sign up for preventative maintenance during the slow, cold months of winter, but we don't get many takers. My experience is that people are not very good at thinking ahead."
Deciding how much of a marketing budget to expend on outreach to customers to get them to think spring and summer is one that confronts not just members of our industry, but any other retailer that has a product line tied in part to warmer weather. There may be a way yet. After all, 10 years ago, no one would have considered marketing seeds to gardeners across 12 months of the year. Yet now, so ardent are growers that they buy seeds in every month, either planning ahead, planting late fall and early winter gardens, or giving gifts.
For now, Paulding does not believe there are any unexpected opportunities for distributors and manufacturers of pressure washers and ancillaries that coincide with sales activities. The slower pace of sales does allow attention to be trained on other parts of the business, though.
"What we focus on in the winter months are all the projects that we put off during the busy season," says Paulding. "They include building improvements, process improvements [Kaizen], website redesign, and maintenance, etc. We make more sales calls and work on the marketing program in winter." On the firmly practical side, Paulding has another solid tip. "I encourage employees to take their vacation in the winter," he says.
What Sells in Winter?
Equipment and supplies to customers doing indoor work are high on the list. So kitchen exhaust cleaners have equipment needs that extend throughout the year. In some cases, so do window-washing contractors.
Window washing generally has a longer seasonal span than other types of exterior cleaning. In part, it's because window washing—half from the inside of a building—can be scheduled to take advantage of the warmest part of the day. Inside surfaces can be washed first or in the morning; outside surfaces can be washed in the afternoon.
Similarly, many parking garages—municipal or apartment—are now built underground. In winter, some may need extra service from cleaning contractors because of the amount of snow-melting residue tracked in by tires.
Metropolitan transit authorities must arrange to clean underground walkways and platforms tied to light rail year around. Therein are sales and service opportunities to contractors and directly to the managing authority, depending on how contracts and bids are structured.
Waste-oil heaters garner a lot of interest because they take spent oil and convert it to heat, accomplishing the goal of turning a waste product into a usable commodity. To make a go of such heaters in sales, a distributor usually has to be in a place with a long winter and prospective buyers that have shops to heat and abundant waste oil to burn.
Again, where there is a serious winter and abundant snow, many power washing contractors now do ice dam removal, as well as snow removal from roofs. Many insurers expect their clients to ensure ice dams do not form, so there is a viable market for the service. Contractors use several methods for removing ice dams, including mild chemicals. There are some small sales opportunities in this area.
Finally, the continuous improvement push via Kaizen that Paulding uses deserves a look by distributors who have not used it. And winter is a good time to consider what the method has to commend it. The U.S. Environmental Protection Agency sees Kaizen as part of lean thinking and methods for business, methods that in turn contribute to reduced use of resources.
Via the Kaizen method, a process is targeted for better understanding and improvement and with full team participation. It is analyzed either by asking questions (whys, particularly a series of them) or mapping (value stream) the parts of the process in order to evaluate them. For instance, start with 'Why do contractors buy less in winter?' Look at the answer, develop another why question, and go from there ideas, all.