The History of Pressure Washing: Evolution of an Industry: Part Three:
All Would Up! Coils and Other Parts, Repair & Distribution Innovations
By Terri Perrin / Published May 2014
Editor's Note: This is the third in a multi-part series that traces the history of the pressure washing industry from the mid-1970s to present day. An 18-part history series, that covered the early history, was first published in Cleaner Times beginning in February 1996 and reprinted beginning in March 2007. Those interested in reading the early industry history may view it online at http://cleanertimes.com/artgrp.cfm?fpid=82.
By the early 1980s, the pressure washing industry was expanding both geographically—throughout North America—as well as in a myriad of industry sectors. This increased market penetration opened new windows (and doors) of opportunity for parts replacement, repair, and distribution services.
Bob Farley, President of Farley's Inc., in Siloam Springs, AR, fondly remembers the excitement as the pressure washing industry was undergoing this period of metamorphosis. He had started his career at Citation Manufacturing in 1968, as a draftsman in the engineering department and then later in sales. In 1978, he moved to Delco Manufacturing. After about 18 months at Delco, he identified a market niche replacement coil manufacturing—that he felt was not being adequately met. He made the bold decision to branch out on his own and created Farley's, Inc.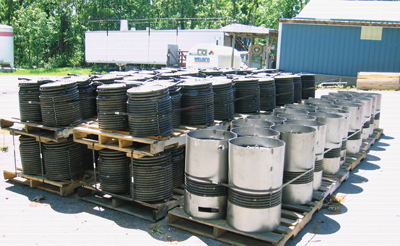 "I felt that nobody was stocking enough replacement coils to meet demand resulting from everyday wear and tear, as well as breakage, freezing, and leaking," recalls Farley. "I started purchasing material and began to build and wind our own replacement coils. We advertised that we would build anything that the distributors could come up with—any brand, make, or model. They would send us their old coils, and we would replicate them. We still do this today."
In 1985, Farley's started building the coil and tank and, actually, the complete machine. He says that the number one challenge was getting coil winders built. "The coil winder is a special tool, and you couldn't simply order a coil winder or other specialty manufacturing equipment; you had to build them. My engineering background certainly came in handy!" he adds.
Farley contacted key buyers for all of the major distributors in the USA. They were excited to hear about his enterprise and news of this innovation spread quickly by good old-fashioned 'word of mouth.'
"This was prior to the launch of Cleaner Times magazine and the formation of the Cleaning Equipment Manufacturers' Association (CETA)," says Farley. "It was before the days when you could promote your product in a national magazine or at a trade show … and long before the Internet and all of the advantages that come with being able to reach potential customers through a website or e-mails."
In 1986, Farley's, Inc. had nine employees and was doing business in about 20 states, with annual revenues in excess of $600,000. Today, more than 30 years—and hundreds of thousands of coils later—Farley's, Inc. remains a family-run business with Bob nearing retirement while daughter Angie and son Calvin are now running the business. They have 38 employees and ship coils across the continental United States and into Canada through a network of distributors.
In the 1990s, Farley's began building coils for new machines various manufacturers. "They came to us because coils are difficult to build, and we had established a good reputation for quality and service," concludes Farley.
But replacement coil manufacturing wasn't the only game in town. Other manufacturing and distribution companies grew from fledging organizations to ones with nation-wide influence. This included manufacturers such as LANDA, L&A Products, Simpson Manufacturing, Coleman Manufacturing, Sprak Industries, and AaLadin Industries to name a few.
Mi-T-M Corporation is a great example of an American, manufacturing success story. A.J. Spiegel, Chair man and CEO, founded Mi-T-M in 1971. He initially produced 1000 psi, cold water pressure washers for the paint industry and sold them out of the back of his truck. Recognizing expanding opportunities, by 1973 the company focus had changed to full-time manufacturing of pressure washing equipment for a variety of ever-increasing industry sectors.
"It was tough going in those early years," reports Mi-T-M Marketing Manager, Karen Anderson. "A.J. says that it was pretty much 'hand to mouth' for a while. But his people hung in there with him, and it wasn't long before things improved. As they became more successful, the product line and the number of employees grew significantly."
The small town of Peosta, IA, where Mi-T-M is headquartered, has literally grown up around the company's now expansive facility. Today, Mi-T-M is a key employer of more than 350 dedicated workers. In the 80s, the population of this Iowa town barely hit 100; today, the population is nearly 1400 and growing. Mi-T-M is now recognized worldwide for its commitment to excellence in engineering design, manufacturing technology, quality control, and customer care. Their product line includes hot and cold water pressure washers, portable generators, air compressors, portable heaters, wet/dry vacuums, water treatment systems, and other products for professional contractors.
Jack Hill, VP of Sales and Marketing at Mendota Heights, MN-based Gen-eral Pump, adds that Mike Christopher-son is another industry pioneer who must be recognized for his contributions to our industry. Christopherson, who passed away in 2007, founded General Pump in 1982. In the beginning, GP was a pump and parts distributor for Interpump SpA. They soon expanded to include Italy-based P.A. SpA accessories, which included high pressure spray guns, unloaders, regulators, injectors, and more. His goal was to create a customer-driven company and he developed the motto 'We'll find a way.' This commitment to customer service and satisfaction remains the foundation of the company more than 30 years later.
"Mike really liked the Italian engineering and innovation, and he recognized the need to get more of these high-quality pumps and accessories into the U.S. market," recalls Hill. "Demand for innovations in design and manufacturing of pressure wash equipment was ever-increasing. In the past, equipment function had been focused on lower pressures and water flow. In the 1980s, psi became the benchmark for equipment performance and that really was a game changer. Mike really put the pressure on his suppliers to be innovative and develop better products because it was so costly to do this type of production in the U.S. We were all thrilled in 2001 when Mike was recognized for his contributions to the pressure washing industry with a Lifetime Achievement Award from the Cleaning Equipment Trade Association (CETA)."
Another individual who played a key role in industry innovation in the 1980s and beyond was Dr. Fulvio Montipo, founder of Interpump, SpA. Hill fondly remembers the time he first met Dr. Montipo in 1987 and how he was inspired by this man's passion and ingenuity. In 1998, General Pump was acquired by Interpump. Hill insists that the most positive change that took place was that Interpump promoted the importance of an open and transparent working relationship between Inter-pump and General Pump to clearly and quickly respond to the needs of the customer. Everyone at General Pump and Interpump was thrilled to learn that Dr. Montipo was recently awarded Italy's 2013 Entrepreneur of the Year award for his decades of achievement and contributions to Italy's economy.
Gary Scott, CFO, Alkota Cleaning Systems, Alcester, SD, and his partners also saw promise in this growing market for pressure washers, parts, and accessories. Scott had worked his way through college in the sheet metal department at Electro-Magic; a Vermillion, SD, based manufacturer of cleaning equipment. He and his partners purchased Alkota in September of 1983 and began developing a distribution system for the products they designed and manufactured.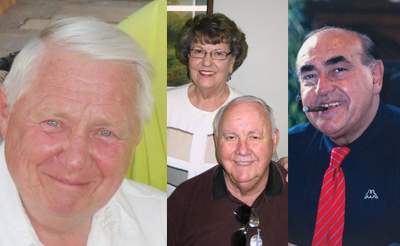 "We saw the cleaning equipment market as a new and developing market and thought we could help it grow and make a good living," says Scott. "As it turned out, we were right. The market for cleaning equipment continues to grow at a rapid pace."
Throughout the 1980s and 1990s, Alkota worked at developing a first-class line of equipment and an efficient distribution system. "The two go hand in hand," adds Scott. "We built our distribution system by first earning distributors trust, and then their business by supplying good equipment and helping them develop their employees to service their respective markets. We helped many distributors get a start in the industry."
Alkota has supplemented its growth by acquiring other manufacturers and their respective distributors. In 2001, they acquired two California manufacturers: All American and Electro-Magic. In 2004, when the Whitco factory in Siloam Springs, AR, burned, they acquired that company, too. "You always hate to see a company and people suffer through such a tragedy," recalls Scott, "but we did acquire an excellent line of equipment, a great distributor base, and great employees.
"At Alkota, we like to think we are innovative," continues Scott. "Over the years, we have developed and/or helped to develop such things as better coil designs, the use of different types of electric motors, improved designs in pumps and accessories, as well as partnering with Wayne Combustion to make oil burners more user-friendly and efficient. It may be hard to believe that a pressure washing industry leader is located in the Midwest, in a town of 875 people, but that's where we're based, and I do think we lead. Many of our designs have been copied over the years, which must be the highest form of flattery."
In summary, Scott says that in the 1980s he was about as optimistic as one could be about the future in general and the pressure washer market in particular. That optimism has not changed. The production processes and equipment will change but the pressure washer will remain an invaluable tool in a lot of different industries. The importance of cleanliness will not diminish. The demand for efficient pressure washers and environmentally friendly ways to clean will become more and more important. He concludes by saying that he is glad to be a part of the industry and can't wait to see what the future holds. We, at Cleaner Times | IWA, know that this is a sentiment held by many.
Next month: We get 'eco-friendly' with a two-part series focusing on advances in wastewater collection and treatment, chemicals, and more.
Do you have any pressure washing stories, memories, or photos from 1980 through 2014 that you would like to share with Cleaner Times | IWA readers? Please e-mail terri@terriPERRINink.com to learn how you could be a part of this series.