The History of Pressure Washing: Evolution of an Industry: Part One:
A New Era of Pressure Washing Technology
By Terri Perrin / Published March 2014
Editor's Note: This article begins a multi-part series that will trace the history of the pressure washing industry from the late-1970s to present day. An 18-part series, that covered the early history, was first published in Cleaner Times beginning in February 1996 and reprinted beginning in March 2007. Those interested in reading the early industry history may view it online at: http://cleanertimes.com/artgrp.cfm?
fpid=82.
The pressure washing industry can trace its roots back to 1926 and the glory days of prohibition. Frank W. Ofeldt II, an employee of a Pennsylvanian producer of gas-fired water heaters and boilers and a maker of whisky stills, is credited as the inventor of pressure washing. It was quite by accident, while working on a whisky still, that he discovered that steam forced at high pressure through a small hose provided an effective method of cleaning grease off his garage floor. He began a crusade to create a cleaning contraption that would mix this new-fangled wet steam with chemicals.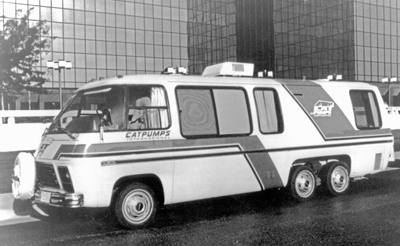 To say, "My how things have changed!" would be an understatement! Today, pressure washing is a worldwide, multi-billion dollar industry that employs hundreds of thousands of people. For the men and women in the industry more than 90 years later, pressure washing is a career, not just a job. Over the next year, Cleaner Times | IWA will take its readers on a "walk down memory lane" as we explore the individuals, corporations, associations, and innovations that have been industry game changers over the past 40 years. We start at 1975, with innovations in pump technology.
Bruce Bode is a sales representative with Pentair/Hypro, in New Brighton, MN. He has a lifetime of experience in the pressure washing industry and, over the years, has seen a multitude of advancements. His career started in 1964, when his best friend's father and one of the founders of Hypro, Ernie Cook, offered Bode a job when he was 19. In 2014, Bode will celebrate his 50th anniversary with this company, so we are thrilled to hear his perspective on "how things have changed."
"I believe that a lot of credit for advances in pressure washing equipment manufacturing must be given to Hypro," recalls Bode. "The 5300 series pressure washing units we made in the beginning pretty much started the industry. But big changes began to happen in the 1960s that lasted through the early 1980s."
"In the early 1960s, Cat Pumps developed the uniflow design piston pumps, which lasted up to 10 times longer than other pumps being used and had pressure capabilities up to 1000 psi," explains Cat Pumps representative, Steve Bruggeman. "Then, in 1975, to meet the increasing demand for higher pressure capabilities, Cat Pumps developed the sleeved type piston pumps with pressure capabilities up to 3000 psi. The Cat Pump model 524 soon became the industry standard for gas-engine pressure washers. In the late 1970s and early 1980s, Cat Pumps recognized that in order to remain an industry leader, they had to adopt ceramic plunger pump technology."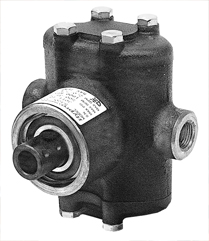 "Most people may not realize that the car wash industry was the driving force behind the implementation of ceramic plunger pumps," informs Bode. "In a 24-hour cycle, the pumps at a car wash start and stop a multitude of times, they change from hot to cold water, and from clean water to detergents and waxes. Really, it is considered one of the harshest environments you can find for equipment use. It is a demanding application… met with this new type of pump technology."
In addition to working at Pentair/Hypro, from 1982 through 2000, he owned and operated multiple self serve car wash locations in Nebraska. He saw first hand how much difference this ceramic plunger pumps made in efficiency, ease of operation, and the economics of running a car wash.
"The first generation of pressure washing pumps were electric-powered piston-types with reciprocating mechanisms that had rubber seals in a cylinder; similar to a piston in an engine," explains Bode. "While the cylinder wall was made of metal, the reciprocating piston was made of rubber or fabric impregnated seals. The problem was that the early pumps had major maintenance issues and low rpm, resulting in limited water pressure capabilities."
"There was considerable demand for operational improvement from the car wash, agricultural, roof cleaning, ship cleaning, and water blasting sectors," continues Bode. "Remember, this was a time before the turbo nozzle had been developed, so all of the power came from the pump. It seemed that everybody wanted to use a pressure washer, and they soon discovered that with higher pressures and more water flow, you could complete jobs faster and more efficiently. There was great interest in ceramic pump technology because it was able to operate for upwards of 2000 hours with little maintenance.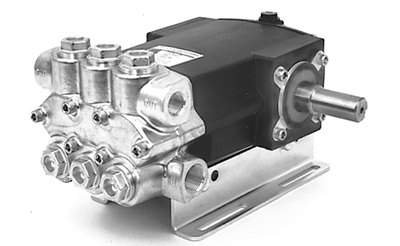 "Cat Pumps had the foresight to enter a joint venture with Interpump, Italy, to market their low cost line and sell this new system under the Cat Pumps brand. This was a huge change in the marketplace at the time, and this technology still dominates our industry today. "I simply cannot overstate the importance of this new technology to the development of the industry in the early 1980s," states Bode. "It literally made pressure washing what it is today."
According to Bruggeman, Cat Pumps continued to develop a complete line of its own ceramic plunger pumps as well as working with Interpump to market their line of newly created ceramic plunger pumps to meet the demands of the pressure wash and car wash industries. Not only could the new ceramic pumps meet ever-increasing performance goals, they required far less maintenance. With superior system sealing methods and an oil bath, they operated more smoothly, working longer and more efficiently. The new ceramic pumps could also run at higher speeds. Rather than belt driving the pump, they could now be direct coupled to electric motors and gas engines. Pump speeds increased from 1100- to 1800-rpm—the industry norm at the time— to over 3600 rpm with gas engines. With this new technology came higher spray pressure. It was truly revolutionary.
In 1985, Cat Pumps added two special stainless steel plunger pump models to their line. The Model 651 (7 gpm, 3000 psi) and the Model 1051 (10 gpm, 2200 psi) were constructed of 316 stainless steel and provided additional fluid and high temperature compatibilities. Coordinating stainless steel regulators and pulsation dampeners were also added. The year also brought more accessories such as different styles of pressure and flow sensitive unloaders, as well as Custom I and II guns and chemical injectors to satisfy a multitude of cleaning needs. (You will find a complete history of Cat Pumps at: www.catpumps.com/history.asp.)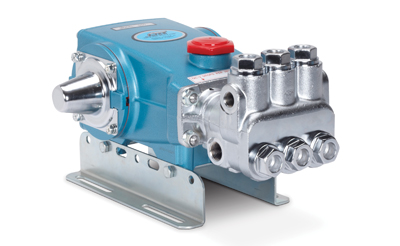 Another international player that entered the USA market at the time was Annovi Reverberi (AR), also from Bologna, Italy. This area in Italy is considered to be the pump manufacturing hub of the world. Minneapolis, MN, is considered the hub in the United States. Hypro (Pentair), Cat Pumps, General Pump (Interpump), and Giant were also becoming key players.
Recognizing an industry trend was unfolding before their eyes, in 1986, Hypro jumped onto the ceramic pump bandwagon and introduced their own brand of the first USA-made ceramic plunger pump for pressure washing. By the mid-1980s, the pressure washing industry had been revolutionized by a single, new equipment adaptation. The higher pressures and the improved safety factor (with gas engines) made them very viable and useful tools for many new and expanding markets. Cat Pumps, General Pump (Inter- pump), Hypro (Pentair), Mercury, and others became the biggest suppliers of ceramic pumps to the OEM market and the pressure washing industry was steered in an exciting new direction.
Next month: The adaptation of gas-powered engines increases industry safety and further expands opportunities.
Do you have any pressure washing stories, memories, or photos from 1980 through 2014 that you would like to share with Cleaner Times | IWA readers? Please e-mail terri@terriPERRINink.com to learn how you could be a part of this series. 
History Flashback

In 1975, Cat Pumps took its 'show' on the road and travelled across the USA giving live demonstrations of their pressure cleaning equipment and applications, motorized cutaways, and system accessories. The "Catmobile," shown below, was the first high pressure pump demonstration van.