The Chappells and the Purswells: Winners of the 2013 Lifetime Achievement Award
By Adia Walker / Published April 2014

The Lifetime Achievement Award, presented by the Cleaning Equipment Trade Association (CETA), is a prestigious honor bestowed upon some of the most deserving individuals in the industry. Each year, members are called upon to nominate some of the most influential members who have made their mark upon the association. "Every year we get some great entries," says Rick Wendt, President of CETA. "It's a tough decision because a lot of great people are nominated."
After all the nominations are submitted, the CETA Board of Directors then reviews the entries and selects one winner. Except last year, they didn't. They chose four winners: husband and wife duos, John and Brenda Purswell and Roy and Linda Chappell.
"This industry is blessed to have such people like the Purswells and Chappells along with all of its past lifetime achievement winners," says Wendt. "These people have been recognized because of how their lifetime achievements have helped keep this organization and industry alive. The real message isn't who won these awards, the real message is what they have sacrificed over time to make this industry strong. They have never asked for recognition; they are nominated by their peers."
These four individuals have been instrumental leaders within CETA and also the industry at large. They have championed rigorous safety and environmental standards within the industry and helped to lead CETA through many exciting developments, including a new certification program, the formation of the Education Foundation, and a platform to address the unique needs of the "Women of CETA." Serving on the CETA board of directors multiple times in various leadership positions, guiding their companies to achieve great success, and pioneering advancements for the industry, the Chappells and Purswells have made their mark upon history.
Roy and Linda Chappell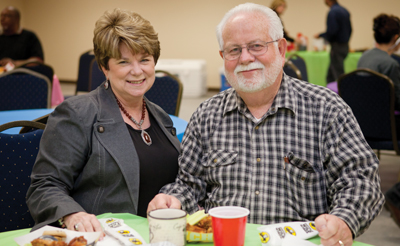 In the years before Roy Chappell met his wife, Linda, Chappell owned a company that sold drilling equipment to the oil industry, which eventually provided the professional link to get into the pressure washing trade. "I would have semi trucks deliver the equipment to Houston and then dead head back to Oklahoma City without a load on the truck," he explains. "Then, I started buying used pipes out of the Gulf of Mexico and bringing them back on the trucks." To clean the crude oil out of the pipes, Chappell worked with a pressure washing company that would later provide the tip that helped him start his next business.
As Chappell's three sons became teenagers, they wanted what most teenage boys want: to have a car and some money so they could take girls out on dates. Chappell had already sold his oil company, but decided to start another business and put his sons to work on the weekends so they could earn what they wanted.
The pressure washer company that had previously helped to clean the used pipes told Chappell that there was a pressure washing company looking for people to sell equipment. In 1980, Chappell started his tenure as CEO of his business, Chappell Supply and Equipment Company, in a 3000-sq ft space with three pressure washers and $250 worth of inventory. "Now we have a 62,000-sq ft building with seven acres of yard," says Chappell. "At any given time, we usually have about 50 pressure washers in stock and about $2.5 million of inventory."
The company continues to grow at an impressive rate. "Three years ago, we were the 49th fastest growing company in the Oklahoma City Metroplex, and two years ago, we were the 12th fastest," Chappell says. Chappell Supply and Equipment Company has customers all over the United States and some international clients as well. Out of the company's 75 employees, there are usually five to six individuals traveling outside of the state of Oklahoma on business. Throughout this rapid growth, it has remained a family centered company; Chappell's three sons had continued to work for him until the unexpected death of one of his sons just this year. Currently, his two sons and wife work at the company.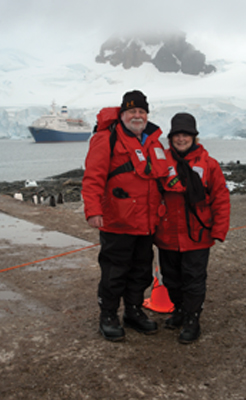 Chappell's wife, Linda, is the Office Manager, overseeing all of the office personnel, purchasing, receiving, and accounting. Chappell spends a lot of his time in the field, taking care of the inventory and managing special projects. "We do a lot of special projects for companies who have been told that what they want can't be done," he says. "Most of the time, we will find out a way to get it done."
The Chappells have put in a lot of hard work to bring success to the company, but they recognize that others have been instrumental in this success as well. "Over the years, there's been a lot of people who have shared information, ideas, and recommendations that have helped our company grow and prosper," says Chappell. "One example is benchmarking; CETA started benchmarking in 2007, and through that process, we were able to identify weak areas and strengthen them. This allowed us to be much more profitable and expand with new products and new customers."
Chappell also names two individuals who have given him guidance over the years: Lynn Fisher, who provided a wealth of knowledge in the accounts receivable realm; and Ron Carruth, who got them started in the industrial wastewater sector. "I really appreciate what these two individuals did to help us," Chappell says.
Giving back to the industry that helped them succeed was only natural for the Chappells, but even so, they did not expect to win the Lifetime Achievement Award. "When they announced it at the CETA Annual Meeting, it was quite a surprise," says Chappell. "It's a very prestigious award, and I can't think of anyone better to share it with than my wife and John and Brenda. Both of us were very honored to have been selected and to be able to share the stage with John and Brenda. They've done a tremendous amount of work over the years to help CETA and the industry."
John and Brenda Purswell
"I met Brenda while hauling hay for hire when we were teenagers," says John Purswell, CEO, of Alklean Industries, Inc. "She was driving a tractor, and I was throwing up hay when I saw her go bouncing by on a tractor. I said, "Wow!" It took a while longer to sell her on the idea, but my persistence paid off, and when she cut her old boyfriend loose, I did not waste any time. Not only was she a good-looking, sweet, young thing—Young is her maiden name—but I could see she was not lazy or afraid to pitch in whatever I was doing."
"That's how it all began," says Brenda Purswell, President, of Alklean Industries, Inc. "I was 17, not even out of high school, and, almost 47 years later, we're still together. For 42 of those years, we've worked side by side." John adds, "People ask me the secret to being able to work with your wife so long and I tell them, it is not hard, you just have to remember two words, 'Yes, Dear' and life will be good."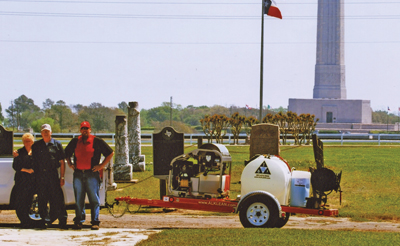 The Purswells originally got into the pressure washing industry as a way to earn some extra money. "We met a pioneer in pressure washer distribution by the name of Carol Lee Smith while we were stationed at Fort Huachuca," says John. "He continued to urge me to try my hand at distribution for Citation Manufacturing Company, but I had a good job at what is now Exxon. When our son was born in 1971, we were overwhelmed with medical expenses. We decided to try distribution part-time to pay off the medical bills. We contacted Carol Smith and jumped in head first. We went even further in debt to buy a truck and lift gate and started working after my normal job hours and weekends. It took 90 days to sell the first one, and I was getting plenty nervous by then, but then, we sold another one two days later and we were hooked."
Over the years, the company has grown and expanded its services. In addition to selling pressure washers, Alklean Industries, Inc. also supplies water reclaim equipment and design wash racks for the industry. They have also been blending their own detergents for more than 35 years, and currently distribute a variety of specialty chemicals from several suppliers. "Alklean was blessed to be a pioneer in the rental of hot water pressure washers, and we continue in that market as well," says John. "We also have a very strong service and parts department with both road service and in-shop work."
As CEO and President of the company, John and Brenda have a lot to manage, but they are not afraid to roll up their sleeves and do whatever needs to be done. "We both spend more time in management than anything else, but in a small business, there is someone sick or on vacation virtually every week so we move personnel around to cover the tasks at hand as well as some tasks we take care of ourselves."
Officially, Brenda handles the duty of office manager, inside sales, and HR manager on a daily basis. John helps out with ongoing training for many of the mechanical and electrical aspects; he also plays an active role in the wash rack design and layout of the water treatment systems as well as most of the chemical blending and formulation questions.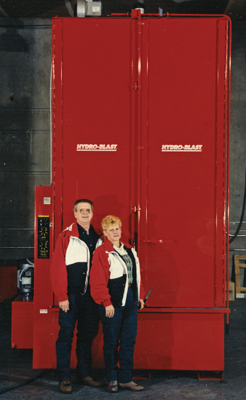 "As most people in the industry know by now, Johnny died of a sudden heart attack last May," says John. "It was not only a terrible, personal loss, but a great loss to the business as well. However, the Lord has blessed Brenda and I with the health to take back over the duties that we were transferring."
"One of the greatest blessings we have received in our lifetime spent in the business has been the opportunity to work with our family on a daily basis" says John. "We have a lot of family in the business that make a living from it the same as we do, and we treasure the time with all of them. Of course, the additional time that we were able to spend with Johnny, our son, at work looms even larger than the other family members, only because he was snatched away in a heartbeat. Of course, we love and value all our family, but the sudden loss makes us acutely aware of the time with Johnny and the blessing of sharing our daily lives with so many of our family members."
Receiving the Lifetime Achievement award has been another blessing for the Purswells, according to John. "It is a great honor, and we will cherish it always," he says. "The others who have received this award put us in the company of some great pioneers and movers and shakers in our industry. To share it with Roy and Linda Chappell was so very special. We have been friends, associates, and fellow board members of CETA on and off for many years. Alklean Industries and Chappell Supply hold certificates number one and number two for the first distributors to obtain CETA certification. We could not be more honored to share this year's award with two extremely deserving people."