The Big Easy Plays Host to the 2014 WJTA-IMCA Conference and Expo
By Michael Hamline / Published February 2015

The Big Easy played host to 2014's Waterjet Technology Association and Industrial and Municipal Cleaning Association (WJTA-IMCA) Conference and Expo, which was held on October 14–15 at the Ernest N. Morial Convention Center. With more than 900 attendees, attendance saw an increase from the 2013 Conference and Expo held in Houston, TX.
One of the highlights of the WJTA-IMCA Conference and Expo is the live demonstrations. This past year's live demonstrations enjoyed some great fall weather that made it very comfortable to stand outside and observe. Safety through the use of automation that allows the operator to operate from a distance and keep the lance out of his hands was heavily emphasized. Terydon, Inc. demonstrated a unique safety feature with their wireless jack track cutting system. Through the use of an Android Smart Tablet as a touch-screen control, Terydon showed how the bio-metric sensor increased safety by not allowing anything but the contractor's thumb to activate the system. Any attempt to circumvent this safety feature, say by setting a rock on the Android, would activate the safety dead-man switch and cause the system to shut down.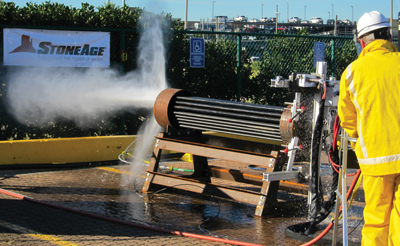 Another demonstration was given by PSI Pressure Systems. Their revolutionary high-pressure waterjetting pumps blast a tube bundle with the Smart Water Systems M1-H Multi-Functional Mobile Platform. The M1-H is a semi automated robot rated for pressures up to 40,000 psi (2800 bar) and designed to place a variety of application tools at the job site while operators stay hands free and a safe distance away from the high-pressure water. NLB Corp. demonstrated the new Automated Remote Manipulator (ARM)—a waterjet system that increases operator protection and improves productivity for a diverse range of applications. It has an operator-controlled arm that can manipulate a variety of accessories from the safety of a climate-controlled cab, using convenient joystick controls to start and stop the flow of high pressure water. The point of mentioning these representative demonstrations is that there is a clear trend in the waterjetting industry toward increasing safety by getting the lance out of the operator's hands and by keeping the operator at a safer distance.
While this trend toward increased automation and safety is ever-growing, there will always be a niche for those jobs that require the use of a lance in an operator's hand. However, this does not mean that safety has to go out the window. In this regards, TurtleSkin by Warwick Mills gave a live demonstration of its MFA WaterArmor PPE system's resistance to UHP waterjet. They had high pressure water hit their WaterArmor and showed how the PPE stood up to this hit and was not penetrated. Furthermore, representatives from CESCO demonstrated with the D-115 Aqua Miser by blasting a steel surface and removing the paint. They did this work in full protective gear, including a face mask.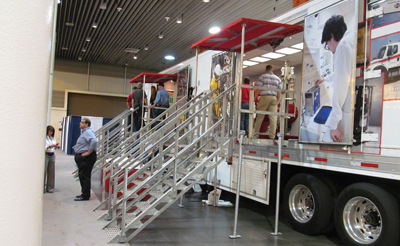 In addition to the live demonstrations, there were several educational classes such as "Debunking Waterblast Myths" by Bill Shires of StoneAge; "Hose Fabrication, Inspection, and Documentation" by Jeff Davis with GHX Industrial, LLC; "Robotics in Hydrodemolition" by Patrik Anders-son with Aquajet Systems AB; and a panel discussion on the "Benefits and Challenges of Implementing a Hands-Free Hydroblasting Strategy."
On the panel discussion were Sam Harkins with Veolia, Dana Moore with DuPont, Rick Pitman with PSC, Michael Albano with The Dow Chemical Company, Roger Raney with Hydro-Chem, and John Cobb with BASF.  The three questions asked from the perspective of service providers were:
• What were the drivers for your company to adopt a hands-free strategy for delivering hydro-blasting services to its customers?
• Which areas of your corporate management system have contributed most to improved safety performance?
• What challenges did your company face in implementing the hands-free strategy?
The three questions asked from the perspective of end users were:
• What key aspects of your company's strategy for managing hydro-blasting had the most impact on reducing safety incidents?
• How do you articulate the value proposition for hands-free hydro-blasting to your plant leaders?
• What challenges did your company face in implementing its hands-free strategy?
In terms of the challenges the companies faced in implementing the hands-free strategy, Rick Pitman with PSC said some of the challenges were properly utilizing supply chain partners and convincing clients of why there is a need to implement a hands-free strategy. He pointed out that it is vital to have data and facts that show why it is important to implement a hands-free strategy. Roger Raney with HydroChem stated that you have to sell it to the guys in the field and bring your branch managers on board while Sam Harkins with Veolia says you have to deal with the concerns of increased costs, which is initially true. He also stated that you have to have your managers on board and convince clients that this is worth it.
There was much to be learned from the educational sessions at WJTA-IMCA, as well as the live demonstrations. Next year, WJTA-IMCA will return again to the Big Easy. Mark your calendars now for the 2015 Conference and Expo, which will be held November 2–4.