The American Work Ethic
By Diane M. Calabrese / Published August 2021

Teach a person to fish, lend a hand, and set an example. 
      Sage advice about how to instill a passion for doing takes many forms. And by now, the idle hands warning has surfaced in many a reader's mind. 
     Busy hands sustain communities. The American work ethic has long been taken for granted. 
     In recent months, however, the assumption that people want to work and earn has been tested. Job openings are many. Positions cannot be filled. 
     Is the phenomenon transitory? Will many positions that once employed people be restricted and automated to further integrate robotics into the workplace? Those are two of many swirling questions. 
     We asked members of our industry about the status of the American work ethic: Has the work ethic changed?
     "Work ethic will always vary among people," says David Megathlin in management at BE Power Equipment, which is headquartered in Abbotsford, BC. (Megathlin is at the Florida location.) "But overall, I've noticed in today's age the employees will not exert themselves like they did in the past unless they have a leader who is going full throttle."
     Motivating employees to adopt a stronger work ethic can be done, explains Megathlin. "When engaging with an employee who does not have a strong work ethic, I try to surround that person with other strong employees so they can learn by example."
     Keep the focus on engagement, says Megathlin. "I work beside him if needed to encourage him to step his game up and to let him know I am present; that way he feels a team setting. This can make a huge difference."
     Keep the feedback positive. "Never discourage the employee," says Megathlin. "That will always have a downhill effect. Also praise and reward those who are working hard around him, so he will strive to get the same reward."
     Branden Robinson, vice president at Chappell Supply & Equipment in Oklahoma City, OK, also sees differences in work ethic as nothing new. "In my opinion, work ethic has always varied, but the biggest change in people is the desire to find purpose in their work." 
     "Purpose" is a word Robinson emphasizes. "The bigger picture and the 'why' has become more important than ever," he says.
     To retain employees and ensure they have a strong commitment to their work, Robinson assesses and responds to perceived areas that must be strengthened. "Before I take any action here, I typically communicate and/or ask myself a few questions," he explains.
     "Am I leading in a way that inspires engagement and the strongest commitment level?" is the first question, says Robinson. "Is this employee in a position where he is using his strengths? Have I offered clear performance expectations and provided proper feedback?"
     And with the answers in hand? "If the answer is 'yes' to these questions, then it is imperative to offer an opportunity to succeed with some type of performance improvement plan," says Robinson. "This will clear up any remaining doubts on whether you have the right employee."
     Robinson has formulated a personal definition of work ethic. "Work ethic is discipline formed
by consistent efforts over time. Successful people do consistently what others do occasionally."
Refuse to Fail
     John Tornabene, owner of Clean County Powerwashing in Kings Park, NY, also has a personal definition of work ethic. "My attitude is to always 'refuse to fail' no matter how many hours the day's work will take or how hard the job is," he explains.
     "It's due to this attitude I was able to operate my power washing business alongside my law enforcement career for 16 years. Today my business is in its 26th year in existence, and I hope to do 20 more years, God willing, until I hit the age of 80—and I still may not retire at that point."
     Employees share Tornabene's refuse-to-fail approach, and it is reflected in retention. Many have been with his company for years. "My three main full-time employees now have been with me 12, 12, and 14 years," he says.
     How did Tornabene arrive at his outlook about work? "This all came from my father who taught me and my sisters about work ethic."
     Tornabene explains that his father owned a company that had grown to 150 employees when he sold it and began consulting. A consultant until he was almost 80, at 85 today he and Tornabene's 84-year-old mother "are still super active and enjoy the life they lead because both always worked hard for what they have."
     One change Tornabene notices in America is the perspective on manual labor. He says he sees a shift in that "plenty of young people today, at least, don't want to get their hands dirty, so they won't work as hard in that type of field as I did growing up."
     Professionalism must be the norm whichever type of work or mentoring is being done, explains Tornabene. It conveys a strong message to employees about the importance of the project at hand.
     "I engrained into my employees the value of loyalty," says Tornabene. "I always stay professional with my employees at all times, and that was the key to get them to be as loyal to me as I am to them."
     It's important to hire people who want the job for their career, says Tornabene. Those who want the job will be loyal and will help strengthen the company. There can be a risk in hiring someone who is a friend in need of a job but who does not understand that, friend or not, the leader of the company is the boss.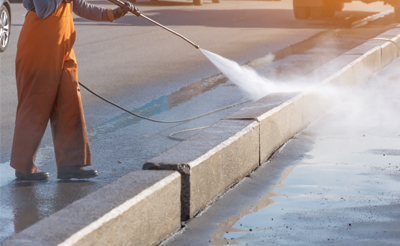 The loyalty facet that Tornabene describes may manifest itself in many ways over the course of a day or a year. It may be as simple as pitching in and helping a coworker finish a job or packing up equipment without being asked.
     David Presley, president of Hydro-Chem Systems in Caledonia, MI, cites one of his company's core values, which is "On This Team We Fight for the Inch" as a way of defining work ethic. "If every one of our team members has that mentality to work every day, work hard, and fight for that inch, we are striving towards that right work ethic."
     What's "key," says Presley, is "building a culture where people want to work hard and have fun." Aligning values of leaders and employees is where it begins. 
     "If values align, you'll find the right people to fill open seats," says Presley. "If each team member can state your values, and your leadership is sticking to them, people's work and performance typically excels."
     Presley's company became an ESOP in 2002, and it runs EOS [entrepreneurial operating systems] as its business process. "Each employee has something they own, whether that be a part of the organization or a goal as part of their EOS scorecard," he explains. 
    The approach "keeps everyone aligned, and for those who can't perform, they typically choose to opt themselves out," says Presley. "There are a lot of opportunities to succeed at our company, and our strategy has always been to make the goals known and make sure the team is motivated to hit them."
Ambition
     "I have a friend who has been very successful, and a philosophy that we share is that you cannot teach ambition," says John Purswell, vice president at Alklean Industries in Pasadena, TX. It may not be synonymous with work ethic, but ambition is closely related.
     Having ambition means wanting to accomplish something—whether it is building a new retaining wall or selling more product. The desire to do brings people to work on time and keeps them going, explains Purswell. "[They] are willing to work until a task is accomplished and feel a sense of satisfaction when a task is completed properly." 
     Purswell points to a familiar adage as instructive. "I advise people if they want something done, ask a busy person. If you ask a person who is not doing anything, that's often because they don't want to do anything."
     Brenda Purswell, president of  Lone Star State-based Alklean, adds that tied up with ambition is perseverance, which is "the willingness to do whatever, whenever, or however long it takes to get the job done," she says. "To have an attitude of just do it—not having 'it is not my job' in your vocabulary.
     "To always be a team player and help wherever needed" is essential, continues Purswell. "My dad always said if you do not have time to do it over, just do it right the first time."
     Growing up on a family farm, Purswell and her siblings were expected to work, know how to do their jobs, and do them right. "My father never accepted 'I can't' or 'I don't know how.' He taught us to think and to think through any problem and find an answer. Work ethic and common sense were paramount to him."
     Purswell explains that her company has always believed in incentive-based pay. "If the work ethic is not there, hopefully the desire to make more money will incentivize that individual to try harder." Sometimes it does.
     "Work ethic has always been varied as long as we have been in business—50 years this year," says Purswell. "If taught to work from a young age, people will have a work ethic. If they are not taught at a young age, it becomes harder for that ethic to become a reality."
     Dave Hildebrand, manager at Barens Inc. in Seneca, PA, also links the importance of aspiration and initiative to dimensions of work ethic. "I have always been taught that if you wanted something in life, the best way to attain it is to get a job and earn it," he says. "When you take a position, you need to perform to the best of your ability during the hours that you are required to work."
     Concerns expressed about missing—or even imperiled—work ethic are not new. "I remember when I was younger hearing adults claim that the work ethic of my generation certainly wasn't the same as theirs," says Hildebrand. "I guess we can apply the same comments to potential employees today."
     Does that mean work ethic has not changed? "I'm not sure the work ethic changes, but the types of employment people are willing to accept today has changed," says Hildebrand. "Working in the mills or other manual labor jobs were sought after since they were high paying jobs, but there were people such as myself who did not have the desire for such manual labor."
     With his desire to do something different, Hildebrand realizes his commitment to work might have been doubted. "Should my work 'ethic' have been questioned?" he asks. "I believe the employer has to be the one to determine whether a potential employee wants to perform the duties he is hiring for."
     In fact, Hildebrand cautions that what appears to be a lack of desire to work may be attributable to a shortage of workers. "Sometimes there just aren't enough people interested in the position you have available," he explains. "For example, we need a warehouse employee, but none of the applicants are interested in that position."
     Instead, the applicants "may want a sales position that I currently do not have," says Hildebrand. "Do we claim this generation is lazy or not as dedicated as the past?"
     It is complicated, explains Hilde-brand. "Each employee is different when it comes to commitment to work. Some employees do the bare minimum they can get away with during their shift, while others will look for other things to do to keep from getting bored. And still others are hoping to climb the ladder if that is a possibility."
     What is the answer to varied aspirations, dreams, and, in whole, a work ethic? "As an employer you have to find that magic button so employees are enthusiastic and want to do more than the minimum," says Hildebrand. "That can be in the form of a free lunch for reaching a determined goal, or extra time off, or possibly giving a raise in a specified time frame." 
     Keep those hands busy, refuse to fail, and encourage ambition. In the meantime, find the magic button that motivates your employees.