The 2023 Professional Pressure Washing Chemical, Equipment, and Accessory Showcase
Published November 2023

Editor's Note: It was good to be together and see everyone at PowerClean 2023. It was good to meet and be able to view chemicals, equipment, and products in person. Cleaner Times is excited to let companies in the industry showcase their products in these pages so that those who couldn't make it to PowerClean can still get a little taste of some of the helpful products for those in the industry that were displayed in Arizona.
---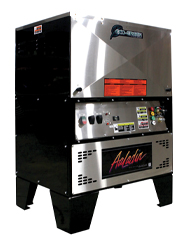 AALADIN CLEANING SYSTEMS
8000 Series
www.aaladin.com
800-356-3325
     Experience the revolutionary 8000 series from AaLadin. These powerful, all-electric machines are capable of 2–4 gpm and 1200–3000 psi and are perfect for situations needing to stay free of open flames and exhaust fumes. They come equipped with top-of-the-line safety features, controls, and removable high-pressure heating elements that heat water instantly. You can be confident that your 8000 Series unit from AaLadin is future proof and ready to stand the test of time.
---
ALKOTA CLEANING SYSTEMS
XH4 Series
800-255-6823
go.Alkota.com
     Alkota's XH4 series of belt-drive hot water pressure washers is ready to tackle your most demanding jobs. XH4 offers 2–4 gpm with up to 3,000 psi. It features a streamlined horizontal heater, a 31-in. width to fit through standard door openings, and non-flat wheels and is oil-fired with a schedule 80 coil. Alkota's XH4 series has a seven-year coil warranty and USA-backed service and support. Upgrade to our Xtreme series for stainless and more! Get Alkota Clean.
---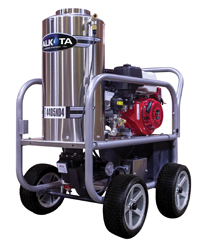 ALKOTA CLEANING SYSTEMS
4405XD Series
800-255-6823  |  go.Alkota.com
     Alkota's 4405XD series is a direct-drive hot water pressure washer that packs a punch. Operating at four gpm at 4000 psi, the XD4 units offer your choice of Honda, Vanguard, or Kohler engines. It comes with non-flat wheels and a direct-drive pump with a schedule 80 coil and a stainless-steel platform, wrapper, and base. As with every Alkota, this unit has a seven-year coil warranty and USA-based service and support. Outshine and out clean with Alkota.
---

ALL JETTING TECHNOLOGIES INC.
Sapphire Nozzles
www.alljetting.com
info@alljetting.com
772-286-1218
     All Jetting Technologies manufactures a vast variety of high-pressure and ultra-high-pressure water blasting nozzles, including sapphire nozzles such as the ¼-in. (OS4), 3/8-in. (OS6), 7/16-in. (OS7), 5/16-in. (UHPX), and the M10 Metric nozzle. We use polished Swiss sapphire jewels for increased cutting and cleaning power. The durability and quality of our hydroblasting nozzles will give you high performance on your water blasting jobs. All Jetting offers free samples of nozzles—just contact us with the orifice size and nozzle type needed for your waterjetting project.
---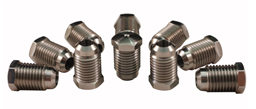 ALL JETTING TECHNOLOGIES INC.
TOUGHJacket™ Waterblast Hoses
www.Alljetting.com  |  772-286-1218
     High-pressure TOUGHJacket™ hoses for waterblast applications are available from All Jetting Technologies. All Jetting Technologies Inc. distributes Parker Hannifin's high- pressure TOUGHJacket™ waterblast hoses for 35,000 psi to 55,000 psi waterblast applications. The hoses are designed to eliminate the need for an additional PVC sleeve and reduce the hose weight up to 16 percent. This allows for ease of handling, improved productivity, and reduced operator fatigue. Contractors are loving the lighter weight and reliability of the TOUGHJacket™.
---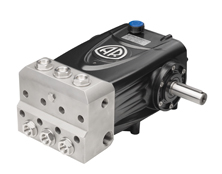 AR NORTH AMERICA
RTX-SS Stainless-Steel Headed Pump
800-893-4235
     AR North America presents our new RTX-SS stainless-steel-headed pump in our hydraulic direct-drive configuration. Maximum operating parameters range from 26 gpm @ 1800 psi to 17 gpm @ 3000 psi. Head machined from solid AISI 316L steel billet for resistance to saltwater and many chemical environments. Solid Ceramic plungers. Crankshaft in heat-treated pressed steel for excellent mechanical strength (30mm solid shaft). Excellent pump for operating in desalinization of seawater, hydro-excavation trucks, cleaning ship hulls, sewer jetting, and oil and gas applications.
---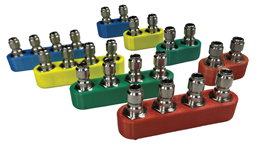 AR NORTH AMERICA
BISW060 Series Cleaning Heads
www.arnorthamerica.com
800-893-4235
     With more than 30 years' experience in the production of washing and rotating heads, Bolondi and partner, AR North America, have been revolutionizing how we clean products today. Our BISW060 series cleaning heads have become the industry standard in terms of quality and reliability in the trash bin cleaning world. The Bolondi heads have significant advantages over competitors, such as better cleaning results, reduced water usage, reduced chemical usage, and reduced working costs.
---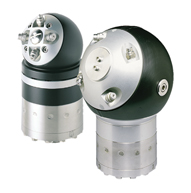 BARENS
Quad and Dual Couplers
www.barens.com
800-676-0607
     Barens presents an exclusive product, the Quad and Dual Couplers, tailored for soft wash and cold-water pressure washer applications. With plastic shrouds produced in-house at the Seneca, PA, Barens's facility, these couplers arrive pre-installed with ¼-in. FNT quick-connect plugs for effortless setup. Operators can attach various spray nozzles to each plug for seamless transitions. Available in four distinct colors, these couplers allow operators to swiftly switch between setups, enhancing field efficiency.
---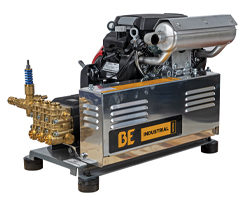 BE POWER EQUIPMENT
B4024HTBA: Truck-Mounted, Belt-Driven Pressure Washer,
www.bepowerequipment.com
800-663-8331
     Engineered for rugged mobility and seamless installation, our truck-mounted belt-driven pressure washer featuring the robust Honda GX690 688cc engine and triplex AR Pump, with an external unloader is purpose-built for on-the-go cleaning power. Designed to be effortlessly integrated into your mobile truck or trailer pressure-washer system, this unit boasts a tough, powder-coated steel-plate construction that offers unobstructed access to the engine-pump combination. To ensure stability during operation, it rests upon vibration-absorbing rubber pads with secure bolt-through holes, guaranteeing durability and reliability in the most demanding environments.
---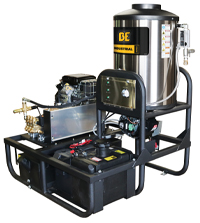 BE POWER EQUIPMENT
Zinger Hot Water Skid
www.bepowerequipment.com
800-663-8331
     Introducing the Zinger Hot Water Skid—a robust pressure washer, proudly crafted at BE Power Equipment's recently acquired Largo facility. Powered by a Honda GX630, 688cc engine and a triplex Comet pump, it delivers 3,500 psi and 5.2 gpm. Featuring a ceramic plunger pump, stainless-steel control panel, adjustable thermostat, and EPA/CARB approved 6.5-gallon gas tank, this skid unit includes a Beckett 12V SDC burner for efficient heating. Equipped with a 50-foot high-pressure hose, color-coded spray nozzles, and trigger gun control, it ensures reliable and powerful hot water cleaning.
---

BLUBIRD INDUSTRIES
Testing Group
844-769-4673
     BluBird Industries, a leader in the hose and hose reel global market, collaborates with pressure-washing professionals to address sector challenges. Their engineers design hoses based on field data, ensuring longevity. Most notably, the revised Kevlar braided hose with ToughTek exterior is a result of this collaboration with industry professionals who are part of their testing group. BluBird's commitment to innovation distinguishes them in the pressure washing industry. 
---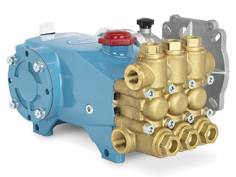 CAT PUMPS
New Models 7CP6165CSG1, 7CP6165CSG118, 7CP6185CS 
Plunger Pumps
www.catpumps.com  |  763-780-5440
     Built to withstand the rigors of demanding mobile applications, the new Cat Pumps 7CP pump models are perfect for trailer-mounted pressure washing cleaning equipment. Answering requests from industry leaders, these pumps are rated at 8 gpm and up to 3,500 psi and offer gearbox, belt-drive, or hydraulic motor mounting options. Features like higher-quality seals and 316 stainless-steel valves ensure you spend more time in the field instead of the shop performing unplanned maintenance.
---

CETA
Make A Difference—Become Part of Your Industry
800-441-0111  |  www.ceta.org
     CETA provides solutions to distributors, suppliers, and manufacturers who must navigate changing markets. We will help differentiate you from your competition. In addition we'll boost your profitability and professionalism and keep you connected with our members. Networking—Connect with a supportive community that offers networking opportunities with other CETA professionals. Special Access—Get access to CETA-specific products and services that keep you at the top of your field. Increased Profit—We share data and supply key indicators to help you develop a plan to increase your net profit by 10 percent or more. For additional benefits, scan the QR code.
---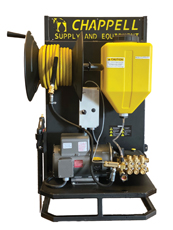 CHAPPELL SUPPLY AND EQUIPMENT
Compact Wash Bay System
www.chappellsupply.com  |  800-525-4970
     Chappell Supply and Equipment is proud to showcase their compact wash-bay systems. These come in a variety of pressure and flow options and are an excellent space-saving option. These systems are cost efficient and easy to use. All compact wash-bay systems come equipped with an industrial triplex pump, auto start/stop, five-gallon soap tank, 50-ft. hose reel with high-visibility safety hose, and added wall-mount capabilities. For more information contact Chappell Supply and Equip-ment at 1-800-525-4970 or visit www.chappellsupply.com.
---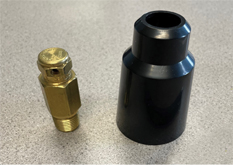 COILS-R-US
The Rupture Disc and Directional 
Control Cone
www.coils-r-us.com
479-549-3880
     Coils-R-Us provides the 3/8-in. MPT rated at 8000 psi rupture pressure. "The Rupture Disc that works, every time you need it to." Only at Coils-R-Us. Call 479-549-3880.
---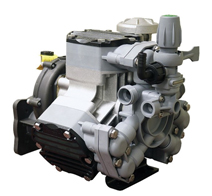 COMET PUMPS
P40 Soft Wash Diaphragm 
Pump (6158.0100.00)
800-864-1649
     The P40 diaphragm pump excels in professional soft washing. Chemical-resistant parts ensure durability, and a single-piece manifold reduces potential leaks and simplifies servicing. Molded inserts prevent loosening, a bolt-on regulator prevents pressure adjustment leaks, and aluminum head plates with a metal oil cup enhance durability and impact resistance. With 11 gpm flow and 300 psi max pressure, it's the most reliable pump for soft washing. It is available with gearbox or with Honda gas engine.
---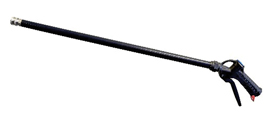 COMET PUMPS 
Soft-Wash 
Spray Gun (8108.7212.00)
800-864-1649
     This soft-wash spray gun is perfect for corrosive solutions. It has a quick-attach outlet for easy nozzle installation and an ergonomic grip for comfort. The trigger lock reduces hand fatigue, and its 24-in. barrel extends your reach. Its isolated internal trigger spring doesn't touch chemicals and is field repairable to keep downtime to a minimum. With 13.2 gpm flow and 217 psi max pressure, it's a reliable soft-washing tool.
---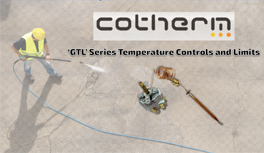 COTHERM
GTL Series
www.cothermna.com
401-732-2918
     Cotherm's bulb and capillary thermostats are specifically manufactured for temperature control in pressure washing applications. Made to withstand high pressures and offered with a variety of fittings, our thermostats are available in both standard and custom configurations in our Rhode Island warehouse. Visit us at www.cothermna.com or Cotherm NA on LinkedIn and inquire more into what we have to offer. We stand behind our quality, competitive pricing, and customer service!
---
Extreme Duty Dual Hydraulic XTM Series
coxreels.com  |  800-269-7335
     The XTM dual hydraulic reel is perfect for any applications where dual hydraulic lines are required. Coxreels' single-sided, dual-bodied hydraulic swivel is unique in the industry and featured on this reel, allowing for the inlet connections to both be on the same side of the reel. Supplied with a twin-line fully bonded hose rated 2500 psi, the XTM Dual Hydraulic is the solution for your high-demand applications where you simply need the best of the best.
---
DECO PRODUCTS
Shine-a-Cast
800-500-DECO
     Shine-a-Cast is a revolutionary, beauty-enhancing paver sealer that will transform your outdoor living space. It penetrates deep into the substrate to lock in joint sand and creates a semi-protective layer on the surface, resulting in a higher shine. Shine-a-Cast can be used to revive worn-out, sun-faded surfaces and restore them to their original luster. Color pigments can be added to customize any job, allowing you to create a unique look that perfectly complements your décor.
---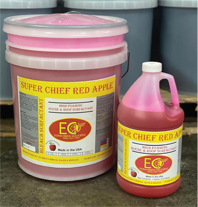 ETOWAH CHEMICAL SALES & SERVICE
Super Chief Red Apple
www.etowahchemicals.com  |  800-848-8541
     Super Chief Red Apple is specifically designed as a bleach addictive. It contains a red/pink dye that helps mark where the cleaner has already been applied. This reduces the overspray and eliminates chemical waste. The red apple scent will help mask the bleach odor. This surfactant is super concentrated. For roof washing add two quarts of Red Apple to 100 gallons of water and then run it through your proportioner; for house washing dilute one quart to 100 gallons of water and run through the proportioner.
---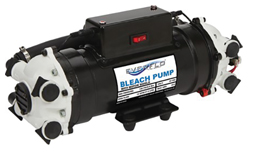 EVERFLO
24-volt 10 gpm Soft Wash Pump (EFSW10000-BOX)
www.everflopump.com  |  800-864-1649
     The Everflo 24-volt, 10 gpm, dual-headed pump competes with gas-powered pumps for soft washing. It features motor shield technology that prevents motor damage by shutting off when leaks are detected, saving money on a full replacement pump. The pump also includes automatic shut-off during inactivity, self-priming up to 10 feet, and corrosion-resistant components. It's CE approved, with a standard mounting pattern for quick installation. Replacement heads are available, and it comes with plumbing and fittings included.
---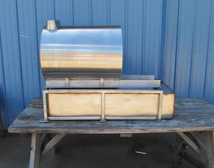 FARLEY'S INC.
Custom Machine and Heater Kits
www.farleysinc.com
800-522-COIL (2645)
     Farley's Inc. has the capability and flexibility to meet your custom kit and metal fabrication needs for your specific application. These units can be manufactured for diesel, kerosene, propane, or natural gas. Fabrication is with mild steel or stainless steel, including stainless steel coils if needed. There are unlimited possibilities with these custom-made kits! Call Farley's Inc. at 800 522-2645; we look forward to hearing from you!
---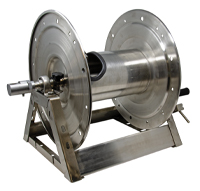 GENERAL PUMP
DHRA Stainless-Steel Hose Reels
www.generalpump.com
888-474-5487
     General Pump's DHRA stainless-steel hose reels are designed and built to withstand aggressive environments, from agriculture and soft wash to the food industries. These are available in 150 ft., 300 ft., and 450 ft., 3/8-in. hose capacity. The full-flow, stainless-steel swivel can withstand pressures up to 5000 psi and temperatures up to 250°F. The A-frame design allows for mounting on floors, walls, trucks, trailer beds, and more.
---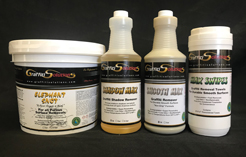 GRAFFITI SOLUTIONS
Elephant Snot® & Graffiti Removal Products
800-891-0091
     Graffiti Solutions manufactures a comprehensive line of graffiti removal products that tackle everything from the toughest multicolor tags on brick walls to marks on the finest automobile finishes and everything in between. Elephant Snot® is a viscous gel that clings to vertical surfaces, resists drying out on sun-drenched walls, and is effective down to 20°F. Our readily biodegradable, low-odor, and low-VOC (volatile organic compound) products are easy to use and WILL make money for you.
---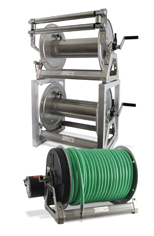 HANNAY REELS
SNC Reel Series
www.hannay.com
877-GO-REELS (467-3357)
     Hannay's SNC (spray non-corrosive) reel series is ideal for the pressure-washing industry, built to handle 3/8-in. through 5/8-in. ID hose. Constructed in stainless steel and aluminum, SNC reels provide increased protection, even in volatile environments. SNCs are available in manual or power rewind, with an optional stack kit for tight spaces. Hannay offers high-quality, highly effective reels to suit the needs of a variety of industries and project scopes.
---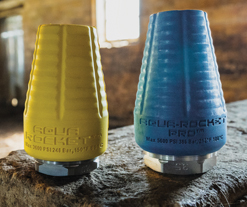 HYDRA-FLEX
Aqua-Rocket™—Rotating Industrial Cleaning Nozzle
Hydraflexinc.com
952.808.3640
     Aqua-Rocket by Hydra-Flex is a heavy-duty cleaning nozzle built to eliminate the toughest dirt and grime challenges. Constructed with a stainless-steel housing and tungsten carbide wear surfaces, it can withstand harsh environments, provide a longer life span than ceramic nozzles, and start and stop in any direction, making it incredibly durable. Aqua-Rocket is available in two pressure ranges, making it compatible with a large range of equipment.
---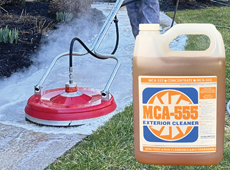 HYDRAMOTION
MCA555 Exterior Cleaner
Hydramotion.us
800-726-1526
     The SideWinder™ Surface Cleaner has always been the state-of-the art pressure washer accessory. HydraMotion now offers products including LFC-423 for floors, MCA555 for mold removal, and KE-4095 for degreasing. All our cleaners deliver superior cleaning results and are biodegradable, non-toxic, plant friendly, safe for children and pets, and cost effective! All products are manufactured in HydraMotion's ISO-9000-compliant facility in Pottstown, Pennsylvania. 
Email us at sales@hydramotion.us or call 800-726-1526 to become a distributor.
---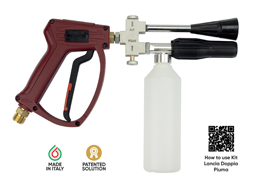 IDROBASE GROUP
Piuma Double Lance Kit 
www.idrobasegroup.com
+39 049 933 6769
     The Piuma double lance kit is the two-in-one solution for foaming and rinsing your car. With just one light and easy-to-use lance, you can foam and rinse effectively, optimizing your work. In fact, through a helpful diverter the change of function (foam-rinse) is performed instantly, facilitating operations and reducing time. The foam that is dispensed is rich and dense and capable of clinging to the car for a long time with great benefits on the final yield.
---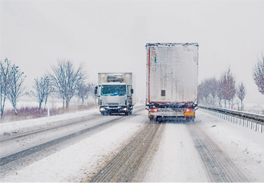 ITD CHEMICAL LLC
Salt Shaker
www.itinc.biz  |  800-472-1233
     Salt Shaker is a premium truck wash product formulated specifically for use during the tough winter months. It is a heavy-duty, concentrated detergent designed to remove heavy soil and road film, including salt, calcium chloride, and de-icing products used on winter roads. Finally, Salt Shaker contains a winter protection package that leaves behind a binding carnauba wax for shine and protection. This works on trucks, trailers, construction equipment, snowplows, boats, docks, and fifth wheels.
---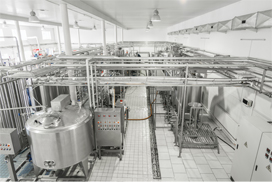 ITD CHEMICAL LLC
Sani Quat 23
800-472-1233
     Sani Quat 23 is an EPA-registered, concentrated, no-rinse quat sanitizer that is effective across a dilution range of .25–3.0 oz per gallon of water. It's an easy spray and wipe, mop bucket, or third-sink sanitizer application with no rinsing required. Sani Quat 23 can be used for a wide range of purposes within food establishments, food handling and processing areas, healthcare facilities, and animal premises.
---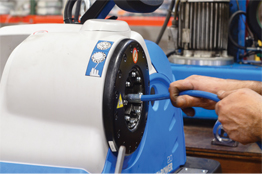 KLEEN-RITE
Custom Hose Assemblies
800-233-3873
     Custom hose assemblies from Kleen-Rite: easy, economical, and smart. Forget investing in crimpers and bulk reels of hose that will just sit around taking up space! Kleen-Rite puts together the best hose and fixture combinations at the lowest industry prices, with custom lengths from 1-20 feet, and 25-, 50-, 100-, and even 150-foot assemblies. Choose from 1/4- or 3/8-inch diameters, and color code for easy identification! Fit out your car wash right, with Kleen-Rite!
---
SS Chemical Foam/Spray/Rinse Systems
800-999-2820
www.laff.io/pw-guide
     Lafferty provides industrial foamers and sprayers for professional grade pressure washers. Dilute one or more chemicals on demand—including strong dilution ratios for roof washing. Hose-end attachments and downstream configurations feature stainless-steel injectors, ball valves, and quick connects. Quickly switch between soft wash foaming at close or long range, chemical spraying, and high-pressure rinsing. View our illustrated selection guide at www.laff.io/pw-guide.
---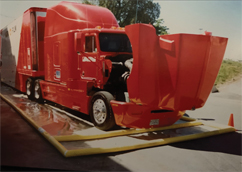 LATIMAT 2.0
Latimat 2.0 Containment Mat
www.latimat.net
416-579-5845
     The Latimat 2.0 Containment Mat has been designed to catch every product that is washed or de-iced. This includes (but is not limited to) brake dust, oil, grease, and detergents from de-icing planes, car detailing, and other cleaning jobs. It is our responsibility to supply you with reliable products to protect the environment from this waste going into our drains. The Latimat is available in three types—foam, air berm, and L-bracket perimeters—and is drive on-drive off in any size configuration.
---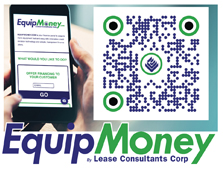 LEASE CONSULTANTS CORPORATION
EquipMoney.com
www.equipmoney.com  |  800-235-2605
     EquipMoney.com is your fast, simple, and safe way to finance commercial equipment. Lease Consultants Corporation offers a variety of payment plans to ensure you get the monthly payment that best fits your budget. Our online credit application is available 24/7 from any device. Applicants can even be auto approved in seconds! Transactions are processed quickly and securely using DocuSign to complete all required e-documents. Finance equipment for your business today at www.equipmoney.com or call 800-325-2605.
---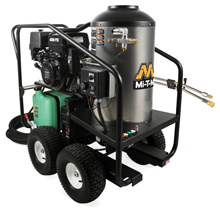 MI-T-M CORPORATION
DHG Series Hot Water Pressure Washer 
www.mitm.com  |  800-553-9053
     Powerful and portable, this 4000 psi, 3.7-gpm hot-water pressure washer is built to blast away the toughest grime and grease. It features an industrial OHV engine and a bottom-fired heat exchanger, with a 12V Beckett burner and adjustable thermostat. This pressure washer comes with a 50-foot hose, dual lance, and five nozzles, including a wet steam nozzle, and is available exclusively from your Mi-T-M dealer.
---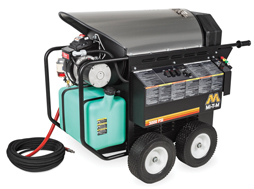 MI-T-M CORPORATION
Portable Electric Hot-Water 
Pressure Washer 
www.mitm.com  |  800-553-9053
     The portable electric HHS Series hot water pressure washer is designed for heavy-duty cleaning inside and outside. It can be used to tackle tough grease, grime, and stubborn stains. This 3000-psi, 3.9-gpm pressure washer features an open drip-proof motor, stainless-steel coil wrap heat exchanger, and adjustable thermostat. It includes 50 feet of hose, an adjustable dual lance, and multiple nozzles and is available exclusively from your Mi-T-M dealer.
---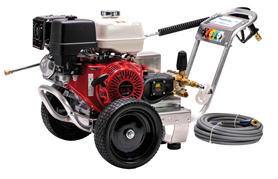 NILFISK HPW
Eagle Series Belt Drive EB4042HV-20
772-461-4486
     Built to stand up to the toughest jobs, the dependable Eagle Series Belt Drive, EB4042HV-20, has been trusted for decades by cleaning professionals. The EB4042HV-20 offers even more features to take your cleaning performance to the next level with our interlocking belt guard, tri-belt design, and pull straight belt-tensioning system. This model also features our proprietary Viper pump. Check out our expanding Viper pump offering at www.pressure-pro.com/products/pumps.
---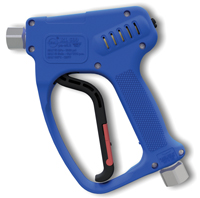 PA NAM
RL500
www.pa-etl.it  |  952-295-0917
     PA is proud to present the new RL500. This heavy-duty, high-pressure spray gun is rated for 10 gpm and 7200 psi to work in industrial settings. Like all other PA guns, it is designed to ensure easy maintenance and reduced downtime for service. The sturdy blue case made of high-resistance plastic material is shock-resistant. A shoulder rest and a lance are also available on request. The RL 500 is the perfect choice for heavy-duty applications!
---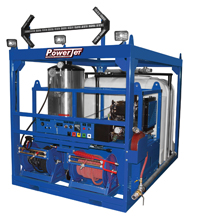 POWERJET
Fill & Play 
877-765-9211
     PowerJet's Fill & Play Packages are self-contained and hassle-free units that can be filled with fuel, water, and chemicals and moved wherever needed. All skid frames are constructed from fully welded, powder-coated steel tubing for a lasting finish and have lifting eyes and forklift slots for loading and unloading. Fully customizable—Choose the machine, water tank, hose reel, and accessories to fit your needs. Find out more about our self-contained cleaning systems today at www.powerjetpressure.com or email sales@powerjetpressure.com.
---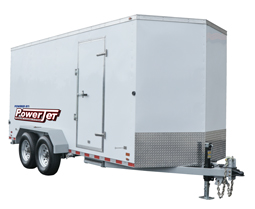 POWERJET
Enclosed Trailers
powerjetpressure.com
877-765-9211
     PowerJet is proud to offer purpose-built, quality, enclosed trailers built in our factory specifically for pressure/steam washer applications. We realized that even the best trailers available could not withstand municipal, oil field, logging, and industrial contractors' applications. So we said, "Enough is enough! Sometimes when others can't do something right, you must do it yourself." Top-quality features make our trailer the best-built trailer in the business—built for four-season pressure washer applications. For more information, visit www.powerjetpressure.com or email sales@powerjetpressure.com.
---
PRESSURE SYSTEMS INNOVATIONS
Bandit Hose Reel
www.pressuresystemsinnovations.com
sales@pressuresystemsinnovations.com
     Check out the new Bandit hose reel constructed from a heavy-gauge aluminum base with a stainless-steel manifold, which holds up to both high pressure as well as chemical applications. Each hose reel comes with a premium ball-bearing support swivel with a grease fitting for serviceability. It also boasts aluminum discs, a PVC spool, molded resin blocks, and stainless-steel hardware to hold up to the toughest environments. Stainless-steel stacking kits are available as well to minimize the footprints when mounting. Available in 12-in. to hold up to 300 ft. of 3/8-in hose or 18-in to hold up to 450 ft. of 3/8-in. hose.
---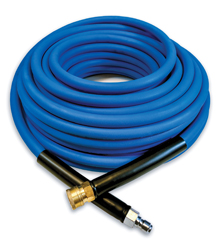 PROPULSE, A SCHIEFFER COMPANY
UberFlex® Commercial Pressure Washer Hose
www.powermovingforward.com
563-583-4758
     ProPulse has upgraded the standard cold-water pressure washer hose to a lightweight, uber-flexible, UV- and ozone-resistant cleaning hose. The patented hose has a working pressure of 4000 psi and 140°F (max) temperature. UberFlex® weighs 10 percent less than the standard one-wire rubber hose, and the textured polyurethane cover offers less snagging and drag resistance, reducing user fatigue. Learn more about UberFlex® and our other hoses at www.powermovingforward.com or email sales@powermovingforward.com.
---

PWNA
Elevate Your Skills and Safety
800-393-7962  |  www.pwna.org
     Become a leader in technical, safety, and compliance training with PWNA. Our comprehensive, online system offers flexible learning options, including in-person and online classes for members. Enterprise Membership: For $99/month or $999/year, access unlimited training, including certification and compliance classes. Excep-tions apply. First Aid Safety: Master emergency response for injuries, wounds, and hazards on job sites. Be prepared for any situation. Solar Safety: Address hazards in solar panel cleaning for all sectors. Enhance hazard assessment and mitigation skills. Flatwork Certification: Dive deep into flat surface cleaning techniques. Learn wand vs. surface cleaner, chemical selection, gum removal, and water recovery. Elevate your expertise with PWNA. Visit our website at www.pwna.org.
---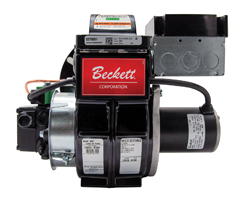 R.W. BECKETT
ADC Oil Burner
beckettcorp.com  |  800-645-2876
     The Beckett ADC oil burner is designed for applications where an AC power source is not an option. Available in two variations, the 12- and 24-volt DC-powered burners can be connected to a battery source for mobile jobs where uptime and operation consistency are required. Engineered and built with high-quality components, the ADC burners feature some of the lowest operating amps in the industry, which means you will have longer run times on a single charge, plus potted controls provide resistance to shock, vibration, and moisture.
---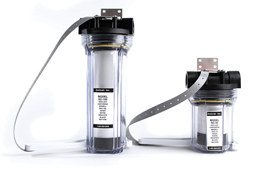 SCALTROL
SC-50 & SC-100
800-868-0629  |  www.scaltrolinc.com
     Scaltrol's hard-water solutions help commercial customers beat scale buildup, saving them from costly downtime and expensive maintenance repairs. To combat corrosion and scaling, Scaltrol scale control systems deposit a microscopic film of polyphosphate sequestrant to all surfaces using our patented venturi dispensing heads. Scaltrol units are easy to install because they are non-electrical, non-magnetic, and non-mechanical. To learn more, go to www.scaltrolinc.com or call 800-868-0629.
---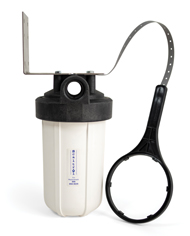 SCALTROL
SC-500
www.scaltrolinc.com
800-868-0629
     Scaltrol's industrial hard-water solution is for hot-water or cold-water applications requiring high-pressure and high-volume water. The Scaltrol SC-500 treats approximately 500,000 gallons of water, providing effective protection to your application from hard-water scale buildup and preventing costly downtime and expensive maintenance and repairs. To learn more, go to www.scaltrolinc.com or call (800) 868-0629.
---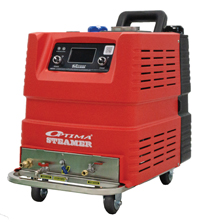 STEAMERICAS INC.
Optima Steamer 
XDm–Mini Steamer
www.steam.am
844-US-STEAM
     The Optima Steamer XD, known for its continuous high-temperature dry steam, has set the standard for wastewater-free mobile cleaning. Steamericas proudly introduces the Optima Steamer XDm, a more compact version with equal steam-cleaning capabilities. Weighing just 115 pounds, it's almost half the weight and size of the XD steamer, making it perfect for mobile detailing and contract cleaning owner-operators.
---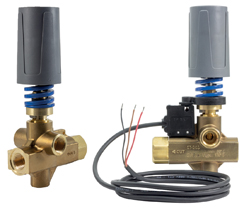 SUTTNER AMERICA COMPANY
3/8-in. Pressure Compensation Unloader Valve (ST-265)
800-831-0660
     Created with superior craftsmanship and cutting-edge technology, guaranteeing unmatched performance and durability. This unloader valve is designed to withstand intense use and provides a pressure relief solution for washers operating with a maximum psi of 5070 and a maximum gpm of 13.0. It is easy to maintain and has a fatigue-free spring. The valve components are built to last with a high-grade stainless-steel ceramic. This product is also available to purchase with a switch. For more information, visit www.suttner.com or call 800-831-0660.
---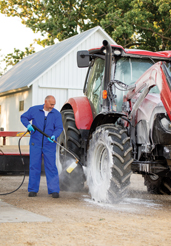 UDDER TECH INC.
Waterproof Workwear
888-438-8683
     Udder Tech offers waterproof workwear that is lightweight and machine washable. The waterproof bibbed overalls and jackets fit nicely over your clothes to keep you dry. The jacket is available with a unique thumbhole design that keeps your wrists and arms dry. For the best fit, put on the jacket with your thumb through the thumbhole and wear nitrile gloves over the top. This keeps any water from getting in your sleeves and running up your arms.
---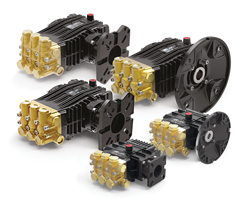 UDOR USA
Direct Drive Plunger Pumps
www.udorusa.com
651-785-0666
     UDOR USA offers gas and electric direct-drive models for simplified configurations without compromising quality and durability. Our PN Series is available in ¾-in. hollow-shaft, gas-engine flange and 5/8-in. hollow-shaft, NEMA 56C electric motor flange models. Our B Series is available in 1-in. hollow-shaft, gas-engine flange and 1 1/8-in. hollow-shaft, NEMA 182/184 TC electric motor flange models. For more information call 651-785-0666 or email info@udorusa.com.
---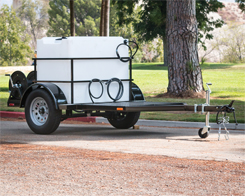 UNIVERSAL TRAILER
UTS230 Single axle trailer
pressurewashertrailers.com
818-252-8433 or 888-252-8433
     Universal Trailer manufactures trailers specifically for the pressure washing industry. There are three standard trailers to choose from, or we can build a custom trailer to your specifications. Standard trailers come with a 48-in. x 41 ½-in. steel mounting deck to mount your equipment, water tank, two heavy-duty reels, whip hoses for high pressure, and water inlet. It's as simple as mounting the machine and hooking up the high pressure and inlet hose, and you're ready to go. Just mount and go!
---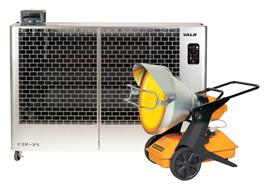 VAL6
FIR-X5
www.jsowill.com  |  360-226-3637
     VAL6 maintains class-leading performance and efficiency while bringing new innovations to the heating industry. In addition to the models industry professionals already rely on, the new FIR Series brings all the benefits of infrared heating with none of the drawbacks of an open flame. The enclosed flame design safely protects the flame within the unit, away from possible contact. VAL6 continues to operate with far greater efficiency than competitors. Can you afford not to use VAL6?
---

VALLEY INDUSTRIES 
Hardcore High-Pressure Manual and 
Electric Hose Reels (Variety of SKUS)
www.valleyind.com  |  800-864-1649
     Constructed from quality aluminum, these reels come in both manual and electric versions. The nickel–plated, high-pressure super swivel handles up to 5,000 psi, while the compact design and universal mounting pattern ensure easy installation. With an open-core design and stainless-steel bearings, wobbling is eliminated. The electric option has 12V 0.3HP motor-driven chain and sprocket for simplified hose rewinding. Available in 12- and 18-inch sizes. Perfect for pressure washing. Options also available for soft washing.
---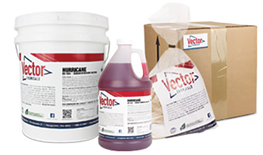 VECTOR CHEMICALS
Hurricane
800-331-0347
     Vector's Hurricane is a very heavy-duty degreaser concentrate developed for the toughest of cleaning and degreasing jobs. It is outstanding for cleaning heavy equipment, trains, trucks, engines, concrete, tools, floors, and much more and is extremely effective, whether using pressure washers, floor scrubbers, mop buckets, or manual cleaning. It is recommended to start at dilutions of 80 parts water to 1 part Hurricane and adjust as needed. Completely biodegradable. Let your dirt and grease be blown away with Vector's Hurricane. 
---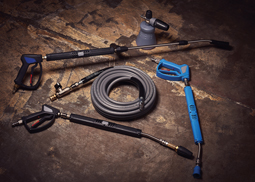 VELOCI PERFORMANCE PRODUCTS
KobraJet Hose and MTM Hydro Spray Guns
www.vppdealers.com
866-686-4020
     Veloci Performance Products provides the power cleaning industry with parts and accessories your business—and its customers—need. Veloci delivers on quality, selection, and expertise and has recently launched manufacturing to further build out its product offerings, including the Prima Precision stainless-steel fittings line and KobraJet hose, assembled in-house at the VPP HQ in Minnesota. Customers also know Veloci as the North American distributor of the exclusive, high-quality MTM Hydro brand, featuring spray guns that are made in Italy and designed with easy-pull triggers for effortless use and superior performance.
---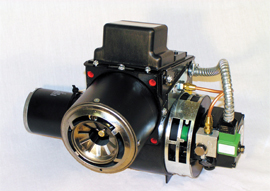 WAYNE COMBUSTION SYSTEMS
Gas- and Oil-Fired Burners
www.waynecombustion.com
800-443-4625
Gas- and oil-fired burners from Wayne Combustion Systems are engineered for long-lasting reliable performance at a competitive price. Made in the USA, our products are backed by 90-plus years of innovation, development, and production. Wayne's oil-fired burners are available from 0.50 gph to 13.00 gph. Additionally, our oil-fired burners feature a no-drip nozzle adapter for drip-free operation, adjustable flange, or base mounting option, and interlocking multiple air-adjustment bands for positive air control.
---

WHISPER WASH 
Hydro Flow Premium and Infinity Spray Bars
727-577-1292
    Whisper Wash is excited to introduce the next generation of spray bars! The new hydro-flow spray bar pushes the limits in precision and performance, a multi-dynamic hybrid design with greater flow and removable spray bar arms. It is quick and efficient. The most rugged and durable spray bar—the hydro flow infinity— is our exclusive design. It is a major step up in performance and consists of a lightweight aluminum center hub and a high-strength, stainless-steel outer arm. This decreases the overall weight and supercharges longevity. Patent pending design.
---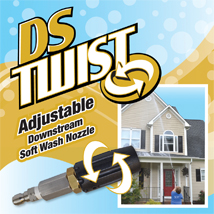 X-JET TECHNOLOGIES INC.
DS Twist
www.xjetnozzle.com  |  800-983-7467
     The DS Twist is a tough, adjustable downstream soft-wash nozzle reaching heights of up to 60 feet dependent on your machine's gpm, meaning no more switching tips to get different spray  patterns and height reach. Enjoy versatility with a DS Twist and shoot! Email at sales@xjetnozzle.com or call 1-800-983-7467 to find a distributor near you or become one!
---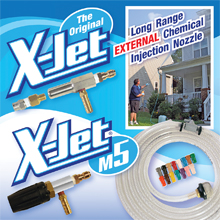 X-JET TECHNOLOGIES INC.
The Original X-Jet and X-Jet M5
www.xjetnozzle.com  |  800-983-7467
     The X-Jet nozzle is a contractor favorite with its true external injection system, introducing cleaning agents after your pump, hose, gun, lance, and fittings and reaching heights of up to 40 ft. or more depending on your machine. It is available as the Original X-jet and the adjustable X-Jet M5. Contractors cut labor time and save money on costly repairs on equipment by using an X-Jet nozzle.