The 2013 WJTA-IMCA Conference and Expo:Through the Eyes of a First-Time Attendee
By Michael Hamline / Published November 2013

The George R. Brown Convention Center in downtown Houston, TX, played host to the 2013 WJTA-IMCA Conference and Expo. The event took place Monday, September 9 through Wednesday, September 11. From live demonstrations, both outside and inside, to educational Boot Camp courses, to more technical paper presentations, to a busy and large trade show floor, the WJTA-IMCA Conference and Expo had it all covered.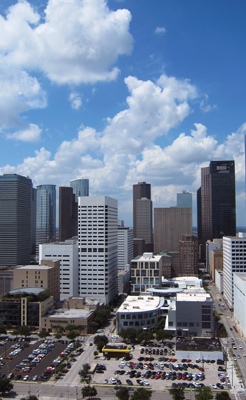 One of the most observable features for me as a first-time attendee was the international draw that the Conference and Expo held. There were attendees from 30 countries, representing six continents. A quick glance at the outside, live demonstrations at people's show badges, revealed an international mix from South Africa, China, Italy, Japan, Germany, Mexico, and all over the United States. In total, there were 915 participants with 57 exhibiting companies.
On Tuesday and Wednesday mornings, all of us who were participating headed over to the parking lot, which was reserved for the live, outdoor demonstrations. The demonstrations were held from approximately 8:00–10:30 a.m., which allowed us to escape the worst of the Houston heat and humidity. The live demos showcased several different pieces of equipment. All of the demonstrations were informative and interesting, but here are a few highlights that jumped out at me:
• NLB Corporation—All the chemicals, resins, and other build-up was stripped away in approximately four to five minutes with the tank cleaning head and high-pressure waterjets.
• TurtleSkin—Seeing this personal protective equipment (PPE) stand up to the ultra-high pressure waterjets was amazing. The continuing advancement in PPE, which makes it safer for those working in the field, is good to see.
• Terydon—The use of the wireless, smart tablet technology is what stood out in this demonstration. This technology is allowing for steps to be taken toward hands-free and safer tooling.
• GapVax—This demonstration showed the power behind vacuuming as they vacuumed up gravel and dry sand without any problem. I was a little disappointed to not see hydro-excavation in action but understandably the Convention Center didn't want to see their parking lot destroyed.
• Blast Bag—The large bag used in this demonstration showed how water spray and runoff from waterjetting could be contained and captured so that pollutants do not contaminate our water supply.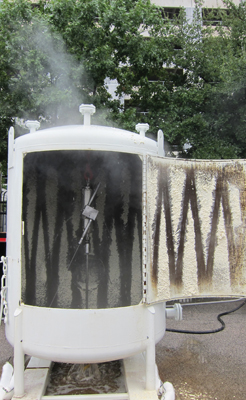 In response to a question I posed about the show highlights, Peter Wright with WJTA-IMCA replies, "The main highlight for us was the interest in new technologies and robotic waterjetting applications. These were manifested in the vendor displays and demonstrations, as well as interest from the attendees. We heard from participants that there was more interest in new technology and new techniques than there has been in years. With more plants and refineries nationwide requiring hands-free hydroblasting solutions, the WJTA-IMCA Expo serves an important need in showcasing these technologies and helping to educate the industry. Even for contractors who perform only manual hydroblasting, it is crucial to be aware of the new technology that is transforming the industry, and there was still plenty at the show to appeal to manual hydroblasting contractors."
Additionally, Wright says, "Another highlight was the increasing representation and involvement from the end users, the plants, and customers of waterjet/industrial cleaning services. A major goal of WJTA-IMCA is to bring together manufacturers, contractors, and end users for the betterment of the industry, and we've seen significant gains and very positive feedback about the growth of the show amongst end users." An additional highlight, again from a first-time attendee's perspective, was the emphasis I saw in the demonstrations and heard in the classes on safety. It is clear that technologies are being developed that are making this industry safer, whether through hands-free hydroblasting technological advances or even the personal protective equipment that is being made available to those currently involved in manual hydroblasting. This is an encouraging trend.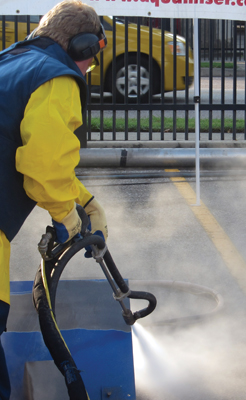 One final observation I had from my experience is that the George R. Brown Convention Center is ideally suited for conventions such as these. It is a well-kept and maintained facility and is actually pleasing to the eye both inside and out, which is not always the case for convention facilities. I say all that simply to point out that WJTA-IMCA has picked a great venue for their Conference & Expo over the last several years.
With that said, WJTA-IMCA has chosen a new venue and new dates for the 2014 WJTA-IMCA Conference and Expo. Next year, they will be meeting in New Orleans at the Ernest N. Morial Convention Center October 13–15. Perhaps like me, you are simply curious to know why a decision was made to change locations. Again, I asked and Wright was kind enough to respond. "After more than a decade in Houston, we felt it was time to make a change, and the response from our members and exhibitors has been overwhelmingly positive. WJTA-IMCA had a great run of shows in Houston, and we appreciate the city and its hospitality. We feel that New Orleans will provide exciting options for entertaining and networking and will raise the profile of the show internationally and around the United States. New Orleans provides an exciting, world-class destination while remaining in close proximity to the Gulf coast industrial base. We expect that the move to New Orleans will lead more waterjetters from outside of the Gulf to make the trip to experience the city in addition to the WJTA-IMCA Expo." Cleaner Times | IWA will look forward to seeing you in October 2014 in the Big Easy.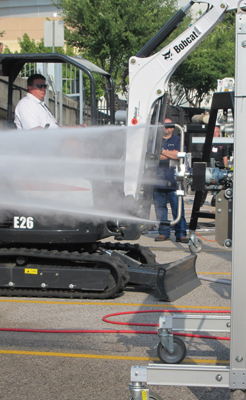 For more information on the upcoming WJTA-IMCA Conference and Expo in 2014, check www.wjta.org.