Tender Loving Care for Your Wood Features
By Diane M. Calabrese / Published March 2018

Gazebos incorporate the A to Z of outdoor features constructed of wood. Yet even with the prospect of a 360-degree view, protection from rain, and an underfoot barrier to ticks and other ground-dwelling nuisances, gazebos are currently as popular as rotary phones.
Decks offer many of the same amenities as gazebos. Even though decks lost some favor during the last decade (perhaps as builders trimmed costs), they are not likely to disappear.
According to the U.S. Census Bureau, there is great regional variation in outdoor features in new home construction, and wood remains a vital component. In New England, more than 60 percent of new homes are being built with decks. Wood remains a popular exterior siding material in New England, where it covers approximately one-quarter of new homes, and in north-central states (where it covers about 20 percent).
Outdoor features (including siding) constructed of wood are less common in places such as the Rockies and along the West Coast. Yet, there are opportunities for contractors everywhere.
Homeowners generally take a critical look at all things exterior in spring. We thought we ought to do the same. Three experts on the tender—and no-nonsense—care of wood share some of their deep knowledge here.
The experts are Beth Borrego, vice president, and Rod Rodriguez, president, of the firm See Dirt Run! Inc. in Germantown, MD; and Brian Carter, vice president at Armstrong-Clark Company, Sonora, CA.
Cleaner Times [CT]: Which residential structures constructed from wood are most often overlooked in terms of maintenance?
Borrego: Fences are often neglected. People tend to get their deck serviced but don't go the extra step to maintain their fences. The entire yard would look so much better if they would get the fence done about every four years. 
Rodriguez: Wooden sheds tend to get overlooked. They sit back in the corner of the yard, and many don't get touched for years.
Carter: Shake roofs. It may be because they are up out of sight and therefore out of mind. They are not much different than decks except that they can last 60 years if you maintain them every five years with high
quality oils. If not maintained, you may only get 20 years out of them. A little expense in maintenance is a lot cheaper than putting on a new roof.
CT: Which is the most unusual (or surprising) wooden structure that you have ever been involved in maintaining by cleaning or coating or supplying materials?
Borrego: We once washed and sealed a wooden wishing well sitting in a client's front yard. 
Rodriguez: Wooden trash bins on walking paths in neighborhoods… 
Carter: For us, the unusual is not unusual. We often do things such as matching the under layer on a historical restoration. [The company has also had many unique experiences, such as helping a chain saw artist protect his creations.]
CT: What's the first question a contractor should ask himself or herself in order to get the best match between species of wood, age of wood, and cleaning and/or coating method?
Borrego: Learning about the different species of wood and their age will not happen overnight. It begins with the fundamental knowledge of the grain pattern, and from there your eye simply has to be good enough to identify it under different conditions, after it has been subjected to cleaning and re-coating, (correctly or incorrectly), or simply after UV [ultraviolet] degradation. Both the PWNA [Power Washers of North America] Wood Certification and various books that identify wood species are suggested. 
Rodriguez: Identify the coating to see if it is maintainable. Not all coatings perform the same way, and each has its own drawbacks that must be considered in the process of making any suggestions or recommendations. Learn about the coatings that you see on a regular basis. Learn about the compatibility or incompatibility with other coatings.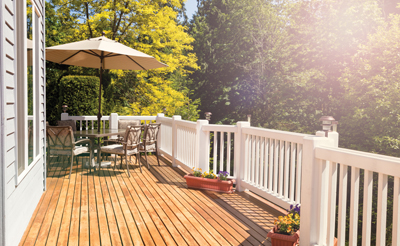 Carter: There are a couple of different questions. What stains do I need? What is the goal, and is it realistic? For example, mahogany stain on ipe may look dark red to a reddish brown. On pine, it may be an obnoxious bright red. If your pine is older and has grayed, you may want to consider using a light bleach-based cleaner with very thorough rinsing (and forgoing the oxalic acid) to keep the wood gray so that the mahogany on the pine is darker and better matches the mahogany on ipe…Another scenario is where someone replaced some boards in their deck with new wood and expects them to match the old wood. A similar scenario presents itself on decks that extend beyond covered porches, where the wood under the roof still looks new after several years while the wood exposed in the elements looks very different. You are not going to get these woods to match—not even close, at least not initially… [Carter's company, and other experts, can offer suggestions on how to get the best match possible, how to deal with issues such as deck boards extending beyond covered areas, and when—definitely not before one to six months of weathering—to coat new decks.]
Lastly, always use a sample can to test how stains will look.
CT: Are there any online or real-world courses that you would recommend to contractors who want to become more proficient in approaching jobs that involve residential structures constructed of wood?
Borrego: The PWNA Wood Restoration class is where we learned the basics, and from there we continued to read anything we could get our hands on, and picked up samples of whatever lumber we came across. Wood is an area of specialty. If you see it as an add-on, it will always be nothing more than an add-on. However, if you want it to be your primary focus, treat it that way. Learn all that you can. 
Rodriguez: Read the literature available from USDA [U.S. Department of Agriculture] forestry labs.
Carter: A recommendation would be to join the PWNA, PWRA [Power Washing Resources Association], or UAMCC [United Association of Mobile Contract Cleaners] and attend their wood restoration classes.
You can do a lot of research on the internet, but you may also get a lot of bad or contradictory information…We find that if you talk to people and ask questions you will better learn why someone may actually make different recommendations based on different criteria and scenarios.
CT: What makes wood such a loved and enduring building material?
Borrego: Craftsmen work with the materials they are most drawn to. Historically, wood has been used to create everything from homes to furniture, to ships, to railroad tracks, as well as art. Carpentry can be a very complex craft. 
Rodriguez: Wood is an extremely versatile material. It can be shaped and crafted into many designs. It comes in so many varieties and species that it is suited to different applications. The colors and grain patterns vary and are beautiful. As a natural resource, it is something that should be cared for once it is installed. 
Carter: Its natural beauty. Technology has come a long way in making some of the materials coming out of extruders 'cleaner' looking. However, they still cannot imitate the natural beauty in the characteristics of
wood, and they can still get awfully hot in the summer.
CT: Across the last decade, has the move toward heat-treated and kiln-dried lumber had any impact on the way in which maintenance (cleaning and coating) of wood structures should be approached?
Borrego: Not as much as you would think, no. All wood still requires a maintenance schedule. 
Carter: The biggest issue with these dried woods is a misunderstanding of how soon they can be stained. Many people think that because a wood has been dried it can be stained right away. Moisture content is only part of what inhibits stain absorption. There are still natural oils, mill glaze, and chemical treatments (for pressure-treated woods) on the surface of new wood that all inhibit the absorption of stain. New wood hasn't opened up. Different woods, in different climates, will take a varying amount of time to accept stain.
CT: What should we have asked you about maintaining wood?
Borrego: Can you jump right into wood care with no knowledge? It's not advised. It's a good way to damage someone's property. You should also be insured and licensed if your state requires it. Never perform a service you do not understand or have confidence that you can perform correctly. And whatever you do, never lie to the customer about what is best or about what you know. Honesty is the best policy. 
Rodriguez: Understanding the structure it is built upon and the IRC codes which govern its stability. [The IRC® is the International Residential Code, which aims to safeguard communities by establishing standards for single family, two family, and townhouse dwellings of not more than three stories; see www.iccsafe.org.] Each state has its own codes that it may enforce in addition to the IRC codes that you should become familiar with.