Taylor Johns: An Avid Clarinetist
By Jim McMurry / Published June 2018

Taylor Johns would be considered a power hitter in baseball or a first-round draft pick in basketball. The venue for his most recent acclaimed performance would be parallel to last year's Super Bowl. Maybe even a step higher.
For a musician, New York's Carnegie Hall is as good as it gets. To play in the same venue that has seen the likes of violinist Isaac Stern, entertainer Judy Garland, pianist Duke Ellington, and clarinetist Benny Goodman is not just special, it's unique.
On April 23, 2018, Taylor, the son of Advantage Publishing's Richard and Dana Johns and the grandson of Cleaner Times' publisher, Charlene Yarbrough, had the unique opportunity to play at the revered venue with the University of Central Arkansas Wind Ensemble. He is the second chair clarinet in the ensemble and had this to say of his experience.
"Everything about Carnegie Hall is stunning!" says Taylor. "Not only is it a beautiful facility, but the acoustics are unbelievable. It's amazing to be in a performance hall that has so much history attached to it. From Benny Goodman to the annual performances of the New York Philharmonic, the hall has and continues to showcase the phenomenal artists that our world has to offer."
Taylor is an avid clarinetist and has just completed his freshman year at the UCA, where he aspires to attain his bachelor's degree in Music Education.  He then plans to obtain his masters and doctorate degrees in clarinet performance.
"My dream job is to teach clarinet at the collegiate level as well as perform in a professional orchestra," continues Taylor. "I've had a lot of experience teaching young clarinetists, and I can't wait to be teaching clarinet for a living. I hope to impart some of my knowledge to the next generation of clarinet players. As a performer, I look forward to all the concerts, rehearsals, and many years in the practice room. This might sound crazy, but I can't wait for part of my job to be to practice!"
The clarinet and Taylor were first introduced while Taylor was in the 4th grade at The Baptist Preparatory School in Little Rock, AR.  During band tryouts, the instructor suggested that he play the clarinet, and as they say,  "the rest is history."  In middle school, once Taylor began taking the clarinet seriously, he began taking lessons from Kathy Danforth, an occasional writer for Cleaner Times. Since then, he has studied with Thomas Servinsky, second clarinet of the Atlantic Classical Orchestra (FL), and Dr. Kelly Johnson, principal clarinet of the Arkansas Symphony and professor of clarinet at the University of Central Arkansas.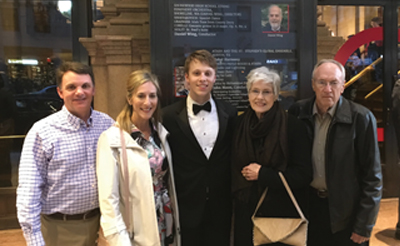 "I've been very fortunate to study under great clarinet teachers. All three of my teachers have been very influential. Mrs. Danforth, my middle school clarinet teacher, gave me a good foundation; Mr. Servinsky, my clarinet teacher while I lived in Florida, was very influential in helping establish my technique; and Dr. Johnson, my current teacher, is constantly pushing me toward greatness by working with me for many hours each week and encouraging me to work through my struggles on the instrument. Simply put, I've had great teachers!"
Parents Richard and Dana Johns moved the family to Jupiter, FL, when Taylor was in the 9th grade, which opened up opportunities that weren't available in his home state. Taylor comments, "Moving to Florida as a high schooler was a scary yet necessary experience for me as a musician. It wasn't until Florida that I started exploring orchestral experiences. A few weeks after moving to Florida, my mom was searching for ensemble opportunities outside of the norm of the 'band world.' She happened to find out that the Treasure Coast Youth Symphony was having auditions the very next day. The next day, after auditioning for Tom Servinsky, my would-be clarinet teacher, I was in TCYS. The rest is history!"
Since moving back to Arkansas his junior year of high school, Taylor has been blessed with many opportunities. He became principal clarinet of the Arkansas Symphony Youth Orchestra, performed at the Arkansas Symphony Orchestra Opus Ball XXXII where Arkansas Governor Asa Hutchinson was in attendance, placed second in the 2017 Stella Boyle Smith Competition, won the 2017 MTNA state competition, and was invited to perform with the Academy Orchestra (FL) this past January.  In addition, he started a private clarinet studio and started studying under Dr. Kelly Johnson, his current teacher.
A trademark saying of Carnegie Hall goes like this: "How Do You Get to Carnegie Hall?", and the answer is, "Practice, practice, practice!" Taylor took that advice to heart, and it paid off in one of the most exciting nights of his life in one of the most prestigious concert halls in the world.