Taking Protection to New Heights: Safeguarding Employees Working in High Places
By Terri Perrin / Published April 2015

While a bystander may not think that pressure washing would be a dangerous occupation, we all know that it can be. Even with flat surface cleaning, proper safety measures must be utilized to avoid potential injury. When we ask our employees to step off the ground—to climb a ladder or be harnessed on scaffolding or a swing stage—the potential danger and the employer's responsibility to ensure a safe workplace both rise.
According to the United States Department of Labor, Occupational Safety and Health Administration (OSHA), falls are among the most common causes of serious, work-related injuries and deaths. Employers must set up the workplace to prevent employees from falling from heights. Anything higher than four feet for most workplaces is considered to pose a potential hazard.
OSHA guidelines state, "Employers must set up the workplace to prevent employees from falling off of overhead platforms, elevated work stations, or into holes in the floor and walls. OSHA requires that fall protection be provided at elevations of four feet in general industry workplaces, five feet in shipyards, six feet in the construction industry, and eight feet in longshoring operations. In addition, OSHA requires that fall protection be provided when working over dangerous equipment and machinery, regardless of the fall distance."
Safety under Scrutiny
The role of OSHA compliance and safety inspectors is to ensure fulfillment of OSHA requirements and to help employers and workers reduce on-the-job hazards, to prevent injuries and deaths in the workplace.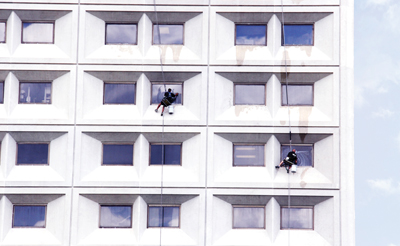 OSHA may conduct random inspections, without notice, on some of the seven million workplaces under its authority. (Your pressure washing business may be one of them.) While some of these inspections may be instigated as a result of complaints, fatalities, or catastrophes, most are conducted relevant to the degree of risk with a particular type of work. Detailed records are kept of all inspections and follow-ups are done on non-compliance issues.
When non-compliance safety issues are identified, OSHA must issue a citation and process the penalty within six months of the violation's occurrence. Fines can be more painful than falling off a ladder! Penalties may range from $7,000 for each serious incident up to $70,000 for each willful or repeated violation. While you can appeal, or sometimes come to a settlement agreement, the old saying, "it is better to be safe than sorry," would be a better plan of action. (For more information, see Website Resources on page 42.)
Going a Step Above and Beyond
With six locations in three Canadian provinces, the type of projects performed by Scotts Pressure Wash technicians varies. From flat surface cleaning to fleet washing; from cleaning buildings (up to four-stories); and even cleaning massive construction equipment, trains, boats, and planes, Scotts' employees are often required to access heights where the appropriate safety harnessing and security lanyards are legislated.
"At Scotts Pressure Wash, we take safety seriously," explains Paul Horsley, from his Calgary, AB-based head office. "As part of our Certificate of Recognition (COR), we schedule monthly safety review meetings and keep accurate safety records. For corporate liability and safety, any employee who is expected to work at heights, whether on a ladder, on scaffolding, or on a swing stage, must be properly certified. We usually book our guys into training and certification programs in the winter, when we are not as busy. Boom trucks with the 'cherry picker' buckets can, for example, be extremely dangerous. If the ground is not completely level and the truck is not properly balanced, they can tip over. I am a firm believer that, when it comes to safety, it is better to be proactive than reactive."
Ensuring Corporate Safety
Horsley adds that safely working at heights is not just about protecting employees. It is also about safeguarding the general public, personal and private property, any owned or leased equipment, and your corporate liability.
"I can't stress enough how important it is to arrive at a work site well prepared," Horsley emphasizes. "For every work order we create, we write up a detailed risk assessment form that includes photographs, as well as notes. We look for such things as overhead power lines, stability and levelness of the ground, ditches, pedestrian activity, and more. The work order is given to the operations manager, who then prepares a safety plan. Failure to 'work safe' and the insurance implications are huge. There are pretty stiff fines for job site injury or death. . .you can even go to prison. Obviously, it is always in your corporation's best interests to do everything possible to mitigate or eliminate the risk, but especially so when working above the ground."
Horsley also stresses that every power washing business owner should conduct a thorough, annual review of their insurance policy. "In addition to adequate liability coverage for employees and the public, ensure that your policy covers accidental damage to the property you are working on, as well as damage by fire or accident to your equipment. Insurance on equipment is often optional, but you should always take it. And make sure that certain types of commercial work are not excluded. For example, you may not be insured to work on buildings taller than four stories. Know your policy."
Personnel Matters
Jorge (George) Aguilar, Empire Highrise, Kansas City, MO, explains that his company offers window cleaning and power washing services to contractors who are not able to do height work because of a lack of proper insurance and/or experience. They help by providing an estimate and, if necessary, taking over the contract in order to provide service.
"Insurance issues aside, for any job that requires employees to work above the ground, never forget that there is a psychological aspect to consider," declares Aguilar. "Some people are afraid of heights and will feel un-comfortable on a flat rooftop, let alone hanging from a bosun's chair suspended over the side of a 30 story building. You have to take the training slowly and not force anyone to do something they may be afraid of. Working at heights can be very scary, and safety should always be top of mind."
Safety Spotlight

State Safety Standards May Vary

Did you know that 25 states, Puerto Rico, and the United States Virgin Islands have OSHA-approved state plans and have adopted their own standards and enforcement policies? For the most part, these states adopt standards that are identical to Federal OSHA. However, some states have adopted different standards applicable to this topic or may have different enforcement policies.
When hiring technicians, Aguilar's primary goal is to find workers who are in excellent physical condition. They must also have good mental attitudes and a healthy respect for safety. "This type of work is physically and mentally demanding," he says. "We believe that you can teach anyone who is willing to learn. Knowledge is definitely power."
As a further commitment to employee safety, the International Window Cleaning Association (IWCA) certifies all Empire Window Cleaning technicians. The company is investigating the benefits of implementing SPRAT (Society of Professional Rope Access Technicians) certification as well.
If Accidents Happen…
Aguilar is fortunate that most of his crew has been with the company for many years, and they think nothing of spending the afternoon on a swing stage. But, that is not always the case. He stresses that all employees must have a firm grounding pardon the pun—in the basics of pressure washing safety, before being expected to work at any height. His workers spend at least six months on the rooftops before going 'over the edge.'
"We have never experienced a height-related accident, but, in the event that something was to happen, most of my employees are trained in rescue and several are currently taking First Aid training," adds Aguilar. "Whether monitoring the equipment on a rooftop, climbing a ladder, or working on a swing stage, a big part of our safety protocol is to watch out for each other by ensuring the correct safety measures are employed. Watch-ing the weather is also an important aspect of our safety strategy. If the winds get higher than 25 mph, if there is a heavy downpour, or threats of lightning, all work stops. You have to do everything possible to protect the safety of your workers, as well as any people and property on the ground." 
Website Resources

• To download a PDF of the OSHA Inspection Practices Fact Sheet, visitwww.osha.gov/OshDoc/data_General_Facts/factsheet-inspections.pdf.
• Fall Protection Standards and Policy for Non-Construction Work This
section of the OSHA guidelines covers the proper use of portable wood
and metal ladders, fixed ladders, scaffolding, powered platforms, fall
arrest systems, vehicle-mounted elevating and rotating work platforms,
and much more. www.osha.gov/SLTC/fallprotection/standards.html
• Fall Protection Fast Facts: www.osha.gov/SLTC/fallprotection/ index.html