Surround Yourself with Successful
Join PWNA in New Orleans
Published August 2021

The Power Washers of North America (PWNA) will be at the Power-Clean Convention 2021 at the Hyatt Regency in New Orleans. Multiple events and educational classes will be held from September 8–11.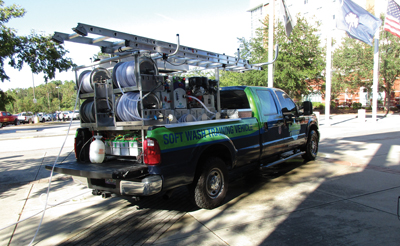 Chuck Violand will be the main event speaker for PWNA on Friday, September 10. His presentation will be "Sailboats, Yachts, and Tall-masted Ships: A Nautical Tale of Profitable Growth in Business." As an author and popular keynote speaker, Chuck Violand is a respected authority on entrepreneurial small businesses, having spent more than 30 years as both a business consultant and an executive coach. Chuck is a regular contributor to trade journals and newsletters and is the author of the popular weekly leadership series Monday Morning Notes and his newly released book, The Entrepreneurial Conspiracy. Make plans to be there on Friday, Sep-tember 10 at 9:00 am to hear what he has to share.

     Some of the event highlights for PWNA at PowerClean 2021 are as follows:
Special paid class Wednesday, September 8—"Gas Station & Niche Market Training" with Carlos Gonzales.
Special paid class Wednesday, September 8—"Softwash Cleaning" with AC Lockyer.
Certification classes will take place on Wednesday/Thursday, September 8–9.
Ladies' Wine and Wash will be from 2:00–4:00 p.m. on Thursday, September 9.
PowerClean 2021 Convention kickoff will begin with a keynote speech from Ted Ma at 4:15 p.m. on Thursday, September 9.
Sneak peek of trade show event will be held Thursday, September 9, from 5:30–7:30 p.m., plus machine giveaway.
Auction and machine giveaway is on Friday, September 10.
Free training classes are offered Friday and Saturday, 8:00 a.m.–NOON on September 10 & 11.
Trade show floor will be open Friday and Saturday from 1:00–5:00 p.m. on September 10 & 11.
Closing meeting and large skid giveaway will be Saturday at 5:00 p.m. on September 11.
     For updated schedule information and to register for PowerClean 2021 with PWNA, visit pwna.org/events.