Steamericas: Providing Environmentally-Friendly Cleaning Equipment Across the Americas
By Adia Walker / Published August 2014

The industrial and commercial cleaning business is, quite literally, a dirty trade. Due to the nature of the industry, complying with evolving environmental regulations while simultaneously finding cost-effective solutions that get the job done right is a never-ending quest. Companies that use industrial and commercial cleaning equipment should always be looking for the best possible options that meet their unique needs.
For many in the cleaning industry, Steamericas, Inc. can be a smart choice when deciding where to source equipment. The company is a distributor of commercial and industrial cleaning products, specializing in vapor steam machines for mobile or in-house applications. The relatively new company is a small but growing business with a global reach and is making environmentally positive impacts on local communities around the world.
The parent company of Steamericas, SJE Corp., is a South Korean manufacturer/distributor of commercial and industrial cleaning equipment that first opened its doors for business in the year 2000. In 2009, SJE established Steamericas in the U.S. The office and warehouse location in Inglewood, CA, is just a few minutes from LAX International Airport and services dealers from all over the United States, Canada, and Latin America.
"The company started out with only two employees in 2009 and has increased every year," says Ebony Young, Sales Associate with Steamericas. "Right now, there are seven of us." Steamericas emphasizes the importance of diversity in their workforce, employing veterans and minorities with various backgrounds and language skills. The multicultural atmosphere is a fundamental part of how the company plans to achieve customer satisfaction and sustainable business growth.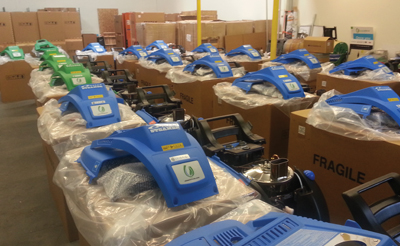 The employees work in a team-based environment, helping out wherever there is a need. "We are all key players in the company because we wear so many hats," Young says. "There's no one role for anyone, and we cross-train in a lot of different areas."
Being knowledgeable about the equipment they distribute is an absolute must for the team. The Optima Steamer comes in many different models that offer a variety of features to accommodate a wide range of different applications. The three main categories of equipment include diesel-powered steamers, electric powered steamers, and a hot water extractor known as the Hotty-Vac. A wide range of accessories are also available through Steamericas dealers.
A new accessory that made its debut in 2014 is the Barrel Steam Wand. Designed for use with the Optima Steam product line, its purpose is to clean and sanitize wooden barrels in the wine and spirits industry. The equipment and accessories are developed to support both broad and specific industrial applications in various settings. Steamericas relies on respected manufacturers to ensure high quality products that help to provide excellent customer service and build a reputation for reliable machines.
"Our most popular product right now is our diesel-powered steamer," Young says. "It's our most powerful mobile steamer, which allows customers to use two hoses simultaneously. Our volume has increased tremendously so far this year that we are working overtime to keep up with the demand," she continues. "At our warehouse in Inglewood, we stock all of our machines; we have about 12 different models. This warehouse supports and ships to all of our dealers in the United States, Canada, and Latin America."
Currently, Steamericas has relationships with 31 dealers, some of whom are located only a few miles away, and others whom are on an entirely different continent. Providing support to their dealers is a crucial part of the company's business. Ensuring that the dealers know how to handle product demos and technical servicing is instrumental to successful business relationships. Besides offering information and training opportunities, Steamericas also invites their dealers to various trade shows and even provides some compensation for the fees incurred at these events.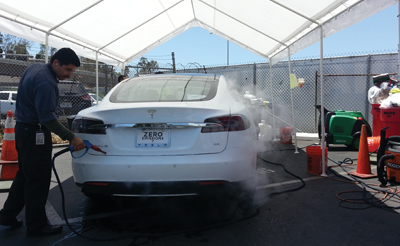 "A unique aspect about our company is that we're still pretty old-fashioned," Young says. "We go back to the basics of selling and servicing. Customer support is our first priority." The company's main customers come from a few main industries: auto detailing, transportation/fleet cleaning, commercial cleaning, and the food and beverage industry. However, the equipment can also be used for several other applications, including bed bug removal and medical/pharmaceutical needs.
Besides providing exceptional support to its growing customer base, Steamericas works hard on branding themselves in order to make a distinct name within the market. Teaching about the benefits of vapor steam in general and their products specifically, the company is able to make a distinct impression on potential customers. "Our mission is to provide the industry with eco-friendly cleaning equipment," Young explains. "Steam cleaning has been around for years, but it's really making a comeback because of its versatility and low water consumption. Our machines generate dry vapor steam unlike any other steamer on the market."
Young acknowledges that their products might not meet everyone's needs, but she is still passionate about the benefits of vapor steam and stresses the importance of educating potential customers about their products. "When it comes to eco-friendly cleaning, we try to educate people instead of trying to push something on them," she says. "We try to give them a lot of information and let them decide if it will work for them." According to Steamericas, potential benefits of using steam in industrial and commercial cleaning operations include: simplifying your business, protecting the earth, expanding your potential, complying with regulations, and saving money.
"Where a pressure washer can use 50 to 100 gallons of water, a steam cleaner can cut that amount down to about five gallons per application," Young says. "Also, when you are using steam, chemicals are often not required." While many cleaners require an air compressor to operate, the gentle pressure of steam works as an air compressor with a natural sanitizer built-in-one. In addition, steam cleaning does not  produceproblematic wastewater runoff.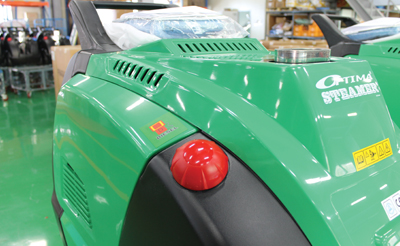 These qualities allow mobile wash operators to downsize on the equipment they must purchase and haul around, thus simplifying their work. Massive water tanks, wash mats, bottles of chemicals, water reclamation systems, air compressors, and many other items are no longer required.
Besides reducing the amount of equipment and supplies needed to complete the job, other processes are made simpler as well. While the Optima Steamer can efficiently clean cars, it does not require the operator to obtain a car wash permit; a simple business license will suffice. In addition, disposing of chemicals and wastewater is no longer an issue, so complying with regulations found in the Clean Water Act does not have to be a time consuming effort.
In addition to saving time and money, steam cleaners can help businesses expand their opportunities by giving them access to bids that were previously not an option and allowing them to focus on growth instead of avoiding fines.
"A lot of states in the U.S. are really strict with their water regulations dealing with recycling water and conserving water in communities," Young explains. According to the Clean Water Act, passed in 1972, it is "unlawful to discharge any pollutant from a point source into navigable waters, unless a permit is obtained." The Environmental Protection Agency can enforce this regulation with a fine up to $20,000 per day.
Considering the potential benefits to your business, it's easy to see why Steamericas is experiencing steady growth. The obvious health and environmental benefits of avoiding chemicals, conserving water, and reducing pollution are also a plus. By educating individuals and companies in a multitude of industries, Steamericas is able to effectively market not only their equipment, but also a way of life.
"The future focus of our company is to continue to inform people of alternate cleaning options as far as using steam to clean, deodorize, and sanitize without using chemicals," Young says. "Our mission is to contribute to the industry by helping companies to abide by all of the regulations and keep excess water from going into the storm drains. That's a big deal in this industry."
Young finds the cleaning equipment industry fascinating, and is proud to be able to help Steamericas attain its goals. "Everything in this industry is so interesting," Young begins. "Because I don't come from a cleaning background, I learn so much about what companies are doing. It's all very intriguing, but the most important part is how the equipment is made and how it works."
When asked how she got into the business, Young replies, "Honestly, I have no idea!" Reflecting on her start with the company, she recalls, "I came from a customer service background and started off on the operations side of the company, doing accounting and customer support. As the company evolved, I had to evolve with it. Now my job is more of a consultant; I have to find out on a personal level what the customer needs."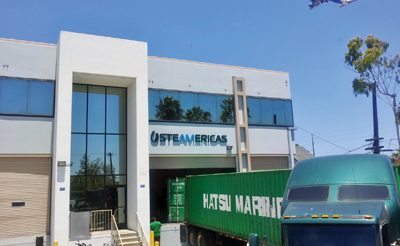 Steamericas, as a whole, spends a lot of time educating current and potential customers about the benefits of steam and the specifics of Steamericas' products. Even if these efforts do not result in an immediate customer gain, it helps to plant the seeds of eco-friendly cleaning options.
Another crucial part of her job involves assisting clients and dealers with troubleshooting when they call in with technical issues related to Steamericas' equipment. This is a central part of cultivating positive relationships and providing top quality customer service. "My first priorities are incoming calls, customer support, and dealers support," she says. "I also take a key role in forming and working on distributor relations. It's important to make sure everyone is on the same page with our policies." In addition, sales and marketing remain important objectives for Young. "Another aspect of my job is marketing," she says. "I work with magazines, websites, and other venues to get our message out," she says.
With such a varied job description, it's no wonder that every day presents learning opportunities for Young. In addition to learning the ins and outs of the cleaning industry in an office setting, she also spends time on the road, which provides a whole new aspect to hands-on learning.
Just five years ago Steamericas became the first U.S. subsidiary of SJE; in that time, the company has experienced steady, sustainable growth while making a positive impact on businesses and communities. As the need for environmentally- friendly options continues to grow, Steamericas seems poised to assist the industry in this endeavor.