Service Technician Training: Service Tool Basics, Part 2
By Gary Weidner / Published August 2015

Editor's Note: This service technician training series was published previously from September 2008 through June 2014 in Cleaner Times|IWA. It is being republished with the recognition this material is not exhaustive of the subject at hand, but rather to present to new servicepeople an all-important, fundamental understanding of how things work.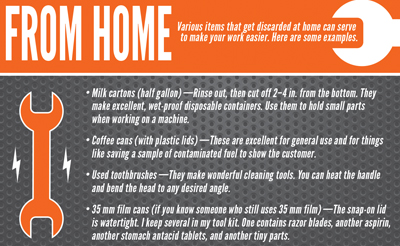 Last month's column emphasized that most of your work is done using some basic tools. In addition to those tools already mentioned, the list below presents additional items you will probably want to have if you want to service pressure washers professionally. (Some employers may provide some of these things.) In most cases, you should have both "inch" and metric versions of all the fixed-size tools, such as sockets and wrenches.
Non-Tool Tools
Some of your important "tools" aren't even tools, such as:
• Clipboard—for writing and carrying forms. The ones with a storage compartment are very handy.
• Pencil and pen.
• Safety glasses.
• Gloves—cotton, leather, or some of the new, high-tech fabrics, to protect your hands in some situations and for handling things like very dirty hoses. If substances like detergents and fuel oil irritate your hands, you should also have a pair of "rubber" gloves. Nitrile gloves are tough, chemical resistant, and available in thin gauges that don't interfere with handling small parts.
• Matches or cigarette lighter—to light gas pilots. Also useful for heating and softening plastic tubing to slide it over barb fittings.
• Tape measure.
• Flashlight—the magnetic type can be very handy.
• Drop light.
The Nitty Gritty
• Screwdrivers—a good assortment of sizes and lengths in flat and Phillips. Don't forget stubby length; sooner or later you'll need them. Also good for tight quarters are "offset" screwdrivers, which come fixed or ratchet style. Round out your assortment with a set of "jeweler's" screwdrivers.
• Channellock-type pliers—preferably several sizes.
• Vise grip type pliers—preferably several sizes and styles.
• Long-nose pliers.
• Pipe wrenches—8-, 10-, and 12-in. sizes.
• Hacksaw.
• Rubber mallet.
• Plastic-face hammer.
• Ball-peen hammers—preferably several sizes such as 8-, 16-, and 24-oz.
• Pry bar.
• Wire brush—best is "shoe handle" with stainless steel bristles.
• Inspection mirror—especially useful for viewing oil sight glasses on pumps. Also, handy in burner work.
• Wiring tool—stripper/crimper with machine screw cutter.
• Files—assorted flat, round, half-round; coarse and fine.
• Set of flare nut wrenches—inch and metric; especially useful on oil burner and fuel lines.
• Steel scale—6- or 12-in., graduated in inches and millimeters; especially useful in burner work.
• Set of combination (box/open end) wrenches—inch and metric.
• Set of Allen-type wrenches—inch and metric. Be sure to have a large enough wrench for garden hose swivels that have an internal hex recess.
• Set of hex bit ratchet sockets—inch and metric.
• Set of "easy-outs."
• Basic ratchet sets—1/4-, ⅜-, and 1/2-in. drive, including:
     ~ Ratchet handles (breaker bar or flex ratchet also very useful)
     ~ Set of drive extensions, up to 18 in. (Be sure to consider "wobble" extensions; they can sometimes be a real lifesaver.)
     ~ Spark plug sockets
• Set of crow-foot wrenches—inch and metric; for those occasional hard-to-reach fittings.
• Electric drill—ideally two of them, ⅜– and 1/2-in. chuck sizes; plus a set of drill bits and a center punch.
Got photos? If you have any digital photos of yourself or others of your crew at work, consider e-mailing them to michael@adpub.com, and if they're usable, we'll probably print them.