Selling to the Car Wash Industry
By Diane M. Calabrese / Published May 2021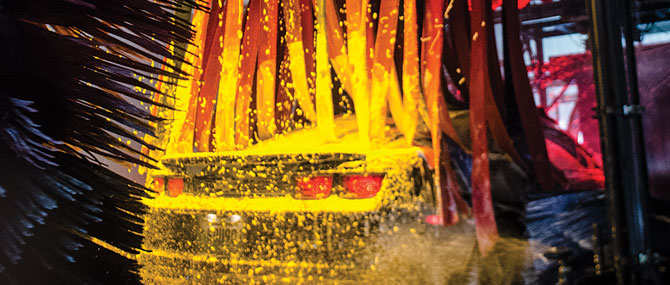 A bad winter is good for business at car washes. A hot, steamy, "buggy" summer is too.
     There are plenty of anecdotal accounts about what causes upticks in the number of customers making visits to car washes. As for the number of car washes in the United States, it is not so easy to confirm. The International Carwash Association® website (https://www.carwash.org) is a good place to get a quick immersion in the scope and strength of the car wash industry.
     Many sources report there were approximately 16,000 car washes operating in the United States in 2019, and they generated close to $10 billion in revenue. (Firm numbers are difficult because some companies detail and wash, some just wash, etc., and NAICS codes do not sort out the distinctions completely.)
     More important is that when the U.S. economy is going full throttle, the car wash industry is robust. First, there are more vehicles in use. Second, people prefer having their car washed to doing the job themselves.
     The parameters within which car wash facilities may operate are strictly defined in most communities, and many communities impose regulations more stringent than those coming from the Environmental Protection Agency (EPA).

     Selling to the car wash industry begins with understanding that wash owners want to do more with less water and fewer chemicals. Members of our industry have long been partners in meeting that goal. 
     The last decade has recorded many changes. The shifts benefit the car wash owner and consumer, as well as the environment.
     "Cleaning chemicals have gotten better, more effective, more accurate, more consistent," says Cliff Reed, president of Hydro-Spray Wash Systems Inc. in Clearfield, PA. "This is due to newer and better formulations and also the testing, results, and compiled data, which have allowed the chemical manufacturers to formulate better solutions, whether it be for a specific application or multipurpose."
     Manufacturers look at the needs of end users from every perspective. Equipment has changed, too. In fact, equipment typically fits in the same doing-more-with-less category.
     "Equipment having the ability to dispense cleaning chemicals more accurately, such as with the use of chemical injectors, has eliminated the need for multi pumps," explains Reed. "Just one pump driven at different rpms—using variable frequency drives to control pump flow and pump pressure—has allowed us to introduce chemical into the flow of water downstream of the high-pressure pump…"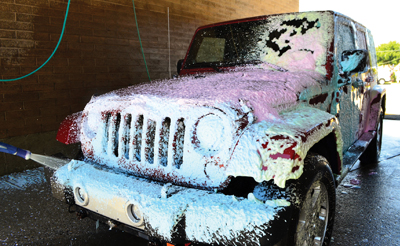 The configuration Reed describes has led to multiple savings. "It results in fewer pumps and components and less wear items, while enhancing chemical coverage and providing a much more accurate ratio of chemical to water to know exactly what the chemical costs are per gallon of operation, etc.," he explains.
     Contractors reading this article may be thinking, "Yes, but," because it seems as though they have no service to sell to the car wash industry. That's not the case, as Reed makes clear. Car wash facilities may be buying cleaning as well as selling it.
     "I often tell my car wash owners, especially the larger operations such as tunnel washes and multi-location operators, to reach out and get quotes from a contract mobile wash contractor for annual or semi-annual cleaning," says Reed. It's about the specialization in tools and approaches that contract cleaners can bring to the job.
     "Cleaning down the interior wash bay walls and even the exterior brick or block walls is often a daunting task for some car wash operators because they don't have the right equipment—hot water pressure washers or the right chemicals. Heavy duty alkaline and acidic cleaning chemicals are often required to get the job done and done quickly," explains Reed. "And, for the money, the car wash operator really can't justify not doing it this way."
     Car wash owners may not want to spend the money to hire a mobile contract cleaner for bay walls and the building exterior. They should reconsider, however, so their facility projects an image—clean—of what a customer wants in a washed car.
     If cleaning of a facility is not done, "Car washes often get dingy over time and never really look like the day they were built as a result of this," says Reed. "But every time hot water pressure washers and the right industrial chemicals are used, you can make the facility look like the day it was new."
     Curb appeal is not just for homes. "Curb appeal is huge in the car wash business, and then once the consumer gets inside the car wash bay, it should be clean, too," says Reed.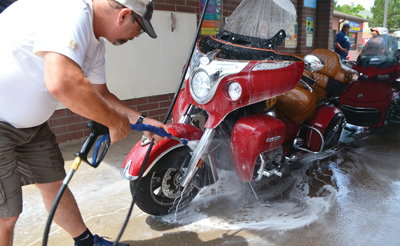 Where there are car washes, there are opportunities for members of our industry to sell. Take advantage of them.
     "There's opportunity in every town for the mobile wash contractor," says Reed. "He or she might have to deliver proof of concept to the stubborn car wash owner who claims he or she can't afford it. But I'm telling them that they can't afford not to."
     [Note: On the flip side, at least some contract cleaners in our industry have certainly thought about opening a mobile wash facility of their own. See the companion article on page 36 in this issue, "Setting up a Drive-Thru Wash."]
Detailing and Details
     Many car washes are also detailing sites. Manufacturers and distributors selling to car washes keep that in mind.
     Reed's company offers chemicals for both cleaning and detailing. "We do offer both, and we feel it's necessary to offer solutions for both applications," he explains.
     "Many customers see value in being able to purchase what they need from one supplier rather than multiple suppliers," says Reed, "especially when you are a supplier who adds other value to their customers."
     When selling to the car wash industry or any industry, think in terms of what makes purchasing easiest for the buyer. For a car wash tied to a detailing shop, being able to rely on a supplier with a footprint in both product lines simplifies life.
     "It's extremely important to offer both car wash and detail chemicals and equipment," says Shannon Yordy, senior graphic designer at Kleen-Rite Corporation in Columbia, PA. "Although both industries overlap somewhat, they are two different industries with unique challenges and solutions."
For companies that sell to the car wash industry, it's a must to keep pace with developments. "Ceramic sealants and coatings, for example, have changed a lot in the last decade," says Yordy.
     "The best tip I can give is to research your options," says Yordy. It's a tip that applies along the chain of manufacturer, distributor, and end user.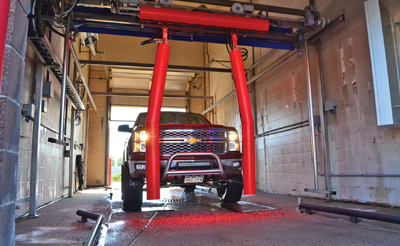 Good distributors in the car wash and detail industries keep their customers informed "about new products and equipment coming out," says Yordy. Those who sell to the car wash industry know the time they devote to learning all they can about the industry "is time well spent."
     A dimension of selling to the car wash industry that particularly interests Yordy is the crossover of many products. "Technology advancements and equipment and chemicals found in the car wash industry are beneficial to a number of other industries."
     Members of our industry not selling to the car wash industry may be the exception. Hose, pump, and wand manufacturers provide parts for wash bays and tunnels as well as pressure washers. And car washes have just as much need for wastewater collection and recycling systems as do companies using pressure washers and related equipment.
     Some car washes do purchase pressure washers and take on their own exterior cleaning, particularly of pavement. Washes that have restroom facilities may use pressure washers there. In that context, car washes have the same needs for cleaning tools as any shop facility would. 
     The EPA could not be a stronger advocate for efficiency because efficiency tamps down energy use, as well as use of other resources (e.g., water, chemicals). Manufacturers and distributors that can sell "efficiency" to car washes seize an opportunity. 
     Being able to assist a car wash with an installation of or upgrade to a water reclamation system is a path to selling. An in-house reclamation system allows a car wash to collect, filter, and reuse water. Water reuse offers a savings to the car wash owner—and the environment.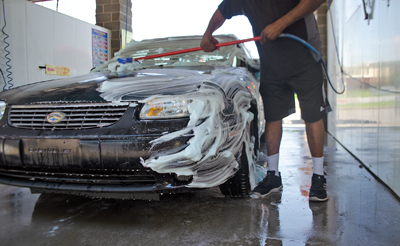 Although enforcement is lax, many communities do not permit residents to wash their cars. Expect more communities to follow suit. The restriction increases the need for commercial car washes. Thus, it's likely that selling to car washes will remain good business.
    On the sheer numbers side of whether selling to car wash facilities might be profitable, there are many positive indicators. The economy overall may be at an ebb, but travel by automobile has become wildly popular—so popular that many without cars are renting or buying them. Some rental companies and car dealerships rely on outside entities to wash their cars.
     Deliveries by car have soared. The independent contractors driving the cars know that a clean vehicle (and cordial demeanor) improve tips. Stopping at a car wash periodically makes sense for them. 
     Road spray and insect remnants are far from the only wash pulls; many people just want a clean car.