Selling Surface Cleaners
By Diane M. Calabrese / Published May 2018

It may not be a universally acknowledged truth, but a flat surface covered with dirt and debris will be in want of a cleaning. For contractors, the good news about flat surfaces in need of cleaning is that they are everywhere.
       In fact, the list of all the places that require periodic cleaning of flat surfaces is so long, the real challenge is to try to think of exceptions. Far beyond parking garages—from nursery schools to plant nurseries—there are flat surfaces in need of cleaning.
       Using a surface cleaner, a contractor can complete a flat surface job more quickly and achieve excellent results. Selling surface cleaners presents a
great opportunity for distributors and manufacturers because the market is large and growing.
       The trickiest part of making a sale may be in tempering expectations or at least ensuring intensity of expectations is commensurate with reality. There is a surface cleaner for virtually every job, but it's not going to be the same surface cleaner.
       Customers sometimes arrive with a big misconception. It is "that one model or style can be used for everything," says Mike Hansen, sales manager—water division, at Dultmeier Sales in Omaha, NE.
       Talk with the customer to assess configuration requirements. "It is critical to know the application as well as the pressure and flow rating of their pressure washer," says Hansen.
       Also get a good understanding of the application the customer envisions. "The application will tell us how to size, whether we need vacuum recovery, if it is indoors or outdoors, if it is walls or floors and the surface type, and if hot or cold water is required," explains Hansen.
       Surface cleaners are often used in interesting ways. Removing the rubber from the concrete on tennis courts is merely one intriguing use Hansen has encountered.
       Providing a prospective customer with as much information as possible in a concise manner can fortify the support that clinches a sale. The Tech Library for Dultmeier Sales at www.dultmeier.com offers customers tutorials on a range of topics related to equipment. For example, there's a primer on fluid flow and pressure loss through a hose.
       The better a buyer of a surface cleaner understands the fundamentals of its operation, the more exacting a match can be made. The attempt to tackle every job with the same surface cleaner may not yield as bad a result as making every job into a nail when one only has a hammer, but it's analogous.
Clarity For Contractors
       The more clarity a manufacturer or distributor can provide for a contractor, the simpler it is for a contractor to buy the optimal equipment and get on with the work that is the business.
       "It is very important to get an understanding of a customer's plans for use," says Jaimie Sokolski, sales manager at Mosmatic Corp. in Bristol, WI. Sokolski's company offers not only a nugget description of each surface cleaner it sells at its website at www.mosmatic.com/us, but it also includes notes about the types of jobs on which the cleaner can be used.
       "Just like many tools in different categories, there are choices to be made, and all come with pros and cons for purchase," says Sokolski. Information is the antidote to wild flights of thought.
       "Sometimes one's expectations far exceed the reality for many reasons," says Sokolski. "In today's day and age, this is heavily influenced by, let's call it, internet research and videos posted by 'experts' who usually do not post all the equipment specs matching what the customer's equipment abilities may be. This is where you need to take time to listen and also ask questions."
       Sokolski's company website includes a photo of a surface cleaner being used on a vertical surface. The picture illustrates versatility, but surface cleaners are not magical machines. They must be configured properly, used properly, and maintained properly.
       Moreover, the ancillaries must be in place when using a surface cleaner. The seller should encourage a customer to consider the big picture. For instance, the topics of cleanup and requirements for wastewater should be talked through with a prospective buyer.
       "There are units that offer self-recovery for short-distance cleanup and units that are vac-adapt for clean and capture," explains Sokolski. Selling means anticipating what the customer may need and bringing that part of the surface cleaner setup into the conversation.
       "You should first ask for the customer's pressure washer specs to better know what his needs are and to ensure your unit will have a chance to do the job he is looking at," says Sokolski. Selling surface cleaners is very much about helping the customer achieve a balance grounded in what is possible.
       Some customers will come to the purchase point with considerably more knowledge than others. For customers new or relatively new to surface cleaner purchases, a seller can review the basics.
       "Bigger is better unfortunately does not always work when choosing a size of surface cleaner," says Sokolski. "Unfortunately, a lot of customers do not have power washers that can deliver an amount of flow needed for the larger units."
       Sokolski reminds users that there is a range of sizes in surface cleaners that correlates with results. "With surface cleaners ranging from 8-inch to 48-inch, there is quite a gap in the unit's ability to effectively turn out a quality job," he explains.
       "Maneuverability is also an overlooked issue," says Sokolski. "Some units have fixed rear wheels, which are great for long, straight runs but not as suitable for maneuvering around obstacles." And while talking about maneuverability, do not forget transport.
       "Storage, handling, and transport of a unit that is too large may also prove to be taxing," says Sokolski. The how of moving the surface cleaner from place to place should be determined prior to purchase.
Through The Contractor's Eyes
       Just how many uses for surface cleaners have contractors developed? We are not sure about a number, but the variety is in focus.
       "I have heard many stories, but the one that sticks out is the spinner we built to clean a baking oven," says Brian Elkins, sales professional—pressure washing accessories, at Steel Eagle in Elk Point, SD, located on the web at steeleagle.com. "They designed a pulley and cable system to run the spinner back and forth the length of the oven, which was about 18 feet long. This was used for cleaning when maintenance was done on the oven."
       Elkins' company calls its surface cleaners "spinners," and it gives great consideration to designing for the less-than-common applications. For example, it makes a surface spinner known as the "little floater" that tackles small spaces and uneven surfaces, including pool decks and roofs.
       "I think it is really important to match the spinner to the machine the customer has or is going to purchase," says Elkins. "The user wants to clean as fast as they can, but also has to be efficient and do the cleaning job right the first time."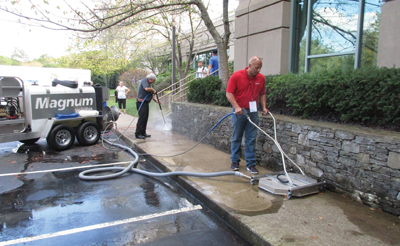 (In the April issue of this magazine, readers may recall Elkins was one among the professionals contributing expertise to the article "Choosing a Surface Cleaner"—a good companion piece to this one. The April article emphasizes technical dimensions of surface cleaners, valuable information that can be used to amplify points discussed with customers.)
       Begin by asking the prospective customer questions to be sure a buyer gets the best fit. "I let them know the surface spinner is only as good as the pressure washer it is used with," says Elkins. "If the user has a lower-flow machine, the surface spinner will not perform to its full potential."
       Similarly, Elkins recommends talking about the relation between flow and performance. "I would let them know why a low-flow machine is not the best match to a bigger spinner," he says. "The user would need at least a four gpm machine or bigger to get the proper performance from any spinner."
       Be sure that customers understand that irrespective of the high quality and strong performance of the surface cleaner they choose, maintenance cannot be ignored. It must be routine.
       "A surface spinner is like a lawn mower," says Elkins. "If you keep the mower's blades sharp and don't run over debris like sticks or rocks, the mower blades will last a long time and make your lawn look nice. Also, your mower will last for many years.
       "So it goes with spinners," continues Elkins. "If you just hook the spinner up and go washing without some pre-cleaning, you stand the chance of hitting debris which will bend spray arms, which in turn works on the bearing in the union. If spray arms are not fixed and bearings go bad, this in turn costs money to fix or replace the union."
       If a surface cleaner is taken off the equipment roster for repairs, the contractor will have to pause a job. A contractor maintains a happy customer base by completing jobs in a timely way.
       Bottom line: Making a surface cleaner sale that serves the contractor well benefits the entire industry.
Distributors, Find Your Balance!

What's important to a distributor when selling a surface cleaner? Customer loyalty, repeat business, referrals, upselling, tailoring accessories to match the contractor's equipment, and application needs. It's really finding a balance to all the above.

As a manufacturer we deliver a product that allows our distributor network to create this balance by delivering a high-quality product that is sold as an asset rather than a short-lived accessory. A short-lived accessory can create the need for repeat sales and repairs in the short term, but it can create the possibility of losing a valued customer, and it certainly does not earn any referral business from that disgruntled customer. An engineered product is designed for durability and cleaning efficiency across a broad range of applications to maximize contractor satisfaction over the long haul.

Don't discount the behind-the-scenes support of the manufacturer. Customers will ask the inevitable questions, such as how dependable is the unit you're recommending; how well built is it; how easy is it to set up, operate, and use on the job site; does the manufacturer stand behind the product for the end user? When a distributor is working with a manufacturer who has been in business for many years and stands behind their product, the ability to answer those questions with confidence increases peace of mind in the buyer—it becomes a very valuable selling tool.

When a product you sell performs well, it creates confidence in the business that sold it and positions the distributor as a valued resource. The goal is to increase the likelihood that your customer will not only buy from you again as their business grows but will also speak highly of you to anyone who asks. That's just human nature. Everybody wants to brag about making a good business decision!