Selling to and Servicing the Oil and Gas Industry
By Diane M. Calabrese / Published March 2018

Pipelines, rigs, tanks, and tankers are a start, but for every high-visibility fixture in the oil and gas industry, there are thousands more components.
Consider the watermaker. "Most of our pump repairs in recent years have come from the watermakers on the oil rigs in the Gulf of Mexico," says Edgar Kron in industrial sales at Bozeman Distributors & Cat Pumps/Honda Power Equipment & Multiquip in Baton Rouge, LA. 
"The drilling rigs have watermakers—reverse osmosis systems—that take the salty Gulf water and make clean, fresh, drinking water," explains Kron. "The pumps are used to force water at high pressure through a membrane, which removes the salt and other minerals, thus providing the clean water needed for the workers."
Crucial to the operation of the rig, the pumps maintain the freshwater supply that allows a team to work more than 200 miles from shore without the need of transporting fresh water. "With drilling rigs costing millions of dollars, a watermaker pump does not seem too important until a pump goes down, and the supply of freshwater is limited or the capacity to make water is reduced," says Kron.
If the reverse osmosis system goes down, there is just one question the rig operator has: How soon can it be repaired or replaced? "It can get intense," says Kron.
"The most challenging part of working with the drilling rigs is they work 24/7/365," says Kron. "We have normal business hours. Our suppliers do not always understand the urgency of our request. Many times, we have to call in favors to get parts and pumps shipped after hours and use several types of shipping to get parts quickly and return the pump to the rig. Most of the time we will hot shot the parts or pump to a logistics base, and it is flown by helicopter to the rig. If the need is not urgent, it is transported by supply boat. Trying to meet the quick delivery for the rig is always a challenge."
The always-on nature of the oil and gas industry is an "exciting aspect" of working with it, says Kron. "When they call us, it's not to discuss the weather or last night's football game. It's because their watermaker pump is down, and they need it repaired or replaced last week."
Expectations are high when working for the oil and gas industry, says Kron. "Say what you do, and do what you say. They are supplying us with energy that makes our life better and more comfortable. Sometimes we take that for granted."
It may be a bit easier to reach a land-based drilling rig, but demands are still great. "The guys in the oil field are looking for you to be there when you say you'll be there," says Kevin Porter, owner of Envirotek Cleaning Systems LLC in Longview, TX.
More than that, says Porter, the drilling rig owners have a short, sweet, and serious list of system requirements. "They want products that are effective, user-friendly, environmentally friendly, and efficient," he explains.
As for meeting stringent requirements, it's become something of second nature to Porter. "We've been doing it so long, things seem commonplace to me," he says.
"I've put equipment on drilling rigs," says Porter. In doing so, one gets a real workout.
Porter's company meets a wide range of needs in the oil and gas industry. "We typically do it all," he says. "We kind of gravitated to exploration and drilling rigs early on."
There have been challenges for Porter's company across its many years in business. For one, rigs have been moving from East Texas to West Texas, adding to the miles that must be traveled to service them. But the work is there.
Safety is paramount to the rig owners. "Rigs have to be clean" to keep them safe, explains Porter. The oil and gas industry is a wonderful one to serve," says Porter. "Those guys are incredibly awesome to work with." Porter values the long-term relationships he has forged and friends he has made. "It's a vital industry," he says. And he is glad to be part of it.
Steadfast Outlook
"Selling to the energy sector can be nerve wracking," says Roy Pennington, owner of Hi Pressure Cleaning Systems Inc. in Houma, LA. Local economies dependent on the sector can experience a great loss of jobs when there is an ebb in demand for oil and gas.
After 27 years of working with companies in the oil and gas industry, Pennington says he is essentially inured to the excitement of it. "Simply put, this is what we do," he explains.
And when Pennington says "do," he means it. "We service the entire petroleum industry from top to bottom," he explains. "We frequently meet with purchasing agents for international drilling companies with operations overseas to maintain our status as one of their 'partnered' vendors. We also supply equipment to the transportation sector—from the guys who stop in on Fridays to pick up truck wash and alumina brighteners to clean their 18-wheelers, to the marine industry, which transports materials and crews to the offshore platforms."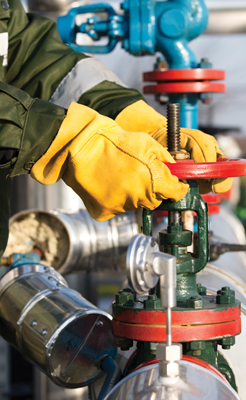 Pennington further emphasizes the top-to-bottom nature of his company's involvement: "The wholesale bulk plant that supplies service stations throughout this area is physically across the street from us, and they utilize our equipment to keep their tanker trucks clean."
Broad involvement with the oil and gas industry requires flexibility. "It is imperative that you have the right equipment in stock for immediate delivery when it is needed," says Pennington. "I have been called out at 2:00 a.m. to get two steam cleaner hoses to a heliport for a 6:00 a.m. flight to an offshore rig. Most drilling rigs need their orders filled immediately."
Time constraints are just one challenge. "Another factor when dealing internationally is the voltages utilized," says Pennington. "We have sold equipment configured for 120, 240, 385, 480, and 600 volts. Plus, some rigs operate on a 50- hertz power source instead of our U.S. standard of 60 cycles."
Wide Scope
"Our company works with almost every segment of the oil and gas industry," says Roy G. Chappell, CEO of Chappell Supply and Equipment in Oklahoma City, OK. "If they have rolling stock, drilling equipment, fracking unit, completion or production equipment, midstream or refineries, they all need our equipment in one form or another, plus service."
Chappell explains that each segment of the oil and gas industry has its own requirements. Air compressors, parts washers, pressure washers, water pumps, generators, and wash-water bio-systems are just some of the needs.
About 10 years ago, Chappell's company started building methanol pumps to serve the natural gas sector. "Natural gas has enough moisture in it that during the winter the gas lines will freeze up," he explains. "To eliminate the problem, they will inject half a gallon or more per hour of methanol, depending on the size and flow rate of the pipeline. There is a great market from Oklahoma to the east, west, and north for this."
It's not just a matter of injecting methanol. There must be a careful match to the gph [gallons per hour] and psi requirements of the mid-stream company as pipelines vary.
"These pipelines run underground, out of sight and out of mind. Always remember, low gph and low psi means slow rpm," says Chappell. "Require-ments include a pump that will withstand methanol without a chance of a spark, and the motor must be explosion proof."
The oil and gas industry also presents opportunities in wastewater treatment, which is one of the most profitable sections of Chappell's business. To keep it so, he and his team do careful preparatory work and size the equipment to the job.
"We run water tests before we quote any equipment," says Chappell. "You can get some real surprises with these tests. By waiting to quote the equipment, you don't have to go back and increase your quote by $10,000–$20,000."
Thoroughness is a must in planning, says Chappell. "We have job jackets on every company we do a water test on. After the water test, we go through a check list: hotel cost for the job, food, travel—driving or flying, rental truck, equipment rentals, shipping, labor costs from when we leave until we return, parts—standard or special use, etc."
Clear View
"The oil industry is basically divided into exploration, production, and refining," says Brenda Purswell, president of Alklean Industries Inc. in Pasadena, TX, who responds to us on behalf of herself and John Purswell, vice president at the company. "We have customers in all three categories." 
Purswell cites the often slow payment of the oil and gas industry as a challenge that must be understood. She says 60 to 120 days is typical.
"Many companies have failed trying to do business in the oil industry," says Purswell. "Your vendors want to be paid within their terms, but the larger companies dictate the terms that they will pay. An additional
challenge is the bureaucracy of getting to see the correct person who can make a buying decision." 
With a firm understanding of payment schedule, oil and gas industry members make good customers, says Purswell. "When the oil industry is doing well because the price of oil makes them profitable, the numbers can be exciting. However, we have seen the lows and the highs, and the lows are definitely more challenging and less exciting." 
Any company aiming to sell to or service the oil and gas industry must be clear-eyed. "Realize that due to market dynamics and government meddling—not always ours—the oil industry will boom and bust," says Purswell, noting there's been a general cycle of 10 years in recent time.
"The nay-sayers have been spewing doom and gloom about the oil industry for 100 years or more," says Purswell. "First, we are running out, then it is evil, and so on and so forth. I wish all the people who demonize the oil industry had to live without it for one year. I think they would be singing a different song when you gave them back their electricity and their plastic of every description. Airplanes, cars, and every electronic device made contains plastic. There would be no cell phones, land lines, computers, TVs, most of the food grown today, heat for their home and AC in the summer, and that is just a start…
"When oil goes bust, the grocery store, the car dealership, banks, schools, colleges, the guy mowing lawns, the people building houses and buildings, roads, pipe hauling, steel production, and many other segments of the economy that are supported by oil dollars all suffer," says Purswell. "I once told the preacher that he may not think he was in the oil business, but to watch that offering plate when the price of oil falls…"  An essential industry is always a good place to serve and make yourself useful.