Selling In-Plant Systems
By Diane M. Calabrese / Published May 2018

You have got to know the territory. We all learned that from Meredith Wilson's The Music Man if we have not learned it (yet) from experience.
       Dirt removal and sanitization are both part of in-plant cleaning. A plant may anchor any industry, ranging from food processing to staple manufacturing, but there are commonalities. The most efficient and modern plants retain difficult-to-clean spaces, such as underneath machines and the ceilings.
       Plant owners clean their facilities to meet regulations. Requirements for food processing plants are very strict, and all plants must be kept clean to reduce fire hazards. Clean plants also promote the well-being of employees.
       Built-in and stand-alone systems play roles in plant cleaning and sanitizing. Being able to customize a system for a buyer is important. Because even plants that rely on robotics are populated with people, safety concerns are a priority for in-plant systems.
       "Most in-plant hot water cleaning systems require no exhaust fumes," says Karl Loeffelholz, dealer division manager at Mi-T-M Corporation in Peosta, IA. "So, no gas engine and no diesel burners. They require an all-electric hot water pressure washer."
       Loeffelholz cites the stationary all-electric DHA series machine from his company as one that satisfies the no-fume requirement. "These types of hot water pressure washers serve that purpose; the customer just needs to make sure to verify the voltage and phase and if they have adequate amperage to operate correctly."
       The series of machines to which Loeffelholz points are a match in plants where frequent cleaning and sanitizing are musts. One example of such a place would be a bottling plant.
       In small craft breweries, a plant owner might purchase a hot water pressure washer for use by in-house personnel. Distributors should be looking for opportunities to connect with and sell to owners of small plants of all kinds. They can get to know the owners, perhaps by visiting the plants, to let them know the type of equipment and custom solutions for cleaning they provide.
       Manufacturers of cleaning and sanitizing equipment sell in-line custom as well as stand-alone solutions to plants. They may make a sale in the design stage of the plant or after the plant is up and running.
       At a local level, manufacturers and distributors can get to know plant owners through business groups. They can also take advantage of programs that bring together public and private partners in manufacturing.
       Getting involved with one of the institutes or attending one of the conferences that are part of the Manufacturing USA (https://www.manufacturingusa.com/institutes) programs is a good way to get to know the inside of manufacturing plants of all sorts. In February 2018, for example, a two-day conference on manufacturing/engineering aspects of lightweight vehicles took place in Detroit. (The conference was put on by LIFT, which is operated by the American Lightweight Materials Manufacturing Innovation Institute, one of the founding members of Manufacturing USA.)
       By bringing together automotive engineers for original equipment manufacturers and their suppliers, the Detroit conference aimed to foster contacts and ideas about body joining, corrosion mitigation, and other issues. Such a conference is the perfect place for manufacturers of cleaning equipment to get to know more about what they can do to help inside plants—and to make their expertise known to prospective customers.
       The federal government promotes manufacturing innovation in many ways. For more about the scope of programs, visit the Manufacturing.gov portal, which serves as an information clearinghouse.
       Lightweight components and robotics figure prominently in contemporary manufacturing. A clean environment is as important inside such high-tech plants as it is in the food processing environment. To gain a better understanding of just how broad and detailed the expectations for in-plant cleaning can be, we review some of the expectations for food processing and packaging plants.
Expectations
       Plants are inspected by multiple regulatory entities. A canning plant will be inspected by the U.S. Department of Agriculture (USDA) and the Occupational Safety and Health Administration. An incident at the plant could bring in the Environ-mental Protection Agency (EPA).
       The bottom line: Any plant must meet a staggering number of standards. The more understanding a manufacturer or distributor has of the complexity of the in-plant operation, the better the chance of selling to the plant owner.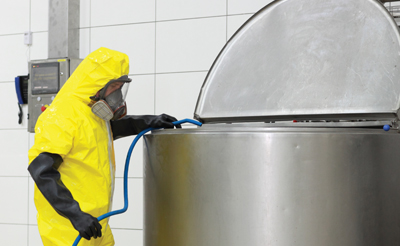 A canned food processing plant serves as an example. USDA sanitation inspectors examine the premises and the receiving department, as well as the preparation and canning departments. They also check the cook room and warehouse, and they evaluate the condition of the restrooms and the hygiene of the personnel.
       Where a canning plant owner sees the need to avoid deficiencies in any of the areas just mentioned, a manufacturer or distributor should envision ways to sell in-plant cleaning and sanitizing systems. Dumpers and conveyors, floors, gutters, and walls must be kept clean in the receiving department. (Contractors may also see an opportunity for selling their services here.)
       In the canning department, belts, tables, floors, gutters, and walls must be kept clean. All parts of restrooms from toilets and wash basins to floors and walls must pass merit. (Again, contractors may see an opportunity.)
       Inspectors categorize deficiencies as minor, major, or critical. They take a realistic approach. A few insects in a preparation and processing area are a minor in-fraction. Major conditions include dirty, decaying, or discolored product on parts of equipment that may contaminate the product, such as loose rust, flaking paint, dust, and cobwebs overhead or on motor mounts and walkways. The critical conditions include maintenance (or repair) work done in a way that contaminates product, and product in contact with a condition that is not sanitary (i.e., a dirty floor).
       The foregoing is an abridged list that demonstrates how many opportunities—and entryways—exist for manufacturers and distributors wishing to sell in-plant systems. The more trouble-free the in-plant systems are, the more likely they are to meet receptive buyers. The last thing a food processing plant needs is cleaning equipment that demands frequent attention.
       Guidelines for cleaning and disinfecting in food plants are provided by the USDA. Methods may include steam cleaning, manual scrubbing, chemical disinfectant, and physical methods, such as heat, ultraviolet light, or desiccation. Disinfectants must be EPA-registered under
FIFRA [Federal Insecticide, Fungicide, and Rodenticide Act]. Pressure washing is sanctioned if it is appropriate to the specific situation.
       Appropriate to the situation provides a lot of cover to the issuer of the guideline. It's a reminder, though, that to sell in-plant systems of any configuration, a manufacturer or distributor really must understand the territory.
       Salmonella bacteria burst into the news every now and then. Given a severe enough infection from the bacteria, an individual can experience kidney shutdown and death. Processing plants have been implicated in the spread of the bacteria and closed down as a result of financial liability placed on them.
       The difficult thing is that salmonella needs water and nutrients to grow. Plants that process food products (e.g., nuts, dried eggs, or dry vegetables) that provide a good nutrient base for salmonella must take precautions not to introduce moisture when using water to clean. It's just another of the myriad in-plant considerations a manufacturer or distributor must take into account.
       Manufacturers and distributors experienced with meeting the cleaning and sanitizing equipment needs of food plants have a good foundation for moving to a setting that is equally complicated and growing fast, which is microelectronics.
       In-plant cleaning in the microelectronics sphere generates exacting requirements, such as those regarding water used for processing parts. Water purity matters more than it does in food plants. Manufacturers and distributors may be able to sell customized solutions for purifying water used in microelectronics plants by adapting processes they have perfected for wastewater treatment (e.g., reverse osmosis, filtration).
Expansive View
       Know the territory. In-plant systems are needed to keep processing and packaging lines and their environs clean. They are also required to clean specific components (parts and templates) being used in manufacturing lines. Sometimes they are required to periodically clean parts along the line (e.g., trommels) during a run. Put parts washers on any list of potential in-plant sells, too.
       Once in the territory, take an expansive view. Yes, plant owners must meet criteria for cleaning established by regulators, but their needs for in-plant systems are derived from an array of concerns. Owners want to make a quality product, which means no contamination. They want to keep workers safe, which means reducing catch and slip hazards along the production line. If employees are going to be involved in operating, cleaning, and sanitizing equipment, owners want the equipment to be safe and to minimize (or eliminate) the exposure of employees to any potentially harmful chemicals.
       Plant owners most definitely want to retain workers and to promote a comfortable work environment. A clean, safe environment will communicate standards of responsibility and concern to employees that can carry over into their work and the success of the business.