Selling Cabinet Parts Washers
By Diane M. Calabrese / Published June 2018

Containment improves control. Washing parts inside a cabinet or chamber makes it easier to contain the material being removed and any chemical applied—good outcomes and good selling points.
Yet the utility of cabinet parts washers goes well beyond ease-of-capture of both the material removed, such as grease, and any cleaning chemical, such as an oxidant. "While containment of removed soils is a key factor for using an aqueous washer, many users are using this technology to reduce labor over hand washing or pressure washing parts," says Mark Adams, western regional sales manager for JRI Industries & Jensen Fabricating Engineers Inc., with locations in Springfield, MO, and Berlin, CT.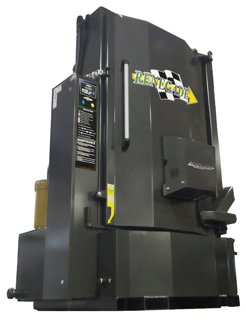 Cabinet parts washers have become an even better friend to the environment as many configurations make it possible to clean without chemicals. "Moving away from petroleum-based solvents is also a factor in the increased use of aqueous parts washers," explains Adams. Removing chemicals from the cleaning process is a way to eliminate concerns about air quality and chemical effects on employees.
Name any setting, and it will take fewer than six degrees of separation to link it to a parts washer. "A private rocket manufacturer is using cabinet washers to clean manufactured parts," says Adams. "The cabinet is all stainless-steel wash, rinse, heated dry, and retractable probe."
Some markets may not be realizing the full potential of cabinet parts washers. For that reason alone, there are many opportunities for making sales.
"The printing industry is starting to use jet spray washers more and more," says Adams. "Customers in manufacturing applications and remanufacturing are our fastest growing market segment."
Selling cabinet parts washers brings vendors in touch with innovators across industries. "I enjoy working with our manufacturing customers because I enjoy the challenge to solve their cleaning problems," says Adams. Customized units are often the solution.
"These customized units can wash, rinse, and dry the parts," says Adams. "Other options include applying rust preventive, iron phosphate, and other chemistries."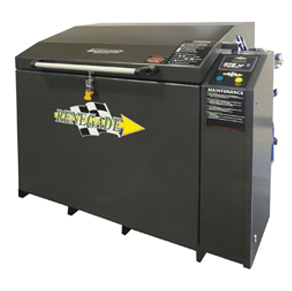 The healthier and safer conditions to which cabinet parts washers contribute are boosted by automation. "As we do a lot in the manufacturing market, we work with Systems Automaters [ASIST from IBM] to tie the robot to the PLC [programmable logic controller] in the parts washer control panel," says Adams. "The door is automatically opened, the robot loads and unloads the parts, the door is closed, and the cleaning cycle is activated."
Cabinet parts washers are just one dimension of washing systems that meld containment and precision. "There are a lot of other types of aqueous parts washers besides cabinet style washers," explains Adams. "Jet-spray aqueous cleaning technology is used on belt/conveyor washers, rotating baskets, and drum auger systems."
Buyers of cabinet parts washers differ so much from one another that selling almost always involves some customization. Batch or automated system, footprint of cabinet, and stages of cleaning are just some of the design features on which a customer wants choices.
SELLING CAPABILITIES
Interaction with customers has definitely contributed to advances in design. Consider parts washers that have an evaporator option, says Terry Bosma, the owner of Pressure Services Inc. in Rapid City, SD.
The option is very appealing to buyers, explains Bosma. "The number one question asked is, 'How do I dispose of the solution when it's dirty?'" The evaporator answers it. "After evaporating the liquid portion, you typically can dispose of the solids left at the landfill, or you can contact the landfill relative to the proper method of disposal of the solids."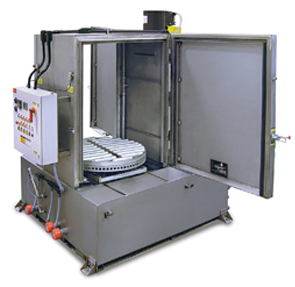 Bosma has had some interesting experience in customization. Some years ago, he was asked to develop a method to remove residue off a very expensive firing pin used on a particular military aircraft. The specifications for removing the residue were exacting. "They told us there could be no film left on the firing pin as it was very close tolerance and could not stick," says Bosma. "I asked their current process for cleaning the pins, and they told me they dismantled the firing pins from the jets. They would re-fuel the jets and do critical maintenance procedures, part of which was changing out these firing pins previous to sending them back in the air."
Once the pins were removed, they had to be cleaned, which required transporting them to a facility for manual cleaning. The military customer wanted a faster turnaround. With firing pins for testing, Bosma found the correct chemical for the job and made a prototype parts washer, meeting specifications for casters and 120-volt power so the washer could be powered off a generator.
The market for cabinet parts washers should be growing. "I think there are many opportunities out there, but historically parts washers are seen only in the same types of businesses, such as service shops, manufacturing, salvage yards, transmission shops, etc.," says Bosma.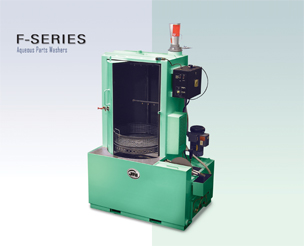 A constraint may be some companies are not ready to "allocate funds and invest" in the equipment until per-
suaded there are "significant enough savings for their particular use to justify the cost," explains Bosma. Part of selling is to make the case for cost saving.
Sellers might also emphasize the labor-saving aspect of cabinet parts washers. "Almost anywhere in the U.S., the draw pool of acceptable candidates to fill jobs in the service and manufacturing sector has become extremely challenging," says Bosma. "The only short-term solution is to speed up the efficiencies of existing workers and reduce the physical demands of our older staff members in the work force. Any form of automation, including parts washers, can assist with that goal."
Appealing to prospective customers' appreciation of other automated systems is a good way to highlight capabilities of cabinet parts washers, says Bosma. He points to the speed and labor savings gained by hospitals and resorts with automated flight dishwashers, and he cites conveyorized tunnel washes for cars. Sophisticated systems can monitor water temperature, pH, chemical level, reload chemicals, etc. It's all analogous to staged cleaning in a parts washer.
Cabinet parts washers allow manufacturers and service providers—care facilities, resorts—to bring cleaning of parts (or at least some of it) in-house. Many would like to go the in-house route to save money, but they have concerns about the location of wastewater disposal and the time involved in that disposal, says Bosma.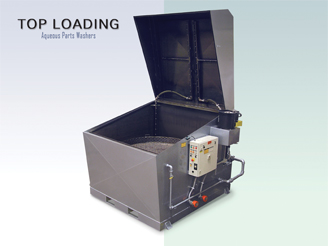 "With many businesses, the overall convenience of monthly payments, no burden of disposal, and no additional in-house labor time allocated in maintaining their own piece of equipment supersedes the benefits of cost savings and a safer alternative in some cases," says Bosma. "If we are ever going to succeed in gaining the commitment of this category of customer that has reservations we have to be respectful of, we have to figure out how to make it a less painful process for them without increasing the liabilities we incur in the services we offer as distributors."
SUMMING IT UP
Too numerous to name…sure, that's a cliché, yet it sums up the depth and breadth of the varied ways in which parts washers are used.
"The most interesting parts washer application is understanding the wide range of industrial categories served…," says Steven Meyer, marketing manager at Renegade Parts Washers and Detergents in Reedsburg, WI. "Our company's parts washers and detergents are used in the context of automobile repair facilities, automotive fleet, aviation and aircraft parts, power sports and leisure, fabrication parts cleaning, heavy repair, industrial parts cleaning, large casting CNC machining facilities, machine shops, production cleaning, production engine shops, production machining facilities, remanufacturing facilities, screw machine, small engine repair, transit, transmission machine shops, and transportation production centers."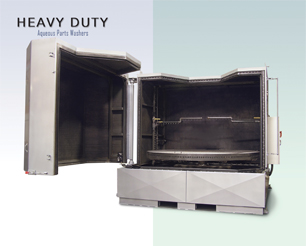 The diversity in settings for parts washers must be met with a commitment to tailor solutions for customers. "It is most interesting to listen to the voice of the customer and then deliver the parts cleaning solution that increases their operational benefits," says Meyer.
"Our company is driven to deliver parts cleaning solutions that exceed customer requirements," explains Meyer. And there are multiple considerations in achieving that outcome.
"Environmental impact is an important consideration, and our company's parts washers offer a solvent-free cleaning solution," says Meyer. "To address the greatest range of throughput and part size requirements, our company offers automatic top-load and front-load parts-washing systems, manual parts washers, immersion parts washers, and pass-through parts washers, available in a range of sizes with value-added configuration for production process cleaning."
Factors such as "operating costs of the entire cleaning production cycle, including advanced automation, product handling, worker safety, and environmental impact" are all weighed in the effort to provide maximum value, says Meyer. "And our company's systems automation features include a range programmable functionality and remote diagnostic access."
Containment, speed, simplicity of operation, ease of waste disposal, and an excellent result are the major variables that affect the decision of customers when they buy a cabinet parts washer. Size of a chamber—is it sufficiently compact to not obstruct primary business activity—can also be a major consideration. Manufacturers and distributors ready to work on all the variables with a customer will enter a big market.