Scaltrol, Inc.: On A Mission to Solve Hard Water Problems
By Adia Walker / Published February 2015

Many of the big players in the pressure washing industry have achieved success through their ability to apply creative solutions to problems faced in the cleaning equipment field. One of the key challenges has been how to deal with scale buildup on business critical machinery, such as industrial steam cleaners, steam cleaning pressure washers, and industrial hot pressure washers. Scaltrol, Inc. manufactures products that dramatically reduce the problems of scale buildup on hot water coils that leads to less efficiency in water heating and results in downtime for descaling.
"Our mission is to manufacture and distribute an effective solution to hard water problems associated with pressure washers, food service equipment, steam generating equipment, medical equipment, and whole house solutions," says Rob Zimmerman, General Manager for Scaltrol, Inc.
In reviewing records from the company's earliest days, Zimmerman confirms that pressure washer manufacturers and distributors were among Scaltrol's first customers. Many of them still order regularly from Scaltrol. What was most important to the original pressure washing clientele was to find products that were easy to add to their existing equipment without having to reconfigure it. Equally important was a solution that was quick and easy to maintain.
The history of the company begins in 1998 with a man named Austin Hansen. Working as a representative for a company that manufactured restaurant equipment, Hansen saw that hard water was causing a lot of problems for the food service industry. According to a U.S. Geological Survey, about 85 percent of the water in the United States is hard water, meaning it contains high amounts of calcium and magnesium. One of the biggest problems that Hansen observed was the damage that hard water caused to the cleaning equipment. This resulted in increased costs for energy, water, maintenance, and equipment replacement. The downtime resulting from equipment breakdown was another negative consequence. Using a combination of entrepreneurial and problem-solving skills, he developed Scaltrol, Inc. to help remedy the situation that many restaurant owners were facing.
As a first step, Hansen reached out to a chemist that he knew to help develop a product that could combat the effects of hard water. This collaboration yielded a compound mixture of polyphosphates that keeps hard water scale from building up on equipment. Taking his product to the next level, Hansen sought out more experts; working with engineers at Georgia Tech University, he developed the patented venturi feed head that is used on the Scaltrol systems. This patented system allows the polyphosphate compound to be fed into the water flow at a consistent rate. According to Zimmerman, the rate of flow is critical so that the mixture is not over- or under-fed. "This system, along with our proprietary compound formula, is what makes us unique compared to our competition," he says.
The other key element to the company's effective design is the replaceable cartridge that resides in the bowl, or sump, of the unit. These cartridges are what contain the polyphosphate formula. "Our products are very low maintenance," says Zimmerman. "You don't have to add salt or anything like that; just replace the cartridge periodically." Depending on the specifications of the unit, cartridges can treat between 50,000 and 500,000 gallons of water before needing to be replaced. The entire product is simple to use, with no moving parts and no electrical, magnetic, or mechanical components.
Before introducing the products to the industry, Scaltrol conducted tests on the boilers at Georgia State University; the results were impressive and began earning the company a solid reputation for results right from the start. Over the years, the company has continued to build on its track record of successfully solving scale build-up problems for an ever-expanding number of industries.
Currently, Scaltrol sells five products: two that work on cold water applications, two made for high pressure hot water applications, and one industrial unit designed for high water volume applications. "Any time you heat water or apply pressure to water, the calcium in the water is going to precipitate on the equipment," explains Zimmerman. This is the case even when the water isn't hard; however, hard water increases the rate at which scale builds up. "Our product suspends the scale in the water so it can't attach itself to the equipment," Zimmerman continues. He also notes that the chemical compound used in the products meets NSF 60 (National Sanitation Foundation) standards for drinking water, which means it is safe to use in the environment.
The SC-50 and SC-100 are the company's products that can be fitted on cold water lines. "In pressure washers, these products help eliminate the scaling that occurs in the nozzle in the wand," says Zimmerman. "Some pressure washers these days use hot water; in those applications, our product also protects the heating coils." The HSC-50 and HSC-100 use a high pressure composite sump and were developed to handle hot water or high pressure applications up to 200 psi. The SC-500 is designed for customers needing hot or cold water applications in high volumes, such as laundromats, penitentiaries, and school systems.
The company sells mostly to the pressure washer and food service industries. For food service customers, Scaltrol units protect restaurant equipment, such as dish washing machines, ice machines, soda machines, and coffee makers. "The cold water units are still the most popular products," says Zimmerman. "What you want to do is install our unit into the water lines in front of anything that might have hard water scaling issues so that it will protect everything in that particular machine. For pressure washers, you install the unit where the water enters the machine so that the chemical will be present through the entire piece of equipment."
"A lot of our products were developed through people coming to us asking if our products would help with a problem they were facing," says Zimmerman. "That's how we got into the pressure washing industry; a marketing representative in the field came to us about a heating coil challenge. We were able to apply our product as a solution for the problem, and now pressure washers are actually our fastest growing market."
With energy costs on the rise, Scaltrol units have another cost-reducing benefit. Since as little as one-eighth of an inch of scale buildup can increase energy consumption by up to 39 percent, keeping scale buildup to a minimum is becoming increasingly important for a business's bottom line.
Zimmerman hopes to increase the number of people who are able to benefit through the Scaltrol system by targeting not only businesses, but also homeowners. "We are also an excellent whole house solution," he says. "Our product can be used as an alternative to water softening systems. This is an area we are working to expand right now."
The recent growth experienced by Scaltrol was a result of a targeted sales and marketing program, combined with the power of word of mouth. "We had several customers who came to us looking for a solution for their products," says Zimmerman. In an industry where innovation is the key to success, the ability to solve problems can earn a business many loyal customers. This was the case in the medical equipment industry when a prospect came to Scaltrol looking for a solution to scale problems they had on their sterilizing equipment. Not only did this prospect become a regular customer, but Scaltrol now sells to hospitals.
With sales growing, the company decided to make a big push for quality improvement in 2014. "For quality control purposes, we wanted to do all the manufacturing in-house," explains Zimmerman. Bringing the chemical compound manufacturing process in-house was the final step. The complicated process involves mixing together a combination of powder and liquid chemicals to create a chemical reaction. The solution is then poured into the cartridge, which is cooked in an oven until it is cured. The cartridges, and all other parts of the unit, are assembled at the company's facility in Suwanee, GA. Scaltrol performs all of the company's business functions out of this building as well, maintaining operations in the Atlanta suburb where Hansen cultivated his budding business.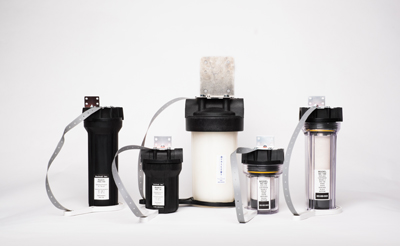 Reflecting on the company's founder who has since passed away, Zimmerman notes that Hansen was not only an effective entrepreneur, who started the company from scratch, but also an interesting character he was fortunate enough to know as a friend. "He was a classic, old-time salesman," Zimmerman recalls. "He used to drive around to turkey farms and mobile homes and just peddle the product. He had a vision, and he saw it through from the ground up until it grew it into a substantial business."
Currently, the founder's son, Cris Hansen, serves as the company's President. Other key employees include the Chief Financial Officer, Chuck Fiveash, and Warehouse and Production Supervisor, Pelé Lemons. Lemons, Fiveash, Zimmerman, and Hansen are the company's four direct employees, supplemented by temporary work-forces utilized on a seasonal basis.
As General Manager, Zimmerman supervises the production needs and maintains responsibility for inventory control, purchasing, and all general office functions. In addition, he handles the marketing and sales. "Our efforts right now are focused on increasing our market share in our key industries," Zimmerman says. For instance, Scaltrol recently completed an overhaul of its website, www.scaltrolinc.com, which is now a user-friendly platform providing extensive information for both existing and potential customers. Information on the company's products, warranty, material safety data sheets (MSDS), frequently asked questions regarding scale buildup, and more are available to those who visit the site.
This customer-centered approach is a fundamental principle to which Zimmerman credits much of his success. "Providing excellent customer service is the key point in most of the businesses and industries I've been involved in," Zimmerman says. "You have to exceed the expectations of the customer; I don't know anyone who is successful these days if they don't truly care about their customer."
Originally from Jacksonville, FL, Zimmerman received his BBA from Emory University in Atlanta, which is where he met Scaltrol's founder. He went on to manage, and eventually purchase, a wholesale distribution company dealing with small engine and lawnmower parts. Working in this business for 15 years, he gained a lot of experience before moving on to the swimming pool industry. "That's how I gained the background in water chemistry," he recalls. Zimmerman worked for a few different companies in the field before going on to start his own servicing and consulting company focusing on swimming pools. He continued with this path for another 15 years before joining forces with Scaltrol in 2011.
"One of the things I enjoy most about working with Scaltrol is that we service so many different industries with a wide variety of applications," Zimmerman says. "Especially since the launch of our new website, new customers have discovered our products and reached out to us to find out how we can help them meet their challenges. I believe we have a lot of potential for growth," Zimmerman reflects.