Save the Date for the PWNA Annual Convention and Trade Show!
Published October 2015
On November 12–14 of this year, beautiful, historic, Charlotte, NC, will play host to the PWNA Annual Convention and Trade Show. The venue for the convention is the Sheraton Charlotte Airport Hotel located at 3315 Scott Futrell Dr. For reservations, call (704) 392-1200 or book your stay by visiting www.starwoodmeeting.com/events/start.action?id=1505012822&key=1B0766A3. To find out how to explore the great city of Charlotte, visit www.charlottesgotalot.com/attractions-tours or visit the Sheraton hotel website at www.sheratoncharlotteairport.com/things-to-do-in-charlotte-nc.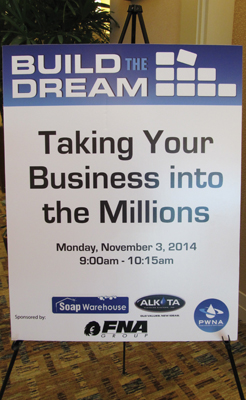 Last year, you may or may not recall that Jim Pasternak of NorthEast Power Washing in Marlborough, CT, was the happy winner of Hydro Tek's skid giveaway. For 2015, Hydro Tek plans to give away another skid, but you have to be present to win. According to the PWNA website, www.pwna.org/convention, there will be another skid give away by Hydro Tek this year. This Hydro Tek skid is a:
• Model SC35006KG
• 3500psi, 5.5gpm
• 725cc Kohler gas engine
• General triplex belt drive pump
• 115v Beckett burner system
• Adjustable thermostat, up to 250 degrees
• Onboard 115v generator for auxiliary power
• SpiraLast coil with lifetime warranty
CT would encourage you to check the website at PWNA often for an updated list of events to be held at this year's Annual Convention and Trade Show. However, in order for you to make plans, a few of the classes PWNA will be offering in Charlotte have been determined.
Power Washing 101 and
Power Washing
201
Presented by Tracy Handl, North American Power Wash Outlet
In the 101 class, Handl will cover the basics of power washing, including cleaning processes for various substrates, available equipment, and basic business/marketing skills. Due to popular request, Handl will also teach a 201 class that will go beyond the basics, providing deeper insights for newcomers and veterans alike.
Customer Loyalty
Presented by Mike Thomas, Mike's Exterior Hood Cleaning
Attendees will gain a greater understanding into the value and process of how to keep loyal customers year after year.
How To Build Your Business Using Google
Presented by James Pasternak, NorthEast PowerWashing, LLC
Your Internet presence is one of the most important methods for gaining customers. In this class, James Pasternak will provide insights into how to be found and how to stand out on Google.
Chemicals and PH:
How Does PH Affect Cleaning?
Presented by Linda Chambers, Soap Warehouse
This session will discuss what role pH plays in regards to chemical reactions and how and why even different chemicals with the same pH may not clean the same or give similar results.
Becoming A Successful Entrepeneur
Presented by Paul Horsley, Scotts Pressure Wash
In this class, participants will learn how to cultivate the key attributes required for becoming successful in business.
Save the date for Charlotte Nov-ember 12–14 and come be a part of the 2015 PWNA Annual Convention and Trade Show!