Safety Series Part 9: Small Spaces, Big Danger. Working in Confined Spaces Presents a Unique Set of Challenges
By Teri Perrin / Published February 2016

It was an ordinary day in Jan-uary 2003. According to the WorkSafe BC Investigation Report, four marine service workers were performing maintenance on a 342-foot barge in New Westminster, BC, Canada. They were repairing manhole covers that accessed void compartments in the vessel's hull, which required working in confined spaces. When a supervisor went missing, another worker went looking for him and found the man unconscious in a compartment at the bottom of the hull. Three other workers then entered this confined space to help and, one-by-one, in an attempt to rescue their colleagues, four workers died from oxygen deprivation. One worker and a firefighter suffered injuries.
The investigation into these tragic deaths revealed that the company did not have a confined space safety program. There were no written procedures for checking the well being of employees working alone or in isolation. And, during the rescue attempt, all of the marine service workers and the first firefighter who entered the confined space all did so before a hazards assessment or air quality testing could be conducted, and before back-up and rescue plans were in place.
One would think that after a tragedy like this, people employed in industries that require them to work in confined spaces—and the companies they work for—would get the message. Not so! A Google search of 'confined space deaths' reveals a dizzying number of reports of incidents, accidents, and fatalities. Reasons for the injuries or deaths were cited as being workers who ignored safety protocol and warning signs, or not being trained in how to work safely in confined spaces. In some cases, language barriers were named as a cause. In others, workers were not supplied with the appropriate personal protection equipment (PPE) and implements to check air quality were not available to them.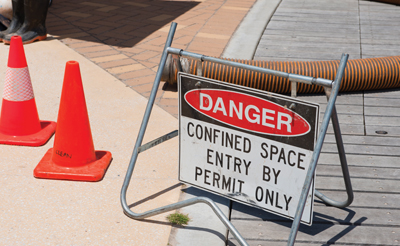 Regardless of the reason(s), fatalities or injuries relating to working in confined spaces is a very real danger. Those of us working in the waterjetting or power washing industries are not exempt from the danger. In fact, the hazards may be compounded because of the very nature of our work. Combining confined spaces with hot water and (in some instances) chemicals under pressure may increase the potential of chemical reactions and the risk of asphyxiation or chemical burns to eyes, skin, and mucous membranes. The probability of slipping or falling on wet and slippery surfaces rises. Dragging a hose down a manhole or tunnel can throw you off balance and cause a fall. The noise of the pressure washing or waterjetting gun can drown out the sound of warning signals or make it impossible to hear danger announcements.
There are many examples whereby our industry may be invited to bid on a job that requires access to a confined space. It could be in the manufacturing, agricultural, industrial, oil and gas, and transportation industries to name a few. Remember that the dangers we face as power washing and waterjetting contractors are compounded, due to the very nature of our work, but the same general government legislated safety protocols apply. If you have never worked in confined spaces, no matter how lucrative a potential new job offer may sound, remember that no amount of money is worth risking your life or the lives of your employees. Small spaces can mean big danger!
What, exactly, is a "confined space?"
According to the United States Department of Labor's Occupational Health & Safety Administration (OSHA), a 'confined space' is where the configuration and/or contents may present special dangers not found in normal work areas. They are spaces not necessarily designed for people but large enough for workers to enter and perform certain jobs. A confined space also has limited or restricted means for entry or exit and is not designed for continuous occupancy. Someone working in a confined space faces potentially life-threatening hazards, such as toxic substances, electrocutions, explosions, and asphyxiation.
"Confined" Defined
Some examples of confined spaces may include:
• Heating, venting, and air conditioning ducts
• Tanks (fuel, water, chemical, etc.)
• Sewers and storm drains
• Silos and storage bins
• Crawlspaces and basements (before steps installed)
• Hoppers and vaults
• Pits and drilled shafts
• Manholes and tunnels
• Equipment housings
• Pipelines
• And more!
OSHA uses the term "permit-required confined space" (permit space) to describe a confined space that has one or more of the following characteristics:
• Contains or has the potential to contain a hazardous atmosphere;
• Contains material that has the potential to engulf an entrant;
• Has walls that converge inward or  floors that slope downward and taper into a smaller area that could trap or asphyxiate an entrant; or
• Contains any other recognized safety or health hazard, such as unguarded machinery, exposed live wires, or heat stress.
When working in permit-required confined spaces, it is the employer's duty to safeguard workers. To ensure all employees are protected, they must be alerted to the presence of the confined space and its dangers. Warning signs must be clearly posted. They must also ensure that a competent person is on-site. A competent person is deemed to be "someone who is capable of identifying existing and predictable hazards in the surroundings or working conditions, which are unsanitary, hazardous, or dangerous to employees, and who has the authority to take prompt corrective measures to eliminate them." The competent person need not be an employee of any particular employer. The various contractors on a site may use a single individual to perform the duties required of a competent person.
It should go without saying that anyone entering a confined space re-quires the proper safety training and must be authorized to work in the space.
General Employee and Employer Responsibilities
Workers have the right to a safe workplace, and the law requires employees to provide safe places to work. Here are some of the most commonly asked questions about working in confined spaces:
Can I Refuse to enter a confined space if I feel it is not safe to enter?
Certainly! The OSHA law prohibits employers from retaliating against employees for exercising their rights under the law, including the right to raise a health and safety concern or report an injury. For more information, visit www.whistleblowers.gov or search 'Workers Rights' Under the OSHA Act.
Are there different rules for different types of spaces?
Yes. The Confined Space Standard legislated by OSHA does not apply to any confined space that is accessed by diving, in an excavation area (such as a sewer line in a trench), or underground construction.
In addition to the confined space standards, are there other safety standards of which I need to be aware?
Absolutely! Depending on the type of work and the industry, you may be required to follow guidelines for Process Safety Management, Hazardous Waste Operations, and Welding and cutting.
Are there guidelines relating to training?
Anyone required to work in or around a confined space must receive special training to ensure they fully understand the inherent dangers. The training must be provided both in a language and vocabulary that the worker can understand; before the worker is assigned duties; and whenever there is a change in the permit space entry operations. It is important that everyone on the site is trained to ensure that, in the event of an incident or accident, untrained people do not attempt a rescue.
How can I obtain a copy of The OSHA Safety Standard?
You can download a PDF copy of Protecting Construction Workers in Con-fined Spaces: Small Entity Compliance Guide at www.osha.gov/Publications/OSHA3825.pdf.
How can I learn more?
OSHA can help answer questions or concerns from employers and workers. To reach your regional or area OSHA office, go to the OSHA Offices by State Web page at www.osha.gov/html/RAmap.html or call (800) 321-OSHA (6742).
Small businesses may contact OSHA's free, on-site consultation services funded by OSHA to help determine whether there are hazards at their worksites. To contact free consultation services, go to www.osha.gov/dcsp/smallbusiness/consult.html or call (800) 321-OSHA (6742) and press number 4.