Safety Series, Part 10: The ABCs of PPE: What You Need to Know about Personal Protective Equipment
By Terri Perrin
If you were to analyze workplace accident statistics over the last several decades, how people get hurt on the job has not changed. People still slip on wet surfaces, fall from ladders, and splash chemicals on their skin. What has changed is how well individuals are safeguarded from injury with advances in the manufacturing and design of personal protective equipment or PPE.
Put Your Best Foot Forward
Slip-resistant, steel-toed rubber boots should be standard issue PPE for all power washing and waterjetting applications, but there is also a wide range of products you may need for more specialized work. Steel-toed footwear, for example, is also available with shin and metatarsal (top of foot) protection, which can be essential for waterjetting applications.
Never take PPE for granted and never lose sight of the fact that pressure washing and waterjetting equipment is powerful enough to cause severe injuries that result in eye loss, amputations, or even death. Working with high pressure washing equipment and systems involves a variety of hazards, including coming in contact with a high pressure waterjet; uncontrolled hoses; and exposure to heat, chemicals, cold, and noise.
"The type of PPE required is always job specific," explains Michael Hinderliter, owner of Fort Worth, TX based PowerWash.com. "I have been in the power washing industry for my entire career and, for me, footwear with excellent traction is always a priority because the potential to slip and fall is ever present. From there, I would consider water-resistant rain suits, and then hand, eye, and hearing protection to be essential.
"Considering the nature of our work, where steam and water overspray may cause glasses to fog and reduce visibility, eye protection is always a challenge," adds Hinderliter. "In my experience, I am always torn between protecting my eyes and having good visibility, but safety is always the top priority, especially when using harsh chemicals."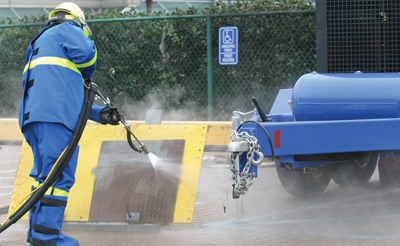 The issue of protection versus productivity and ease of use is a big one. Safety managers and workers today demand PPE that allows both. Manufacturers have embraced the challenge by investing in advanced technologies and introducing new products. Without a doubt, PPE is now designed to be more comfortable, fit better, and weigh less, with the goal of providing better all-around protection. The majority of PPE manufactured today not only meets the Occupational Health & Safety Association's (OSHA) guidelines, but also meets the users' need for comfort, style, and productivity. With product information so easy to find on the Internet, there is no excuse for companies not to supply workers with the appropriate safety gear. And there is no excuse for workers not to wear it.
And speaking about employees wearing PPE, if you are taking photos of workers and posting them on social media, be hypervigilant that you always have people wearing the appropriate proactive gear for the job. A picture truly does say a thousand words, and you want potential clients, employees, subcontractors, government regulators, and industry stakeholders to know that your company is safety compliant.
OSHA'S PPE Guidelines
According to OSHA, personal protective equipment (PPE) includes clothing, respiratory devices, and protective shields and barriers that are worn to guard your eyes, face, head, skin, and extremities from any workplace hazards that may cause injury or impairment through absorption, inhalation, or physical contact. OSHA also dictates that:
PPE must be provided, used, and maintained by the employer in sanitary and reliable conditions, wherever it is necessary.
Workplace hazards that require PPE may include (but are not limited to) any processes or environment that puts the worker at risk, chemical hazards, radiological hazards, or mechanical irritants that may be encountered.
The employer must provide training to each employee to ensure they understand when and how PPE must be used; its limitations; and its appropriate care, maintenance, useful life, and disposal.
Safety Rules
In the USA, in addition to meeting OSHA's requirements, PPE may also need to meet similar criteria established by the American National Standards Institute (ANSI), the American Society for Testing and Materials (ASTM), or other municipal regulations. It is imperative that you make the effort to understand and follow the guidelines set for all states or provinces where you are contracted to work. Guidelines aside, the most important thing to remember is that PPE should never be used as a substitute for common sense, equipment engineering, safe work practices, or administrative controls.
Every operator is obliged to ensure that the personal protective equipment is worn properly and that its condition is regularly checked. Further information can be found in the safety regulations accompanying your machines and equipment.
"It is imperative that you understand the rules for your region and ensure that your company is a safe place to work," warns Hinderliter. "Regular safety audits and reviews should become part of your corporate culture. Not only should your goal be to keep your people safe, but you also do not want to be 'that company' that receives disciplinary action or is fined because of non-compliance. I honestly believe that government officials prefer to see compliance, rather than be forced to take action. The bottom line is that as our industry continues to evolve and mature, with workplace safety and PPE at the forefront, accidents and incidents have been greatly reduced. That's what is most important."
Online Resources:
• OSHA's PPE Regulations: https://goo.gl/qJWtxj
• Review detailed guidelines on the effective use of PPE from Power- Wash.com: http://goo.gl/lus6B7
• Download a two-page handout on PPE from WorkSafe BC: http://goo.gl/XrKe1f  
The Waterjetting Association's Statement of Policy Relating To PPE

    Any person working with a high pressure waterjetting system or working in its vicinity must wear suitable protective clothing commensurate with the risk involved in the jetting operation.     When selecting the appropriate PPE to be worn, it is essential that a Risk Assessment is carried out in advance of commencing operations and that the correct selection is made relative to the pressure and flow rate being used and the potential hazard.
    It is essential that both employers and employees receive appropriate training to understand the selection criteria and need for protection.
    It is not permissible to commence hand-held waterjetting operations at 1700 bars and above (ultra high-pressure) without wearing appropriately rated PPE, selected accord- ing to the risk involved.
    It must be emphasized that Ultra High-Pressure PPE does not give complete protection. However, it will provide enhanced resistance to penetration of the waterjet thereby giving time to avoid further contact or to stop the operation and hence reduce the potential injury.
    Operators must appreciate that this type of PPE while lessening the likelihood of a severe injury will not give them complete protection and, therefore, high standards of training, supervision, and operator vigilance will still be required.