Safety: Focus on Safety, Part 6—Stamp of Approval: Equipment Testing and Certification Is a Critical Part of the Manufacturing Process
By Terri Perrin / Published September 2015

Establishing occupational health and safety programs for the workplace is your responsibility as an employer. You can document and implement safety protocols and work to ensure that your employees follow procedures. But what about the equipment they use on a daily basis? How do you know that it is safe for the intended use in the first place?
Leah Lukavsky, account manager of Intertek Testing Laboratories, Portland, OR, explains that all power washing and waterjetting equipment must be tested and certified at an independent and nationally-recognized laboratory. This ensures that it meets a minimum level of pre-established safety standards.
"It is important to point out that Intertek and other approved testing labs don't write these standards," explains Lukavsky. "Intertek sits on most of the standards writing committees; however three, private, third-party testing laboratories take on the task of drafting the standards and they vary, depending on where the equipment will be distributed. The Canadian Standards Association (CSA) is responsible for products sold in Canada. In the United Sates, Underwriters Laboratories (UL) is the governing body. For products distributed globally, the International Electrotechnical Association (IEC) sets the standards."
So what, exactly, does a testing laboratory look for? "We examine equipment safety from many angles," adds Lukavsky. "The most obvious for power washing and waterjetting equipment is related to the wiring and water pressure. Safety concerns related to using electricity are of concern because electrical malfunctions can result in shock or fire and have serious consequences, especially when combined with water.
"We also examine the equipment from an environmental perspective. Will it leak contaminants? Will it transfer chemicals onto human skin? What about emissions? How much carbon is it putting out? How about Electro-magnetic Compatibility  (EMC)? What type of radio waves is it emitting and will that affect other radio frequencies at a hospital, for example.
"We also research and inspect to determine that the materials used in the manufacturing of the equipment do not come from countries where bad mining practices are being used. Products from non-conforming mines are referred to as 'conflict minerals.' The USA has recently passed legislation to ban the use of conflict minerals. Overall, it is an extensive process."
Safety Support From CETA
Even if a product has received a CSA, UL, or IEC stamp of approval, the manufacturer is still liable in the event that an accident should happen. That is why most companies do additional product testing.
Lukavsky stresses that all equipment users should be aware of (and thankful for) the efforts that the Cleaning Equipment Trade Association has made to work in collaboration with the three safety standards organizations. CETA has been instrumental in setting exemplary standards of manufacturing excellence. The organization believes that if the industry doesn't work to achieve high safety ratings, then the government will intervene by default. By being proactive in performing due diligence and self-regulating equipment manufacturing guidelines, we can ensure that a certain level of control is maintained. In most cases, individual manufacturer's safety standards exceed the minimum requirements established by the government organizations.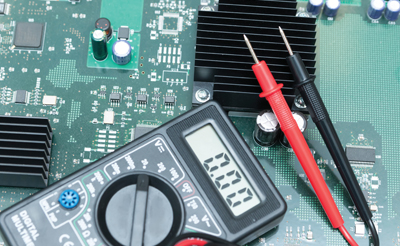 Intertek has partnered with CETA and other industry organizations, and its labs conduct advanced levels of testing. She recalls one example of a company that manufactured commercial barbecue grills. (Not under CETA's mandate, of course, but a good example of how extra testing can alleviate safety issues.) A design change was required for a certain model of a grill to meet sanitation requirements. The grill cover was modified, tested to ensure it met safety standards, and passed inspection for that specific issue. Thankfully, this diligent manufacturer performed additional safety tests. They quickly determined that the re-design had changed the center of gravity, and the unit now easily tipped over. The required redesign cost the company a few days of production time, but it saved them a lot of potential grief in the long term.
Additional Certification Steps
Dr. Marlo Dean, senior safety manager at Kärcher, in Camas, WA, adds that the Occupational Health and Safety Administration (OSHA) also play a significant role in equipment safety certification.
"OSHA's regulation number 1910.399 states that any employer buying a piece of equipment must ensure that the machine is certified by a nationally-recognized testing laboratory" clarifies Dean. "There must be a certification listing mark, identifying the associated safety standard, permanently affixed to all equipment. Some of these safety certification seals will have the ETL logo on it with a letter 'C' on one corner—to show it meets Canadian standards—and 'U.S.' on the other corner—proving it meets USA standards. This label is proof that the equipment is compliant with OSHA requirements and has been manufactured, tested, and certified to meet industry safety standards."
To further support the testing conducted by the labs, Dean adds that the CSA, UL, and IEC also work in collaboration with other industry partners to establish testing committees, which are comprised of various groups of experts. People on the committees are specialists in different areas of power washing and water-jetting equipment manufacturing, such as electronics, pumps, burners, and more. They meet regularly to discuss what can be written into the safety standards for operators and how to best alter designs to ensure safety.
The Cost of Component Certification
There are also considerations as to whether an entire piece of equipment is certified as a whole, or if each component carries its own certification. At Kärcher, they use parts that are individually safety certified. Once mounted on a machine, an inspector will test again to ensure compliance.
"For example, most people don't understand that if an electronic switch isn't certified under the electronic safety standard, the completed piece of equipment won't pass inspection," explains Dean. Most manufacturers don't want to test every single component that goes into a machine, so they buy components that are individually certified. It is an expensive but necessary part of the manufacturing process. At Kärcher, we pay more than $10,000 (on average) to fully certify a machine and invest more than $200,000 per year to secure equipment safety certification."
Put A Label On It!
Explicit equipment safety warnings must be printed in the operators' manuals and permanently affixed to all power washing and water-jetting equipment. OSHA governs what kind of warning labels you must have. Even the size of the letters and the color of the warning labels are dictated in safety standards.
Dean clarifies that it is not enough to just slap a sticky label on a piece of equipment. Warning labels must undergo rigorous testing to ensure they can withstand repeated exposure to detergents, aging, and gasoline, and that they will not fall off. There are also different rules for labels, depending on whether the equipment is designed for indoor or outdoor use. For outdoors, they also require rainwater, flood, and Xenon-arc accelerated exposure aging tests. Water spray, adhesion, accelerated exposure, and compatibility testing is difficult to pass.
Future Considerations
"Our industry is in a constant state of change," concludes Lukavsky. "We have to be aware of new, hazard-based safety standards that are starting to roll out; they will revolutionize the standard around product safety testing. Right now, the new rules relate only to the manufacturing of audio and information technology equipment, but we expect the ripple will change the way all product safety testing is conducted and how it is viewed in the future, especially since our culture is pushing for more products using information technology. With this new paradigm shift, safety testing must be done in advance. June 2019 is the drop-dead date across the standard writing bodies for the new 62368 Standard."