Safe Summer Work
By Diane M. Calabrese / Published June 2021

Summer afternoon. Declared the two most beautiful words in the English language by Henry James, so who are we to disagree?
     Well, something can be gorgeous and not so healthy. Take looking directly at an eclipse of the sun.
     In the shade of a tree, lakeside, or seaside, a summer afternoon is something to relish. At work, the perspective changes.
     "Cleaning an enclosed parking garage in the summer heat can be brutal," says John Tornabene, owner, Clean County Powerwashing in Kings Park, NY. He recalls many completed projects that remind him of the challenge.
     On a weekend when it reached 102 °F, Tornabene's team cleaned a four-level enclosed parking garage in New Jersey. The temperature inside the structure almost required a postponement. Often wiping the perspiration from their faces, the team got through with care. 
     Sometimes a job has to be rescheduled for safety, says Tornabene. But in most conditions with a team acclimated to the summer heat, it is possible to proceed if all precautions are in place. 
     "The key is to be well hydrated," says Tornabene. To do so, the team should "have drinkable water nearby at all times."
     Summer heat can challenge contractors in any part of the country. Hot days may be fewer in Maine and Alaska, but they are not absent.
     For members of our industry working in states with a long summer, the challenge of hot days is a sustained one. "In Houston, it gets hot-hot," says C.L. Scott, owner/operator of Houston Washpros Power Washing.
     Scott knows and plans around the Texas weather. "The humidity is very intense," he explains. "Therefore, almost every job has the potential to be dangerous. We have to stay careful to be hydrated and conscious of our bodies."
     Accomplishing work safely in summer begins with scrupulous adherence to the basics. "A fully stocked cooler is a must," says Scott. "Water, sports drinks, and even pickle juice to reduce cramping."
     In some ways, the heat is the knowable commodity. It's obvious. More difficult are dangers tied to summer that are inconspicuous…until they strike. "Bees and hornets can prove to be a challenge as you never know where you'll find them," says Scott, noting they do seem to be repelled by the soap solution his team uses.
     Heat, humidity, exposure to sunlight, and insects are part of doing business in summer. Unfortunately, it has become necessary to deal with much more than just the routine vexing issues of summer.
     "As we all know in dealing with the pandemic, mental health issues have risen to the surface in the form of road rage and other unusual confrontations," says Scott. "We all just have to keep a cool head and learn as much as possible about how to best deal with people and certain situations."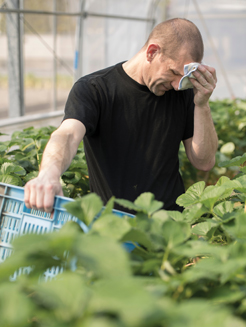 Environmental conditions—heat, humidity, and the sun's rays—can exacerbate stressful situations at home or in the community. It is important that everyone be as healthy as possible so that they have the resilience to deal with the vagaries of life that cannot be predicted.
     Scott says he encourages employees to take care of their physical well-being, consulting physicians as needed, and so on. "We look out for each other on the job," he explains.
     If heat and humidity build, storms are sure to follow. That's the pattern in the Sunshine State on most summer days.
     "Living here in Florida, we deal with weather more than anything else," says Nick Campanale, owner of Nick's Pressure Cleaning Services Inc. in New Port Richey, FL. "Summer brings intense heat, and cleaning roofs just makes the heat worse."
     Where to begin to compensate? "Having the proper UV protective gear helps, but nothing is more important than staying hydrated," says Campanale. "Drinking water and Gatorade to replenish electrolytes will prevent dehydration or worse issues."
     Staying alert to weather changes is a must. "We deal with a rainy season here, and we get heavy downpours along with lots of lightning strikes because of the heavy amount of humidity and heat," says Campanale. 
     As for the lightning, Campanale reminds us that Florida ranks among the top states for frequency of strikes. "You certainly don't want to be on a roof or even on the ground holding a wand in your hand, connected to 200 feet of double-steel braided line."
     Part of training crews includes storm tracking and response to approaching dangerous weather. "We are fortunate to work all year round here in the South, but we do have some obstacles as well," says Campanale.
     An ominous sky is a signal to get out of a storm's path, explains Campanale. "You better take cover. It may only last one-half hour and then the sun is out again—and that is what is great about Florida."
S-A-F-E
     From mitigating the myriad effects of the sun's rays to awareness of potential encounters with everything from severe storms to deadly snakes and simmering emotions, a contractor's checklist for maintaining a safe workplace usually grows in summer. Fortunately, there's plenty of help available. 
     The Occupational Safety and Health Administration offers many fact sheets and quick cards. (Visit OSHA.gov or USA.gov for access.)
     For instance, OSHA's fact sheet Working Outdoors in Warm Climates provides tips on how to counter the effects of ultraviolet (UV) radiation and heat, avoid falling ill from tick-borne diseases and West Nile virus, and evade encounters with poisonous plants. 
     Wear loose clothing, long sleeves and long pants, a hat, sunscreen, and UV- absorbent sunglasses, and limit exposure to the sun when its rays are most intense. It's not only skin cancer that is tied to exposure to UV radiation but also cataracts. 
     The same loose clothing reduces overheating. And make it light colored. Heavy meals, caffeine, alcohol, and sugar are a dangerous mix with heat. (Of course, no one who has been imbibing spirits should be on a job site.) Employees taking medication should verify with their physicians that the pharmaceutical is compatible with working in hot weather. 
     Ticks transmit bacteria and smaller, related organisms from infected wildlife to humans. The reactions elicited in some people include swollen lymph nodes, joint and muscle pain, fatigue, and headaches. Lyme disease and Rocky Mountain spotted fever are two of the best-known tick-vectored diseases in the United States.
     Light-colored clothing makes it easier to see ticks and remove them. Tucking pants into boots or socks limits tick access to skin. If a day's work has been in a tick-infested area, check for ticks and remove them. 
     West Nile virus is transmitted by a mosquito. Use mosquito repellent when working in areas where the virus is endemic. At home base, contractors should store equipment and ancillaries so that standing water cannot accumulate.
     Anyone who has ever dug up poison ivy in the middle of winter knows that it's possible to suffer a reaction to any part of the plant. Everyone on a team should know how to identify poison ivy, oak, and sumac and avoid them.
     Contractors who must make their way through a tangle of unkempt vegetation to reach the side of a house are particularly vulnerable to hidden poisonous plants. Consider hiring a landscaping company to clear the way on such jobs and adding the cost to the estimate given to a client.
     In some parts of the country, the same thicket of vegetation home to poisonous plants can also conceal snakes. Rattlesnakes are not uncommon in most western states. And they are more active in warmer months. 
     Although some 10 to 15 people die from snakebites in the United States each year, thousands of people are bitten. Contractors working on commercial and residential projects do not often encounter poisonous snakes, such as rattlers. But if working in a region where wildfires or floods have been recent occurrences, caution is warranted because snakes may have moved well beyond their typical habitat.
     Yet snakes do not pose as much risk as the potentially lethal stings of bees and wasps. Moreover, snakes tackle the rodent population in a way no other animal in the country does. (Urban gardeners watching their vegetables disappear soon learn the value of snakes and do everything they can to welcome them.)
     OSHA reports most ill-effects from exposure to the heat of summer come early in the season. And as many as 70 percent of outdoor fatalities occur within the first few days of the onset of hot weather. Acclimatization is the explanation. As time goes on, our bodies adjust to hot summer days. 
     Water. Rest. Shade. That trio forms the core of the OSHA heat-illness prevention campaign. Employers have the responsibility to establish such a program if their employees may be exposed to extreme heat (summer). 
     The basics of a program established by a contractor to prevent heat-precipitated illness should include allowing employees time to acclimatize; integrating water, rest, and shade into the workday; and verifying all employees can recognize the signs of heat stress (e.g., confusion) and respond to it.
     Planning and prudence put summer work on a safe foundation. That keeps the beauty in the words "summer afternoon."