Royce Industries, L.C.: See a Need and Find a Way to Meet It
By Diane M. Calabrese / Published June 2015

See a need and find a way to meet it. That's a good way to start a successful business, and it's exactly what Royce C. Rasmussen did. A truck driver at the time, Rasmussen had the idea that a mobile truck wash service would keep his own truck clean, create extra income, and teach his sons how to work.  His wife, Julie Rasmussen, ultimately nudged him to launch the business.
In 1984, Rasmussen received a $4,000 loan from his parents and started Royce and Sons out of his home, employing only his two eldest sons, Calvin and Casey. Today, Royce Industries, L.C. employs more than 50 people. It has multiple locations in Utah, Nevada, Idaho, and Colorado.  The company also serves customers in parts of Arizona, Montana, Oregon, and Wyoming.
Royce Industries, L.C. has grown every year since inception and now has annual sales that exceed $10 million. It is an established leader in industrial cleaning equipment, car wash equipment, and railroad and rail car services.
In all its endeavors, Royce Industries, L.C. keeps the focus on the customer. For some customers, it means providing a turn-key solution. For others, it means an engineered cleaning system tailored to the customer's unique requirements.
The Royce Industries, L.C. website (www.buyroyce.com) offers a great overview of the company's innovative strategies, dedication to employees, product offerings, trained and certified technicians, and commitment to safety. A strong work ethic and a supportive family made it possible to start a company that has grown to be one of the largest pressure washer distributors in the United States, says Rasmussen. Here, he tells us a bit more about how it was—and is—done.
Impetus
When he hauled propane, Ras-mussen drove a route across the desert—250 miles out and 250 miles back. "It gave me a lot of time to think," he says. "I always wanted to be an entrepreneur, and I had a lot of time to study things in my mind." While driving, he often listened and learned from expert advice given by radio hosts and financial advisers like Bruce Williams.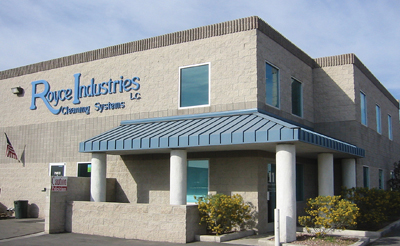 "I was always entrepreneurial," says Rasmussen. "As a kid, I sold all occasion cards, did yard care, worked for local farmers, worked at a local gas station, and was even a rodeo clown.  When Julie and I were dating in high school, we would talk about starting a business."
Rasmussen credits his parents for his work ethic. "My mom taught me how to work, and my dad was my best example." His mother grew up working in the truck-stop café started and owned by her mother. His father worked at two jobs to support his family. "They were great examples of a hardworking family."
A native of Utah, Rasmussen says that the state is a good one in which to start a business. "Utah is known for the entrepreneurial climate, honesty, and hard work," he says. Of course, that also means there is a lot of competition, a good thing. "To succeed, you have to become good."
Hard work and meeting the competition are essential elements for sustaining and growing a business. "Starting a business is usually not an original thought," says Rasmussen.  "It's the execution of a thought or idea that determines whether or not a business will succeed."
The Day-to-Day
"Because I'm trying to empower others, I work 'behind the scenes' a lot now," says Rasmussen. "The first thing in the morning, I review the cash-flow reports." He also reviews the daily sales reports and other reports, such as inventory control. The reports go directly to the appropriate managers on site, but they are copied to him. He talks with management team members each day. He "likes to stay up to speed on the industry and other things that might help the company grow i.e., reads industry magazines, works on the computer, talks with others, and tries to keep learning."
Monitoring reports is part of providing guidance to those managing the company. At this juncture, Rasmussen sees himself as a guide. It could be something as simple as noticing that inventory is beginning to "load up" and asking about it.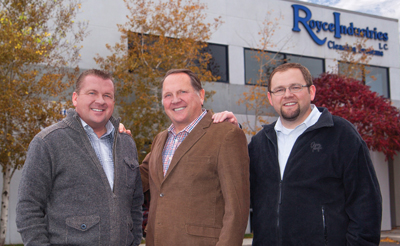 "When I do go into the office, I talk to people," says Rasmussen. "I love the people I get to work with." Yet as much as he enjoys the in-person interaction, when he "decided to empower people—guide" he felt working "behind the scenes" would be the best approach.
There have been some memorable days over the years that Royce Industries, L.C. has operated. One of them came "10 years in," says Rasmussen. "We received a very large, multi-year purchase order. It gave us cash flow. We finally felt the business was on stable footing."
After 10 years in business, though, Rasmussen knew that relying too heavily on one large order was not enough. Things change—and often rapidly. Being flexible and innovative is part of every day for the entire Royce Industries, L.C. team.
Well before environmental regulators were establishing strict rules regarding how wastewater must be handled, Rasmussen was developing methods for collection. He began washing on tarps, for instance, soon after he started his business.
Sometimes the stimulus for change can be dramatic. "One of our large customers had a near environmental accident, and we started working with them to make sure something like that didn't happen again," says Rasmussen. By helping the customer resolve the issue, his company was able to keep working—and innovate. Royce Industries holds several U.S. patents for environmentally-friendly washing technologies.
Perspective
Rasmussen looks at the way pressure washing and ancillary equipment continues to be refined with both optimism and pride in the industry. Environmental challenges will be met. He points to the example of the ECOS trailer Landa developed to wash, then collect, filter, and reuse water. "This thing here is really environmentally friendly," he says.
A member of CETA since soon after the inception of the organization, Rasmussen finds belonging to professional organizations important, often in quiet ways. "It allows a distributor to keep up to speed on the latest information and trends and what others are doing," he says. "The networking is valuable and you share information with other people. There's a lot of little stuff. You bring it back—take part of it and use it."
The industry for all its strengths is very different from the one in which Rasmussen launched his company. "When I did it, it was still quite new," he says. "The industry is consolidating now. I have businesses call me regularly proposing to sell."
Still, for those who want to join the industry, Rasmussen suggests they study it first and not just jump in.  A little start-up cash from parents might not be enough like it was 30 years ago. Today, there are fewer good lines available, more regulation, and more competition. Should they decide this is what they want to do, he offers some suggestions for making the best possible beginning. Plan on working  long, hard days; your competition will be. Learn all you can about your industry. Cultivate relationships with your banker, insurance agents, CPA, attorney, and especially with your supplier.  When you need help, they will be your best solution if they know about your business. Then, most important be a solution for your customer's problems.
One of the hardest lessons came a few years ago. "What I had done—like so many people in my generation were taught—was to get out of debt. That's good advice for people, but not necessarily for businesses. When 2008 came, I had no cash," says Rasmussen. Equity in buildings and inventory is not the same as cash when the economy slumps. And when an economic downturn occurs, converting equity into cash becomes a very slow and difficult process. "The ability to call on people already familiar with us really helped us."
Another bit of advice from Rasmussen is that serving diverse markets also helps a business withstand unsettled periods of economic activity. Royce Industries, L.C. serves customers in virtually every industry sector. "Our world of friends is the people in the industry," says Rasmussen. "I love the people."