Remembrance
Ralph L. Notch (1941–2019)
Published April 2019

It's fitting that Ralph Notch was born in Minnesota, the North Star State. For millennia, travelers have relied on Polaris—the North Star—as they charted a course to a new place or revisited a familiar one. They knew they could depend on the constant guidance of the star. In the same way, members of our industry knew they could depend on the quiet but constant guidance of Ralph Notch. As son Jon Notch, CEO and co-president of A.R. North America in Fridley, MN, explains, "He lived by two words—humility and kindness—and led by the example of a hard work ethic and expansive knowledge."
Ralph Notch is known well for his role in establishing A.R. North America as the North American representative for Annovi Reverberi S.p.A. of Modena, Italy, in 1989. He brought a wealth of experience to the new company.

Notch was the winner of the 2015 CETA Lifetime Achievement Award, and a profile of him appeared in the February 2016 issue of Cleaner Times at www.cleanertimes.com/magazine/cleaner-times-articles-2/ralph-l-notch-a-r-north-america-winner-of-the-2015-ceta-lifetime-achievement-award. The profile captures the wide-ranging settings and endeavors that benefitted from his contributions. A few highlights follow.
When he joined the Army after high school, Notch earned a place in military intelligence. He was at work in that specialty area during the Cuban Missile Crisis in October 1962. After completing his military service, he studied horticulture and business at the University of Minnesota while also working at Norman Jensen, Inc. It was at Pillsbury Company, his first employer after college, where he met the woman who would become his wife, Sharon Notch (widowed after 52 years of marriage).
For a short interval in 1988, Notch decided to make a lake resort his full-time professional commitment. But ultimately, he was drawn back to the industry by the opportunity to launch A.R. North America (ARNA).
Jon Notch recalls his interaction with his father during the late 1980s. "I started with ARNA directly after university," he says. "At the time, the company was only five years old with seven employees. I was initially interested because of the diversity a small company offered. I worked with my father not only at ARNA but also in starting our family resort. It became natural to work with him."
The experience of working alongside his father for so many years is one that Jon Notch enjoyed—and one that has shaped his outlook. "I for sure miss the idea of sharing business successes and challenges," he says. "He mostly wouldn't answer questions but instead would ask questions. It's taught me to pause and consider viable avenues."
Forward, Always
Ralph Notch is missed—so much so that Kyle Notch, president of A.R. North America, found himself on a February day hoping to at least hear a recording of his father's voice.
"I picked the phone up last week and dialed my father's number," says Kyle Notch. "The phone rang twice until a wave of emotion flooded my eyes. Realizing it was my habit to call my father during my drive home from work, that day I wanted to share with him a story about a new hire in the office and wanted to ask him a simple question about an idea I had regarding the compensation package. I waited for his voicemail to pick up. I wanted to hear his voice and leave him a message that I missed him."
We all carry the people we love and who have passed in our hearts. And sometimes we say a few words to
them. We also try to incorporate some of the best that they have shown us regarding how to interact with the world and others.
"Ralph had this wonderful ability to make everyone he met feel valued and appreciated no matter what their position or title," says Kyle Notch. "He could talk to anyone at any level with confidence and understanding."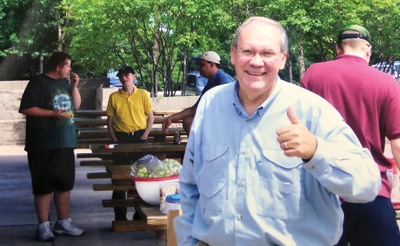 Kyle Notch says his father exemplified the strengths of our industry. "What makes our industry so fulfilling to so many is that we all get to talk with all walks of life day in and out. I am reminded every day of the legacy Ralph left. Treating each other with respect and appreciation was Ralph's talent that I am trying to incorporate in my daily life."
It's difficult to know precisely when each of us chooses a professional path. Yet there's no doubt we observe our parents from a very young age and begin to take up ideas from them.
Kyle Notch recalls his father coming home after a long day at work, changing out of a suit and tie, and talking with his mother about the highs and lows of the day. He explains it might have been then that he knew he would enter the same path. But there were so many things…including the mornings his father would help him out with his paper route before leaving for work.
"The days I was lucky [my father] would find time to squeeze a round of golf with me before he left for work," says Kyle Notch. It might have been then he knew he wanted to emulate his father. There are other possibilities, though.
"Was it the time when he handed me a rake and asked me to skip playing a spring sport so I could earn some money raking his resort that ended up helping me pay for my college studies?" says Notch. "Was it the morning he woke me up after senior prom—and in my weary state—to put docks out on the lake, pounding pillars all day long? Was it the first business trip I took to Canada to meet his new customer that later became a life-long friend?"
Whether it was one or all of the events, it does not matter, says Kyle Notch. "Whichever moment it was that led me down my father's similar path, I am grateful and honored to follow in his footsteps."
We wondered whether Ralph Notch ever expressed a hope how he would be remembered. "I can never recall a conversation like that with my father," says Kyle. "He was not the type to look back on his life. He was always looking forward. But if he did, his life code was always to be honest, humble, and kind."

Bright Memories
Ralph Notch's constancy is remembered well and much appreciated by colleagues. "He taught me that kindness goes a long way and to always be polite to even the grumpiest of customers," says Anna Salza, head of the export department at Annovi Reverberi.
"Ralph was one of the kindest, politest, most decent people that I have had the privilege to meet," says Salza. "It was always a pleasure to take one of his calls; he was always so calm and polite, and you just felt so easy to talk to him about anything, even items not work related. He was a very special person—old school, I would say—and there are not many of them around."
Stefano Reverberi, managing director/owner of AR Group, recalls the focus Notch kept on the good. "I remember a very difficult visit with a customer, due to a technical problem and big warranty request," explains Reverberi. "He convinced me to recognize the cost of maintaining the relationship, saying, 'Stefano, you don't do business today, but you will do long-term business for our company.'"
Reverberi says that he learned the importance of equanimity from Notch: "Always approach the problem with calm and positive thinking in business and in life."
Mario Reverberi, managing director at Annovi Reverberi, also holds bright memories of Ralph Notch. "He was a great person both in life and professionally. I learned so much from him."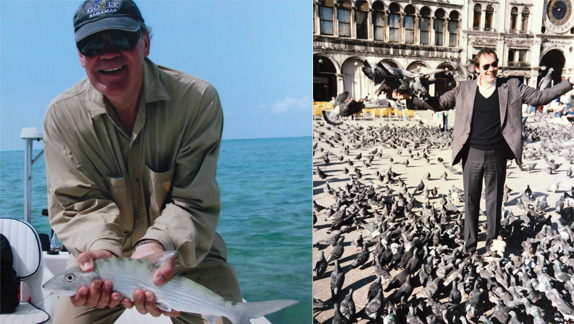 Notch's "leadership in the international business rela-tionships in the high-pressure sector" was something he admired, says Reverberi. "He always had a positive approach in his business dealings and a wide knowledge, both technical and commercial, of the American product and the European one."
Reverberi says he remembers "with emotion" the founding (by Ralph Notch and Annovi Reverberi) of A.R. North America three decades ago this year. "Due to his enthusiasm and specific knowledge of the market and the products, Notch set up company strategies which are still effective and determinant today."
Al Stasny, technical manager at A.R. North America, captures the essence of Notch's leadership style. "In talking with Ralph one day, he said to always remember to use two tools you have at hand: analyze the situation, and most importantly, listen."
Moreover, says Stasny, Notch gave him a piece of advice that has served him well: "When facing an important or difficult situation and you feel you have decided on your final conclusion or approach, stop, take a step back, and review your decision before presenting it."
A direction setter with a gentle manner, Ralph L. Notch helped many plot a true course. Steady and loyal, he was a genuine role model—someone who could be followed without concern about losing one's bearings.
Celestial bodies more luminous than the North Star are noteworthy. But constancy is a rare and special kind of light worth following.