Regional Profile
Québec — The French Connection
Published May 2019

The name "Québec," which comes from the Algonquin first nation word "Kébec" meaning "where the river narrows," refers to the area around Quebec City where the Saint Lawrence River Narrows to a cliff-lined gap.
---
Of the 13 provinces and territories in Canada, Quebec is the only French-speaking region of North America, making it unlike anywhere else on the continent. (See sidebar at the bottom)
Quebec (QC) occupies a territory nearly three times the size of Texas, and while it may be Canada's largest province in terms of landmass, much of it is uninhabitable. The province's extreme north is a barren (but beautiful) arctic wasteland similar to that of Canada's three northern territories (the Northwest Territories, Yukon, and Nunavut) and is inhabited mostly by polar bears, caribou, and arctic wolves. (So, not good for pressure washing business prospects!) The central region is filled with dense, boreal forest. The southeastern region, through which the St. Lawrence River runs, is lush and fertile, with rolling hills, small lakes, and arable soil; and this is where the vast majority of Quebec's eight million people reside.
Opportunities Aplenty, Weather or Not
With relatively short summers and long, cold winters with heavy snowfall, there are not many unique/regional pressure washing opportunities, aside from culvert de-icing. Messy winter road conditions, however, result in very dirty vehicles, so car washes
are busy places, and commercial fleet washing is a great business. In addition to transportation and general cleaning, car dealerships and institutions provide plenty of opportunities. In Quebec City, for example, there are more than 70 auto dealerships. And in some areas, providing services to military bases provides another service opportunity.
Eric Veillette, co-owner of Boucherville, Quebec-based Multi Pression LC, agrees that one of the biggest challenges in doing business in Quebec is the weather. "When it is so cold, you don't sell many pressure washers because you are not able to clean parkades and other outdoor structures. Business can be very quiet … and keeping your staff busy can be a big challenge. You have to use the down time to your advantage and redirect them to do more training, cleaning, changing production lines, and such to keep them busy."
That said, Mark Bourgoin, owner of Équipements de Lavage de la Capitale (Capital City Washing Equipment), L'Ancienne-Lorette, QC, says that winter is his company's busiest time. "From November to January, for example, we had three major installations," remarks Bourgoin. "It was hard on our employees because we had to work hard to get them done, but we did it, and the customers were thrilled. Our biggest months are in the winter, providing equipment, parts, and service for hot water for de-icing and truck fleet washing. The seasons alternate between hot and cold water washing."
Say what? Communication Challenges
  Quebec can be described as a vibrant, fascinating place whose residents remain determined to preserve a distinctive culture and unique values… and their French connection. French, not English, is the official language here, and about 94 percent of Québécois/Quebeckers speak French. Most can speak at least some English as well, with the city of Montreal being the most functionally bilingual place in Canada. And that, says Marc Raymond, sales manager at John Brooks Company, can be a challenge.
No stranger to the power washing industry, Dynablast, a division of John Brooks Company, has been in the pressure washing industry since 1980. They manufacture Dynablast and Kodiak pressure washers, as well as selling quality pressure wash components and accessories. They are proud to be the exclusive Canadian distributor for Interpump Pumps, Pratissoli Pumps, and PA accessories for more than 30 years. They only sell through a distribution network, not to the end user, and they offer Canada-wide distribution with offices in Edmonton, AB; Mississauga, ON (head office); and Laval, QC.
"John Brooks was established here in Montreal in 1938," explains Raymond. "Our roots are well planted here in the region, and servicing our customers in French is a natural and, from our standpoint, a must. Our head office is in Mississauga, ON, with pretty much all English unilingual staff. While we do have a few bilingual customer service representatives in Mississauga, all of our staff in Laval, QC, need to be bilingual. It is not always an easy task to find those people. Outside of Montreal, finding a person who is fluently bilingual is rare. So, we hang on to our bilingual employees."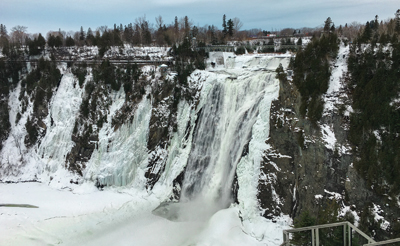 Soon after purchasing Boucherville, QC-based Multi Pression LC in 2014, co-owner Eric Veillette explains that addressing the French/English issue and re-branding the company was a priority. Within a few months, Multi Pression became "Multi PSI" because the measurement of "pressure/pression per square inch" is bilingual. Next, they created a new internal sales department to ensure faster and more efficient customer service and follow-ups. One key industry advantage that they offer both North American parts and equipment manufacturers and customers alike is that they speak French and English. (The previous owners only spoke French.) It eliminated what had previously been a barrier for some USA-based companies who wished to do business in French-speaking parts of Canada (and vice versa). About 90 percent of their orders are shipped throughout Quebec, but their geographical territory is expanding to other regions, including the Maritimes.
"I think it is good that we are forced to speak English if we want to do business outside of the province," declares Veillette. "Our suppliers are mainly in the USA, but two key suppliers are based in Ontario, Canada. We make a point to visit them all at least annually to say thanks and to make a personal connection with them. At Multi-PSI we have had our best two years because of our ability—and willingness—to communicate with suppliers in English. I consider it a big advantage, as [at present] I don't know of any companies from other parts of Canada or the USA who are trying to come and capture the market in Quebec because of the language barrier."
Bourgoin not only agreed, he took advantage of the situation! He started his pressure washing business as part of a retirement plan, and it has grown into a successful enterprise. They are distributors for Mi-T-M, Kärcher, C-Tech, Aladdin, and Spraymart parts and supplies. Being bilingual, he says, has helped him achieve success.
"In 2010, my wife Helen and I decided to go into this business at the age that many people retire," mentions Bourgoin. "We looked at a study that showed the number of pressure washers sold in the immediate region of Quebec City where we live. There are almost a million people here, and $1.5 million in pressure washers are sold each year. I felt that it was an exceptional opportunity for this area, and we wanted to take on a challenge. With my background in the automotive industry, I knew all of the different industries that could utilize pressure washing equipment. Today, we realize it was the best decision in our life. We now have 11 employees, and we bought our large commercial building after only three years in business. Our 4,000-square-foot showroom is the biggest pressure washer showroom in Eastern Canada."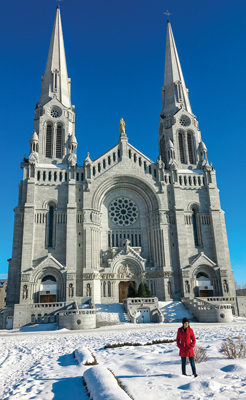 Population and Economic Influences
As Canada's second-most populated province, Quebec has played a large role in shaping Canadian history, and it continues to exert enormous influence on Canada's culture, politics, and economy. The relationship between Quebec and the rest of Canada has not always been easy. Tensions over language have raged for centuries, and over the last few decades the question of separatism—whether Quebec would be better off leaving Canada and becoming a separate country—has been one of Canada's most difficult debates. Though Quebec, like the rest of Canada, is becoming an increasingly multicultural place, particularly in its big cities, Québécois/Quebeckers have been very aggressive in trying to preserve their historical identity in the face of considerable social and technological change.
Although not the largest city in the province, Quebec City is the provincial capital and is not to be confused with Quebec the province. Quebec City and the surrounding census metro area has a population of about 800,000. Montreal boasts a population of 1.7 million. Other important business and trade centers include the Ottawa-Gatineau region and the city of Sherbrooke.
While the province's substantial natural resources have long been the mainstay of its economy, sectors of the economy, such as aerospace, information and communication technologies, biotechnology, and the pharmaceutical industry also play leading roles. These many industries have all contributed to helping Quebec become an economically influential province within Canada, second only to Ontario in economic output.
Raymond adds that, compared to other parts of Canada, hydroelectricity is king in Quebec, and the price of electricity is very low. Petroleum fuels are highly taxed, just like in the province of British Columbia, and natural gas distribution is limited to certain big cities. In fact, 90 percent of households in Quebec are mainly heated with electricity. "That makes for a different market where more all-electric power washing units and fewer natural gas ones are sold as compared to the rest of Canada," reports Raymond.
Surprise! Surprise! (One of few words that are spelled the same in English and French!)
  When asked what might surprise Cleaner Times' readers about "la belle province" (the beautiful province), Raymond says; "Anyone who arrives in Quebec by plane—so you get an aerial view of residential areas—can attest to our love for swimming pools! Second to Florida for the number of pools per capita, we love being outside and taking a plunge with friends and family to take advantage of every second of our short summers. Québécois/Quebeckers will buy a pool like other Canadians buy a fan or air conditioner!"
Eric Veillette proclaims, "Québécois/
Quebeckers are known for their ingenuity. We want to be different. Just because something has been made the same way for years doesn't mean it has to stay that way. Product evolution is necessary and is happening."
Bourgoin adds: "Magazine readership and the effectiveness of advertising is limited when it is not in French. That said, I did learn about Mi-T-M through a Cleaner Times advertisement!"
Commenting on what makes the province of Quebec a good place to live, work, and play, the Quebec folks whom Cleaner Times spoke with were quick to reply:
If you are up to learning a new language, it is a very good place to be.
There is a strong social security net. For example, depending on income levels, daycare starts at $8.25/day. (Maximum cost is $22.50/day.). It is half price for the second child and free for the third child.
Tuition to general and vocational colleges is almost free for Quebec residents.
Housing is also generally more affordable than other regions across Canada.
Québécois/Quebeckers love a party, and they host numerous annual festivals throughout the year. They work and play hard!
Cold weather doesn't matter! The province offers plenty of outdoors activities, from snowmobiling to hunting, fishing, whale watching, sea kayaking, cycling, and more.
Quebec has its own national holiday, St-Jean-Baptiste Day, on June 24.
Québécois/Quebeckers LOVE small town hockey.
Montreal and Quebec City have their own haute cuisine scenes, and the nightlife is vibrant and fun.
Over 400 years old, Quebec City claims the title of "the oldest city in North America."
There are not very many people in the province who are into pressure washing, so there are fabulous opportunities here. 
Put a Label on it…En Français, S'il Vous Plaît! (In French, Please!)

What You Need to Know About Bilingual Product Labeling in Canada

Est-ce que tu parles français? Do you speak French? If not, that's okay—neither do the vast majority of Canadians living outside of the province of Quebec. (Although you will also find French-speaking populations in some areas of the province of New Brunswick, northeastern Ontario, the city of Toronto, and Canada's capital city of Ottawa.) Bilingualism has been around since the Canadian Constitution was written in 1867, and Canada has two official languages: English and French.

While you will only see "French only" street and business signs in the province of Quebec, both official languages "have equality of status and equal rights and privileges as to their use in all institutions of the Parliament and Government of Canada," according to the Constitution.

Official bilingualism is the term used to collectively describe the policies, constitutional provisions, and laws that ensure legal equality of English and French in the Parliament and courts of Canada, protecting the linguistic rights of English- and French-speaking minorities in different provinces and ensuring a level of government services in both languages across Canada. Today, about 24 million Canadians speak only English, 4 million speak only French, and 6 million speak both languages. The province of Quebec has some of the strictest language laws in the world, including a language police.

What does this mean to you, as a business person? In plain English? It means that if you want to expand your business in Canada, you will have to familiarize yourself with the intricacies of bilingualism. All product manuals, packaging, labels, and Safety Data Sheets must be printed in both English and French, regardless of where they are being sold. To effectively promote your products and services in the province of Quebec, your social media, website, and other marketing materials must also be translated into French. It is best to align yourself with Quebec-based enterprises in order to reach this potential market of more than 8 million people.

For obvious safety reasons, bilingualism is especially important for chemicals, and labeling for such is managed by the Canadian Centre for Occupational Health and Safety (OHS). OHS is the government body responsible for federal laws relating to chemicals through a program called the Workplace Hazardous Materials Information System (WHMIS). This comprehensive system provides health and safety information on hazardous products intended for use, handling, or storage in Canadian workplaces. WHMIS underwent significant revisions in 2015 and now aligns with the worldwide hazard communication system known as GHS — the Globally Harmonized System of Classification and Labelling of Chemicals. And, just to keep things interesting in this vast land called Canada, there may also be legislative updates for each provincial or territorial jurisdiction, so you must do your due diligence to be 100 percent compliant.

Learn more about WHMIS-compliant product labeling at https://www.ccohs.ca/oshanswers/chemicals/whmis_ghs/labels.html

Learn more from the Canadian Guide to the Consumer Packaging and Labeling Act and Regulations at http://www.competitionbureau.gc.ca/eic/site/cb-bc.nsf/eng/01248.html.)