PWNA Convention 2015 Recap: Another One to Remember!
By Beth Borrego / Published February 2016

As the season began to wind down for many contractors, the PWNA's Annual Convention and Trade-show was held in Charlotte, NC from November 12–14. The Convention had 165 registered eager and enthusiastic attendees and was a mix of seasoned veterans and newer contractors alike. In addition to the current board of directors, there were a number of PWNA past presidents in attendance. It was a wonderful surprise for so many to see and catch up with past presidents Chris Detter and Doc Reisman. Of course, past presidents Eric Clark, Daryl Mirza, and Paul Horsley are still serving on the board of directors today. The warm and welcoming greeting from the board to all who attended was a vibrant and energizing force throughout the event. The upbeat vibe was felt everywhere; every classroom, each hallway, dining venue, the great room, the tradeshow floor, and, of course, the bar was buzzing with upbeat conversations.
The certification classes began on Thursday the 12th with "Wood Restoration Certification" instructed by PWNA President John Nearon, "Flatwork Certification" instructed by Jerome Khan, "Environmental Certification" instructed by Jeremy Bolin, and "Fleet Washing Certification" instructed by Eric Clark. Also offered without certification were "Power Washing 101" by Tracy Handl and "Kitchen Exhaust Cleaning" by Daryl Mirza.
The Friday morning PWNA convention kick-off was energetically emceed by Ty Eubanks. The current board members were introduced and past presidents in attendance who are no longer on the BOD were recognized. Detter and Reisman stood up to receive some well-deserved applause. The 2015 Joseph Walter's Award was given to Michael Hinderliter and accepted on his behalf by Cody Downs of Powerwash.com for "outstanding contributions to the organization." Additionally, all of the vendors supporting the event were named and asked to stand to be recognized.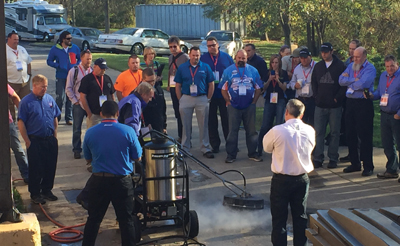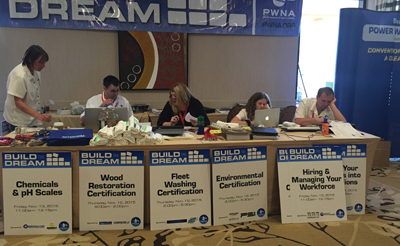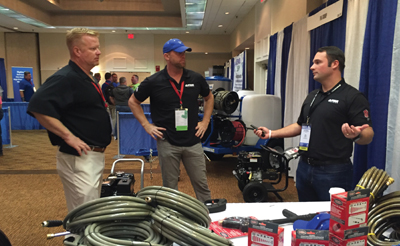 During the kickoff, Eubanks of the PWNA BOD asked the attendees to keep in mind the "golden nugget", that one meaningful or helpful piece of information that would make attending worthwhile. During the convention, PWNA member Rod Rodriguez of See Dirt Run! Inc. considered Eubanks' sentiment by saying, "he's right, you never know what you'll learn by engaging with other contractors in conversations. You can't think of everything. By doing so, you just might find that one golden nugget of important information that can really help your business." As attendees will do at conventions, there were plenty of notes taken during the event both inside of and outside of the classroom. Within these notes, could be found golden nugget after golden nugget, carefully marked for future use by eager attendees.
After a brief break, the day's classes began. Two additional certifications were offered on Friday; "Roof Cleaning Certification" instructed by Bo Josetti and "House Washing Certification" instructed by James Pasternak. Other educational tracks were offered simultaneously, making the opportunities to learn numerous and attractive. Pasternak spoke about "How to Use Google for Your Busi-ness," and Steve Byrne spoke about "Parking Garage Cleaning." Two back-to-back seminars were presented by Beth Borrego; the first one was "Setting up your Employee Handbook" and the second "Hiring and Evaluating your Employees." Linda Chambers from Soap Warehouse covered a very important topic, "Chemicals and pH Scales." If all of these classes weren't enough, Mike Thomas covered "Customer Loyalty," Handl spoke more in depth in "Power Washing 201," Marie Reinsel and Vickie Eubanks co-instructed "Basic Business Finance," and last, but most certainly not least, Paul Horsley presented a seminar on "Becoming a Successful Entrepreneur."
This year's classes were all well attended, making it difficult for attendees to get to every class they wished to attend. "Marie and Vickie helped me to visualize how to really study and understand your numbers" explained Meg Josetti. "Their class was great. I missed Jim's Google class. I use Google for business, but there is so much; I wanted to see what I could do to improve. Most of all, I really enjoyed being around so many professionals. I think sometimes people want too much from an organization. Sometimes it's about association and connecting with the best in the industry, not so much 'what can I get for free'. A PWNA membership costs .95 cents a day! How can you not afford it?"  Meg has a point. Alan Gruenwald, owner of Intercoastal Extremes Pressure Washing and Soft Wash Co., said that he "would like to have attended the wood restoration class, but with the three others I took, this time it didn't work out." Perhaps, this is why members are eagerly looking forward to the next convention.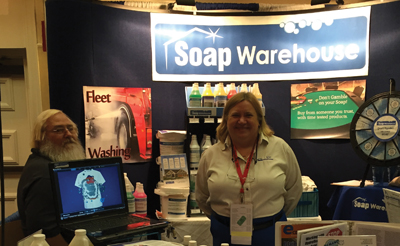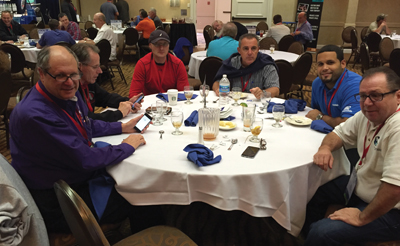 Friday afternoon following the educational tracts, the exhibit hall opened to attendees eagerly awaiting entrance. People shopped looking for new equipment and chatted with longtime vendors. As 5:00 rolled around, the partition between the main hall and the vendor hall was opened to expand the space for the cocktail reception. Both Friday and Saturday, a delicious hot buffet lunch was available for a nominal fee, and each table represented a different roundtable topic, allowing attendees to talk about specific areas of interest with like-minded business owners. On Saturday, panel discussions, an auction, and demonstrations rounded out the convention culminating in the long awaited giveaway of the hot water skid, donated by Hydro Tek Systems, Inc. The skid, with all of its bells and whistles, was won by a very enthusiastic Mark Meador with Porta Clean, Inc. in Rossville, IN. Meador has plans for a new truck, and the skid is a large part of that plan.
There were other fun opportunities to win money and get equipment at discounted prices. The 50/50 cash giveaway was $953. There were some wonderful deals to be had at the auction, with everything you could possibly think of in supplies and equipment being auctioned off at amazingly low prices. It was a great opportunity to pick up that special item that had been on the 'I need that' list for far too long. Everything from hoses, to surface cleaners, to chemicals, and more was up for grabs in the auction, and the benefits went to PWNA.
Throughout the weekend, attendees participated in online surveys in real time, providing the PWNA BOD live feedback about the convention. The results were displayed on screen for all to see at the time the survey took place. The PWNA BOD worked hard all weekend long to ensure that each and every attendee and vendor at the show had a positive and rewarding experience. All of the board members could be seen reaching out to the attendees and vendors alike, talking to them and getting to know them, and perhaps most importantly, asking them about the show and their experience. This PWNA board is one that is clearly eager to please the members, non-members, and vendors alike.
The message that the PWNA cares about all of the attendees getting value from their attendance dollars was loud and clear. The PWNA even went so far as to poll the attendees at the end of the convention, to see what location they would prefer for next year. Keep an eye on www.pwna.org for the location and date of the 2016 event! 
The PWNA would like to convey a heartfelt thank you to all of the contractors and vendors alike that helped to make this show possible, and also wishes to thank the exhibitors who contributed to the event in so many generous ways.

• Alkota Cleaning Systems
• Armstrong-Clark
• Bidslot Marketing
• Cleaner Times Magazine
• Demand Clean
• eClean Magazine
• EDI Distributors
• FNA Group
• Hydro Tek Systems, Inc.
• J. Racenstein Company
• Joseph D. Walters Agency
• Knight Enterprises
• MSI Mobile Systems, Inc.
• North American Pressure Wash Outlet
• Powerwash.com
• Pressure-Pro, Inc.
• PSI—Pressure Systems Innovations
• ServiceTrade
• Soap Warehouse
• Sunbelt Rentals, Inc.
• Xterior Sales & Service, Inc.