ProPulse: Leading the Way with Innovation and Dedication
By Adia Walker / Published November 2014

As the dynamic pressure washing industry continues down the path of growth and prosperity, it relies on the innovation and leadership of key individuals and their companies to push beyond standard expectations in pursuit of constant improvement. Through intense investment in product development, as well as a focus on fostering the growth of key employees, Jeff Theis and his company, ProPulse, are a driving force in the ever-expanding field of high pressure cleaning equipment.
ProPulse is a value-added manufacturer and assembler of high pressure fluid conveyance hoses for cleaning and hydraulic actuation in the construction, forestry, agricultural, transportation, and mining fields. Previously known as Schieffer Co. International, L.C., the company recently announced it would be operating under the new name of ProPulse.
"This change represents a new approach that more accurately reflects the dynamic path the company has been on and the continued effort to build upon that momentum," says Theis. "This is the first step of many that will bring the company to another level. The change is a DBA (doing business as) only; it does not represent a sale of the company or a reorganization of the company. We are the same company, but we are declaring a new and vital direction going forward."
As ProPulse pushes ahead with exciting plans for the future, it works closely with the overseas partners who helped establish the company. "My partners are members of the Schieffer family of Lippstadt, Germany," explains Theis. "That company was founded in 1923, specializing in rubber goods. In the 1970s, the company got involved in hose manufacturing and by 1984 was the largest pressure washer hose provider in the world and a major force in hydraulic hose as well."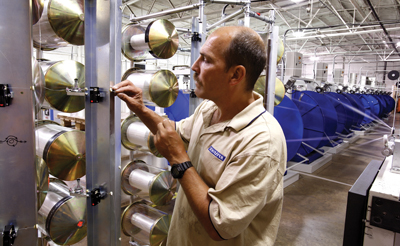 In addition to the expertise offered by ProPulse's international partners in Germany, Theis draws upon decades of experience gained as a young man rising through the ranks in the emerging field of pressure washer manufacturing and distribution.
Thirty-three years ago, a teenage Theis began working on the production floor for Mi-T-M. In his nine year tenure with the company, he held many key positions, including parts manager, service manager, warranty manager, engineering manager, and national product service manager. After moving on from Mi-T-M, he became the National Sales Manager for Suttner Products at National Pride, a U.S. distributor for Suttner GmbH & Co., KG. Later, he founded Suttner America Co., where he served as President from 1992–1994.
Theis was developing a knack for establishing new businesses with a German emphasis, and in 1994, he founded J. Theis & Associates, which represented Kärcher in the private label field for consumer pressure washers and Schieffer as a manufacturer's representative. In 1998, he partnered with the Schieffer family to start yet another company—Schieffer Co. International, L.C., now doing business as ProPulse. This is where Theis has served as President and Managing Partner for the past 16 years.
From the year 2009 until now, ProPulse has experienced phenomenal growth, more than doubling sales. Focus on growth continues, and the company leadership again expects to double sales within the next 48–60 months. Located in Peosta, IA, the company's facility occupies a total of 65,000 square feet of manufacturing, assembly, warehouse, and office space. Plans are underway to double that space to accommodate expected growth within the next 18 months.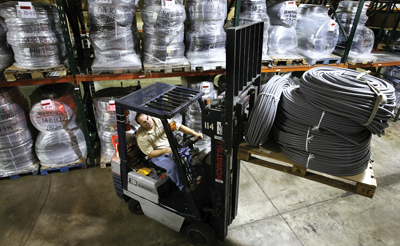 The year 2004 was a significant mile marker in the company's history; the company made the decision to vertically integrate the hose manufacturing process, so extrusion and braiding capabilities were installed. "New product development has been significantly enhanced since then, and the company has recently been granted its first patent, has four more patents pending and numerous patents in development," says Theis.
Making innovative products that solve problems for end users is the key focus of ProPulse. "Listening to our customers is the biggest thing for us," says David Sabatos, Director of New Product Research and Development for ProPulse. "Engaging our customers to find out how we can create solutions to their problems helps us stay on top of the market."
The company's most recent product trends have centered on hose handling issues, focusing on a higher degree of flexibility, reduced weight, permanent kink resistance, and drag friction. "Our most popular product is still the 50 foot, gray 'wrapped' rubber hose, which was a Schieffer innovation going back to 1999," says Theis. "Newer developments include our patent-pending Cleanstream™, a thermoplastic, wire braided, contractor-duty, cold water hose that is 30 percent lighter, five times more abrasion resistant, and has the proprietary surface finish, which allows for a hose that slides easier against itself and surfaces that it contacts. And, of course, our famous, kink-resistant UberFlex™, which is an upgrade for consumer type pressure washers and is also suitable in commercial applications."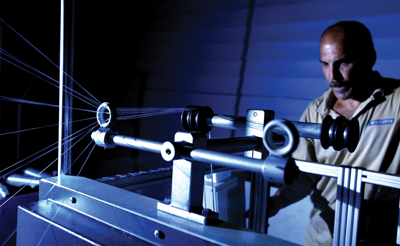 The company's primary customer base in the pressure washer market includes OEMs and qualified larger distributors. The company's sales team, which is managed by Ryan Humphrey, Director of Sales and Marketing for ProPulse, regularly meets with customers to gather a better understanding of their needs and expectations. "We work hard to understand how we can help them grow more profitable by using ProPulse products," says Humphrey. "The company's focus on innovating products that go above and beyond standards and expectations is one of the main reasons I wanted to work here."
The company works hard to differentiate their products from others in the market. "This is really important to us," says Sabatos. "A lot of products in the market are highly commoditized; the Asian markets supply a lot of products that look and feel the same, but when it comes to performance, life, operation, and handling, they are very different."
The drive to invest in their customer's bottom line sets ProPulse apart from others. "We have invested millions of dollars over the past 16 years in manufacturing machinery, automatic assembly, product development, testing, design, and the like," says Theis. "My partners and I have never taken a penny out of this company, except to pay taxes and to invest in new machines, facilities, people, and processes. We are a manufacturer of hoses that are largely engineered and assembled here in the USA. I like to think most people do recognize us as leaders in the market, but I am not sure if they realize how much energy we apply to assure that position."
According to the company's Controller, Kim Lohberg, another aspect that makes the company unique is the team management approach. "There are six of us on the team," Lohberg begins. "We all have 100 percent access to all of the company's information, and we meet together every Wednesday to discuss everything that is going on. We don't operate within our own silos, and we all know what is happening in each of the departments. This management style has contributed to our growth because we are all on the same page."
Lohberg has been handling the financials for the company since it was created in 1998, helping to cultivate its growth and expansion. "Kim and I used to work together at Mi-T-M, and she joined me when I founded Suttner America Co. for Wolfgang Suttner in 1993," recalls Theis. "Kim has been with Schieffer/ProPulse since the beginning."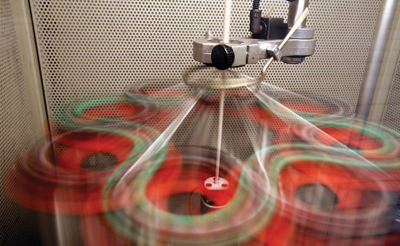 Within the management team, ProPulse has a good mix of seasoned veterans and qualified newcomers. Humphrey came to the company less than two years ago in what Theis describes as "a good hire." "We were looking outside the industry for a professional with sales management experience. Ryan has basically headed up the ProPulse marketing project, which includes the new offering of 'ProPulse NOW!' the exclusive stocking program whereby OEM's and qualified distributors are able to access more than 150 standardized hose assemblies for shipment from stock the same day."
In addition, the company also has quite a few people who have progressed through the company to advanced leadership roles. "David Sabatos has been with the company in a variety of roles for the past eight years, and he has now taken on the responsibility of heading up Research and Product Development," says Theis. "Probably the most gratifying part of my role is to foster the development of key people. The older I get, I have found there is no better feeling in the world than to see someone who is aggressive, hardworking, and ambitious (whatever their background) struggling and succeeding. I like to believe that ProPulse fosters such an environment of opportunity whereby through our growth and development, people are able to grow and develop in a parallel track and achieve beyond even their wildest expectations. Above all, that is what this industry has taught me."
Over the years, the industry has indeed taught Theis many things and in turn, Theis has contributed to the industry not only as the President of an innovative and groundbreaking company, but also as an officer of the CETA Board of Directors.
Throughout all the changes in the industry and the many roles Theis has taken on, he has worked hard to maintain his integrity. "I am very proud to have worked with multiple companies in the industry and to have never held a competitive position against any of my previous employers or partners," said Theis. "Even though Mi-T-M and Karcher certainly are competitors, my role was not competitive and indeed when I worked for Karcher, Mi-T-M was actually a prospect. I am on good terms with all of them as a result. I think that kind of integrity is important."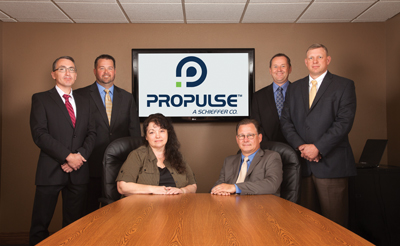 According to members of his management team, working with Theis is an exciting opportunity. "Jeff is very much a thought leader," says Humphrey. "He thinks outside the box and challenges us to bring better, more innovative products to the market."
"Working with Jeff is a big challenge," says Sabatos. "He is a very creative person and comes up with a lot of new ideas; we then have to work together to harness these ideas. He has strong visions for the company and industry."
The person with the most experience working with Theis is Lohberg; "His knowledge of the industry is tremendous," she says. "It's exciting to work with him, but sometimes he has so many new ideas, it's hard to keep up with him."
Outside of his life at work, Theis is a father of three and has been married to his wife, Vickie, for nearly 32 years. "Vickie and I recently became empty nesters," remarks Theis. "The girls have their degrees and have started their non-hose careers and now Sam is off to college." Another thing that has changed in Theis's home life is that he doesn't travel nearly as much as he used to. "When the kids were little, I was travelling about 70 percent of the time and often for extended periods overseas," remembers Theis. "Vickie now comments that when she needed me most I was always gone, and now that she doesn't need me at all, I am hanging around getting in her way!" Theis notes these new adjustments will take some getting used to, and he makes it a point to express his gratitude for his wife's support over the years.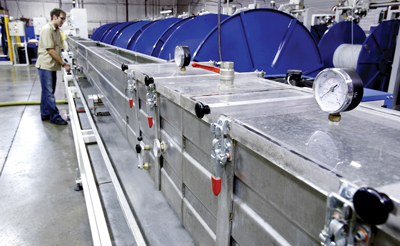 With continued support from his wife, his management team, and his experience within the industry, Theis and ProPulse stand poised to continue on a path that will pave the way for new and innovative products. "We are very excited about the future of the company," says Theis. "We will continue to innovate our products, processes, and services to retain and enhance what I believe is the leadership role in hose solutions for whatever industry we serve. At present, we are focusing not only on cleaning hoses for consumer and commercial pressure washers, jetting machinery, carwash, and carpet solution applications, but we continue to strengthen our efforts toward the hydraulic OEM for machinery used in agriculture, construction, forestry, mining, and the like. The pressure cleaning hose is what brought us to the dance, and we will continue with that market as a primary focus while we expand our footprint into other, new, niche categories."