Pressure Washer's Guidebook: Cleaning Milking Barns: Maintaining Sanitary Conditions in Your Dairy
Contributor: Don Flory, Vice President, Mobile Enviro Wash LTD, Lawrence, KS / Published August 2015

Editor's Note: This entry contains information from a chapter in the 2002 Power Washer's Guide-book, "Agricultural Applications," which was written by Cal Krefft of KEW Industry U.S., Inc. and John North of Alfred Karcher, and revised by Sam Humphrey of Mi-T-M Corporation and Mike Costa of Costa Barn Cleaning.
Geographical Considerations
Due to the climate of the eastern Kansas area and the demand for volume, the dairy industry has shifted to the western part of the state and eastern Colorado. Most of the milk produced comes from the western part of the United States. The California milkshed, an area that includes the central valley to the southern areas of the state, is a huge contributor. California has passed Wisconsin in milk production.
The type of dairy farm has changed. In my parents' younger years, as well as mine, all the farms milked cows to pay for the farm. At this time, there are only two dairies in Douglas County, KS.
Typical Job
The dairies of today are all built to wash down—that being an advantage to the contractor. Dairies are fastidious about sanitary conditions in the milking parlors and around milking equipment. Most parlors are constructed of tiles or sealed concrete walls and floors and stainless steel. These are easily cleaned with suitable equipment.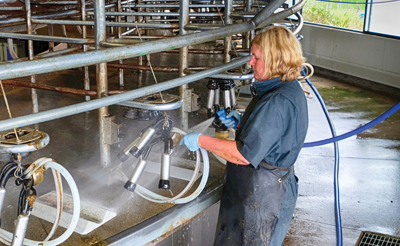 [NOTE: Cleaning for the dairy market, or any part of the agricultural market, offers a variety of challenges. The techniques described herein are general. It is best to consult with your distributor or other contractors before taking on certain jobs; and always understand what the owner of the milking barn expects.]
In dairies, begin by sweeping waste to a collection point or pit. Use high volume and medium to high pressure. Cold water may be acceptable for this step.
Use hot water (180 F or more) to wash the walls, paying particular attention to wall parts higher than a foot or so above the floor. As with any vertical surface, apply detergent from the bottom up. Apply the chemical to as large an area as you can handle without allowing the chemical to dry before your rinse. Keep the walls wet near your cleaning operation so that splash does not stick.
Wash anything above the floor (rails, pipes, or machinery). If the milking parlor has the traditional milking deck or milking pit layout, wash small sections of the deck toward the walls and at the same time, toward the collection pit.
Finally, wash the milking pit's vertical surfaces and floor. Depending upon the amount of splash created, a second wash may be necessary.
Techniques That Work Best
Some of the challenges would be removing scum build up from the constant wash down by the operator. Many of the commercial dairy's milk cows 24 hours a day.
Hot water, proper chemical approved by the USDA, and controlled pressure are the essential tools, combined with high volume and lower pressure.
In jobs associated with any kind of livestock operations, water volume is at least as important as pressure. For this reason, anything less than 3.6 gpm is unsuitable. Pressure requirements can be as high as 2000 psi around livestock operations. In nearly every agricultural job, hot or warm water speeds the work. For equipment cleaning, use water close to 140 F. In livestock applications, use water close to 185–210 F. Steam capabilities (250–300 F) are useful for sanitizing. One downside to using hot water indoors is that the steam can make it difficult to see.
Exceptions
Most dairies that exist today would fall under the above descriptions as far as their cleaning procedure. For milking barns in remote locations, there may be specialized requirements, especially involving access to water and fuel. Match the power source for equipment to the job site. In some rare cases, there may not be access to electricity at the milking barn.
Equipment and Supplies
In addition to a hot water pressure washer, proper chemicals which remove buildup from water washing and animal fats would be recommended.
Some accessories that might be useful include: rotary brushes; covered or containment-type, high-pressure water brooms for floor surfaces; rotary surface cleaners; and high-impact specialty nozzles. Drain-cleaning nozzles are effective for internal pipe cleaning.
If equipment cleaning is part of the job, consider using an ultra-short spray lance. Take extra caution when using one of these, as lances should be at least 36 to 48 inches long to avoid potential injury.
Accessories carefully matched to the job improve results and reduce time spent doing the job. So do quick disconnect options for switching accessories.
Personal protective equipment (PPE) required includes proper footwear, eye protection or a face shield, skin protection, and, in certain settings, respiratory protection. 
How To Bill
Our company would look at the job and make an estimate on the time we think it would take to do the work, depending on how much flat work there is in comparison to intricate items such as stalls, piping, and close quarters to work in.
Ancillaries
Our company would target processing plants if in the area.
Problem Areas To Avoid
Extreme caution should always be taken when working around power panels (electrical). Much of the automation in dairy barns today will be of CIP (cleaning-in-place) quality.
Scheduling in some barns would be a factor. Some barns are only down for a limited period in a day.
Wastewater collection, treatment, and disposal rules vary with locality (and jurisdiction). Know the rules before starting, including special rules for chemicals, and follow them.
How To Fix Mistakes
Electrical would be the biggest cause of concern to me. Team members should be fully trained in all aspects of working safely around electrical outlets, including how to safely seal off or use built-in power outlet covers.
Don Flory is the VP/Owner of Enviro Mobile Wash, which was established in 1972. He was involved in a dairy as owner-operator until 1983. Currently, he resides on a dairy farm where cows were milked.