Pressure Washer's Guidebook
Cleaning in Confined Spaces
Published February 2017

Editor's Note: This entry contains information from the chapter "Tank Cleaning" by Robert L. Moffett, BSEnvE; and James W. Breaux, BSIE, Tank Master/Hydrolance Houston, TX, in the 2002 Power Washer's Guidebook.
Geographic Considerations
Confined spaces are used for chemical reactions, feedstock and additive storage, long- and short-term bulk storage, and transporting products, as well as for temporary storage of bulk products immediately before consumption. Tanks may be more common along the Gulf Coast and silos more numerous along the Great Lakes, but confined spaces that require cleaning are ubiquitous.
Typical Job
Contractors who do not ordinarily clean in confined spaces may be called on to participate in a project. (See page 20 for the experience of one contractor.)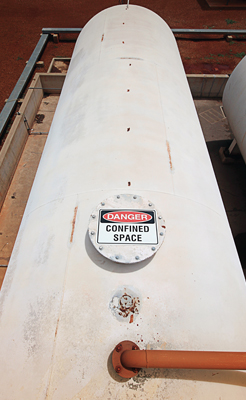 Owners of confined spaces are increasingly aware of the inherent dangers of manual approaches. The prohibitive burdens of special equipment and other costs associated with confined space entries drive owners to automated tank cleaning systems. Manual tank cleaning often entails only those applications where the entire surface to be cleaned is visible to the cleaner and no part of the cleaner's body must enter the confined space in order to clean.
Entry to confined spaces is a serious area of OSHA regulation. (See 29 CFR 1910.146). Vaults, tanks, storage bins, manholes, pits, silos, underground utility vaults, and pipelines are among the most familiar confined spaces as defined by OSHA.
[N.B. OSHA, Occupational Safety and Health Administration, defines permit-required confined spaces as those that hinder the worker's activities and may contain the following: a hazardous atmosphere, material that can engulf entrant, small and tapering areas that can entrap or lead to asphyxiation, unguarded machines, or exposed live wires. Never enter a permit-required confined space without proper training and permit.]
Techniques That Work Best
Manual confined space cleaning approaches can be as simple as having an operator place a utility water hose in the top of a tank, allowing it to over-flow until it is assumed to be clean. Modern manual pressure washing systems consist of a pressure pump and a nozzle mounted on a hand actuated wand. The pressure pump and wand are connected together by a length of flexible hose.
Although there are as many configurations of manual systems as there are manufacturers, generally the systems pump volumes between four and 50 gpm and operate between 1000 and 4000 psi. Some manual systems go as high as 10,000 or 15,000 psi, but these are industry specific and, for safety reasons, are only operated by trained specialists.
Automated cleaning systems for confined spaces include nozzles permanently fixed to the inside of the space. The configuration of the system, including the pressure and flow of nozzles, is typically determined at the design stage for the confined space.
The purpose of the confined space and purpose of cleaning will determine the approach. Carefully evaluate the job to apply the right automated tank cleaning tools. Factors involved in contaminant removal are mechanical action (pressure and volume), time, chemicals, and heat.
Evaluate the confined space thoroughly prior to beginning the cleaning. Sketch space to scale. Include in the sketch all entry ports with their maximum internal sizes. Show the drains and their locations. Note where the drains lead. Be certain there is a proper wastewater disposal arrangement, including meeting hazmat requirements that ensue because of material being cleaned from space.
The evaluation should also include assessment of construction. (For example, carbon steel, stainless steel, rubber-lined tanks, glass-lined tanks, etc., are all cleaned in different ways.) Vessel internals such as coils, mixers, baffles, and other interfering protrusions are factors that will influence the cleaning. Show and note this information on the sketch.
Finally, identify any unusual requirements. Look for special considerations relative to the industry for which the tank is operated (e.g., food-industry uses stainless steel, chemical plants require industry-specific personal protective equipment and clothing). Respirators may be required PPE in some situations.
Exceptions
If the contents of a confined space will change after cleaning, anticipate special techniques. Industries such as chemical, pharmaceutical, and paint manufacturing have very stringent requirements and need 100 percent repeatable, consistent cleaning. In general, ISO-certified operations will dictate a high standard of cleanliness.
Ultra-high pressure waterjetting approaches are only undertaken in close collaboration with the space's owner. Contaminants in a space may be baked on or catalyzed and necessitate such an approach, but the integrity of the tank walls must be able to withstand the shearing forces.
Some confined spaces are high up in manufacturing facilities and access may involve some kind of lift. OSHA certification for working high up will be needed.
Equipment and Supplies
Nozzle type, chemicals (if necessary), machine, and hoses depend on the cleaning goal. Size of space will restrict some choices.
Test setup developed for a task in a simulated setting before using it in a confined space. Remember special requirements for the motor in a confined space—explosion proof, corrosion resistant, voltage, and amps required for service.
How To Bill
Even if responding to a request for proposals (RFP), thoroughly assess the difficulty of the job before bidding (or giving an estimate if non-RFP).
The materials to be cleaned from confined spaces can be easy to remove, such as water-based or alcohol-based compounds that rinse out with water. Dried paints or resins are complex cleaning targets. Materials can be hazardous or non-hazardous, flammable or non-flammable. Some materials are extremely poisonous, others extremely corrosive, while still others are benign until they chemically react with common cleaning agents. Take all this into account.
Ancillaries
Totes in use at some facilities can be a good add-on to the cleaning of confined spaces.
Problem Areas To Avoid
Be aware of the exact hazards involved before beginning work in a confined space and have the proper training and permit for entry.
How To Fix Mistakes
There's no margin for error on safety in a confined space. Meet all requirements for entry and activity in the space. If a portion of a confined space is missed in cleaning, go back and redo it.
Confined Space Pressure Washing

By Joel Shorey, President, Wash On Wheels, Englewood, CO

We haven't done a lot of confined space work due to limited need for the service. We've only received one call in the last ten years. It was to clean an underground tank for a local water department.

We were fortunate enough to work with a contractor who had done this kind of work many times before. They did service work and usually don't need pressure washing. Our crew had to have physicals and get fitted for the oxygen masks—it was required by the contractor's permit.

The contractor with whom we worked had the lights and generator needed to see what we were cleaning underground. They supplied the oxygen tank, air lines, etc. and also supplied the heavy-duty pump and the high capacity trailer to suction the wash water out of the underground tank.

So if you're called for a confined space job, be aware of the many extra requirements to do the job. You will need to add them to the invoice to cover your costs.

Wash On Wheels is a 30-year-old SBE-certified pressure wash company with an A+ rating from the Denver/Boulder BBB.