Pressure Washer's Guidebook: Caring for Your Tools
By Diane M. Calabrese / Published August 2016

Tools that work properly are essential to the smooth start and excellent finish of any job. The service department on which a contractor depends for help with routine maintenance, repairs, and answers to questions can also be a good source of advice about how to care for tools.
Never hesitate to ask a trusted service technician if there is something more that could be done to take the best care of tools. After all, service centers must keep their own tools in top condition in order to care for the tools of contractors. [See the sidebar on page 18 for tips from one distributor.]
OSHA 3080 (www.osha.gov/Publications/osha3080.html), an open-source booklet from the Occupational Safety & Health Administration, provides generic but substantive reminders on the maintenance of hand and power tools. A tool in perfect working condition is the safest possible tool.
Besides being in good condition, a tool should be the correct one for a job and operated only according to its manufacturer's instructions. Misusing a tool is the same as not caring for a tool. Carrying a tool by the cord or the hose—and yanking the cord or the hose to disconnect—are ready examples of misuse. Allowing cords and hoses to come in contact with heat, oil, and sharp edges are dangerous practices that can also lead to tool damage. So, too, is leaving a cord or hose in a tangle.
Adhere to the maintenance schedule from the original equipment manufacturer (OEM). During the busiest time of year, a contractor may be tempted to push a machine by postponing a lubrication or an accessory change, but that can lead to problems.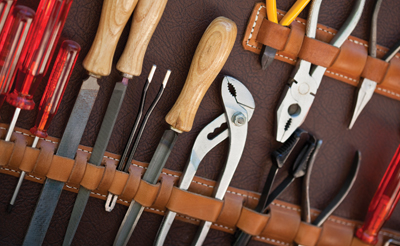 Tool care and safety are inextricably linked. A tool should be disconnected from any power source before being serviced or cleaned and when its accessories are being changed. If a tool is damaged, it should be tagged 'do not use,' and that's the end of it. It should not be used until it is made whole.
Tools should not be altered. In fact, doing so will void any warranties. Guards must be left in place to protect the components of the machine and the operator. All tools should be used only within their design limitations. Electric tools should be stored in a dry place when not in use for obvious reasons, but the recommendation applies to all tools.
Even when a tool has been stored properly and maintained on schedule, it should be evaluated before each use. The individual using the tool should have a firm understanding of the tool's structure and function, an understanding that will allow for a quick assessment about whether there are any obvious defects that preclude use.
The adage about an ounce of prevention being worth a pound of cure sums up the importance of caring for tools. To ease the logistics of prevention, establish a relationship with a trusted service center, one that welcomes questions and even provides suggestions.
Tips for Taking Care of Tools

Contributor: Paul Kassander, Owner, Power Wash Store, Glendale, WI

Power Washer's Guidebook (PWG): In your service department, what do you consider the key to achieving proper tool maintenance?

Kassander: Most importantly would be returning the tool to the proper location when finished. We use a tool cart while working and put tools away at the end of day for inventory purposes. Most damage occurs when a tool is set on a bumper or somewhere it can fall or be run over; sometimes it just gets lost. Wiping down a tool before you put it away will keep it clean and serviceable, but if you can't find it, the tool will do you no good at all.

PWG: What's the most concerning repeat issue you have observed in improper tool maintenance among contractors seeking service?

Kassander: Many tools are put into the 'tool box' which is stored on the truck or trailer. When the lid is left open or the box is damaged, the tools will be exposed to chemicals and water. I have seen thousands of dollars of brand new tools, many never used, which are completely ruined by rust and chemicals.

PWG: Is there one piece of advice you would give to contractors in terms of how they can best maintain their tools?

Kassander: When choosing the tools you need, don't bring everything on your truck. Rather, plan to bring just the essentials. Store the ones you need in a good quality box that won't get damaged easily—preferably in the truck cab where the box will be better protected from the hazards than outside on your rig.

PWG: Is there a strategy you can recommend to contractors for preventing loss and theft of tools?

Kassander: Number one is to develop a habit of returning tools where they belong when you are finished with them, even if it's several times on one job. Be organized; if each tool has a place, you will know immediately when it is missing. Be sure to make a tool check part of your regular routine with your pre-trip inspections. If you have employees, a good tip is to issue them their tools. If they lose tools or equipment, they will be responsible for paying for replacement.

PWG: Which is the most difficult tool to maintain, and how do you meet the challenge?

Kassander: Most of the electrical testing tools, because of the batteries, wires, and corrosion. We make sure to turn the tool off and put it away properly to prevent damage.

After owning and operating a successful power washing company for many years, Paul Kassander started the Power Wash Store in 1993. A member of UAMCC, he is committed to providing customers with knowledge about machines and chemicals—and also about the market, so that they can be successful in a competitive environment.