PowerJet Pressure Cleaning Systems
Canadian-made, CRN-Certified, and Made to Last
By Terri Perrin / Published May 2018

The picturesque Village of Sussex Corner is a small town of about 4,000 people that is situated in the center of a triangle whose apices are the cities of Fredericton, Saint John, and Moncton, New Brunswick. Due to its location, Sussex Corner has become a bedroom community for people who choose to live in a rural setting and commute to the city for work. About 70 villagers, however, are fortunate to enjoy a quick commute to work at one of the region's most successful, and unique, businesses—Easy-Kleen Pressure Systems Ltd, which is the parent company of PowerJet Pressure Cleaning Systems.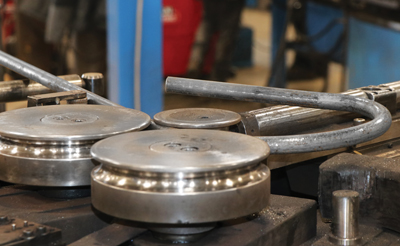 According to company president, Brad Howland, the business was founded by his father, Fred Howland, in 1982. Brad grew up in the pressure washing industry, watching his father not only build a successful business but also set an example of entrepreneurship, ingenuity, and accountability. Thirty-six years later, it remains a family-owned business with more than 100 employees, several of whom are Howland family members. Seventy people work at the manufacturing plant, and the rest work in satellite offices in Alberta, Ontario, and Nova Scotia.
       "Before starting his own business, my father was a chemical salesman who sold Hotsy pressure washers," recalls Howland. "He decided that he could manufacture pressure washers that were easy to use, easy to maintain, easy to service, and efficient, saving the user money in the long term.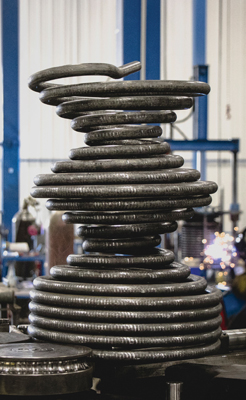 "Our first hot water pressure washer was assembled in our garage in 1983," adds Howland. "It wasn't long before we kicked the cows out of the barn, so that we could take over that space. The pigs went next! In 1996, we moved to a 10,000-square-foot office and manufacturing facility in the Village of Sussex. The location was selected, in part, because of its proximity to major transportation routes, providing easy access to markets in the USA. In 2012, we moved a few blocks away and built a new 40,000-square-foot state-of-the-art manufacturing plant, and we have now expanded to 80,000 square feet."
       The PowerJet product line manufactured in this new facility is solely focused on hot and cold pressure washing products that are made specifically for distributors who specialize in selling and servicing the pressure washing industry. The Howland family has successfully grown the PowerJet brand beyond a regional focus by expanding production, investing in research and development, and aiming for North American-wide distribution.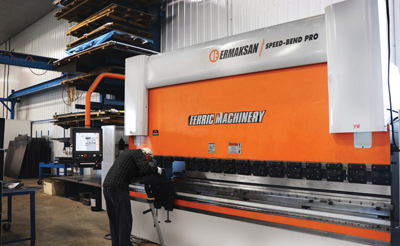 "It is important to note that PowerJet products are only sold through brick and mortar authorized distribution centers in Canada and the USA," explains Howland. "There are no online sales, and anything that comes out of this New Brunswick manufacturing facility is built to last. PowerJet products have gained a reputation as the world's most heavy-duty, hardworking, reliable, and efficient high-pressure cleaning systems."
       PowerJet also manufactures North America's most complete line of hot and cold pressure washers, and employees take pride in being innovative in fulfilling custom orders. "We never say 'no' to a customer request," states Howland. "If you need it, we can build it!"
       Standard machines range from 2 to 50 HP electric driven, to 6.5 to 60 HP gasoline and diesel driven, to electric clutch and hydraulic units. These high-pressure systems are utilized in a wide variety of industries, such as agriculture, aquaculture, vehicle washing, government and municipalities, transportation, heavy equipment, manufacturing and processing plants, oil and gas, mining, marine, and service industries.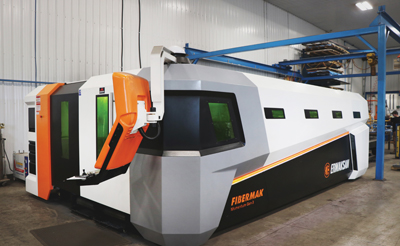 To be competitive in pricing, they purchase large quantities of components from world-wide sources. To ensure high standards of quality, they build the frames, skids, and coils; performing all of the fabrication in-house. While all of this is well and good, it is the company's efforts in the area of specialized heating coils where PowerJet has truly made a name for itself.
Achieving CRN Certification on Coils
       "We recognized early on that there was a major difference in hot water pressure washer performance based on geographical region and groundwater temperatures, and that the other machines were just not working in our climate," explains Howland. "In most of Canada and many U.S. states, the water is much colder coming out of the ground than in southern climates. This makes a significant impact on a pressure washer's ability to heat to high temperatures quickly. If, for example, the water coming out of the ground is 40° F, you need a 160° F rise to reach the optimal cleaning temperature of 200° F. We addressed the problem by designing more linear feet of pipe into our coils. The challenge was ensuring that the coils, which can be considered to be pressure vessels, could be issued a Canadian Registration Number (CRN), which meets the criteria for the American Society of Mechanical Engineers (ASME) VIII-1 for distribution into the U.S."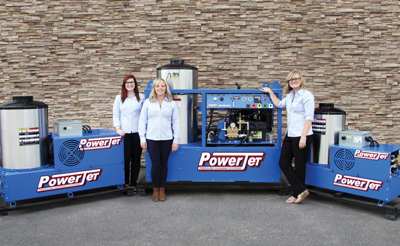 According to Ray Stroud, Pressure Vessel Engineering Ltd., a Canadian engineering consulting firm located in Waterloo, Ontario, earning a CRN is no small feat. Both Canada and the United States use the ASME VIII-1 code for pressure vessel construction. Canada, however, has a CSA B51 standard that provides a more restrictive definition of what a 'pressure vessel' is and how it must be built under appropriate (and stringent) quality control programs.
       "Many people who have attempted to register pressure vessels in Canada tell us that this is the most difficult task they have accomplished in their career," reports Stroud. "Many companies give up in frustration, and many more don't even try to start the process. We have seen a surprising number of projects where a third or fourth individual is taking a swing at getting CRNs, hoping that if they try one more time, they will have better luck. Their predecessors changed jobs to avoid the pain. Shockingly, the biggest obstacle they have to overcome is finding out what the Canadian/provincial/reviewer registration requirements are."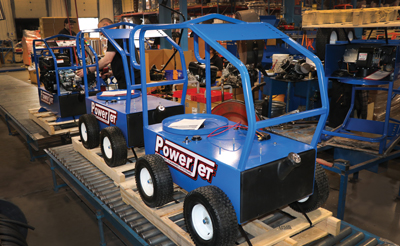 "The requirement to have a CRN creates a burden on manufacturers," laments Howland. "A certification under the boiler code means certain welding procedures and tracking of materials have to be documented. It is a complicated procedure. It took a lot of effort, but it has been well worth it because it differentiates us from other manufacturers. Having a CRN on our coils means that PowerJet products can be sold in jurisdictions that require certification, North America-wide. We are the only pressure washer manufacturer that offers this on a full line of hot water machines with ½- to 1-inch coils."
       Achieving CRN certification was a big deal for the people at PowerJet, but with that accomplishment now in their company history book, they are looking to the future with great anticipation. Be sure to visit the PowerJet booth at the CETA Trade Show to learn what exciting new developments they will introduce this fall.
       Learn more at powerjetpressure.com or call 1-877-765-9211.