Power Washers of North America Convention Gives Attendees the Education and Networking Opportunities They Want
By Beth Borrego / Published February 2017

As we work our way through the cold early months of 2017, perhaps it's time to look back on one of the most enjoyed conventions of 2016, the PWNA's convention held at the Wild Dunes Resort in Charleston, SC. Off season or not, you simply can't ignore the beauty of the location, the beach view, the palm trees, and the hospitable staff who handled the needs of the PWNA and its attendees marvelously.
Of course, those in attendance went for more than just the views; they came because they wanted education and networking opportunities that could only be afforded to them here. Just as the association has in the past, PWNA offered certification training classes as well as other educational seminars.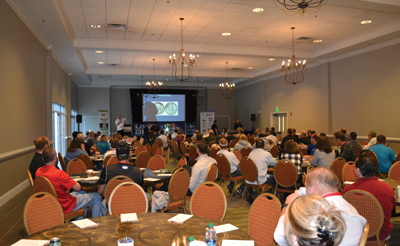 The trade show floor was filled with vendors eager to discuss ways to take some of the hard work out of doing a job correctly, while displaying the latest in tools and equipment. Tracy Handl, president of North American Pressure Wash Outlet, Altanta, GA., says, "We had a lot of fun and made lots of contacts at the trade show!" Handl has been attending these shows for many years now, and also instructs classes for the PWNA.  Linda Bockman, president of Sunbrite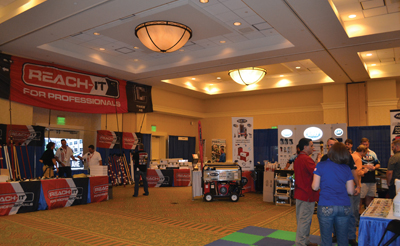 Supply of Maryland, provided an in-depth view from a vendor's perspective and elaborates, "being a vendor, it's tough to see much of the convention, but it was a beautiful venue and a great opportunity to meet our clients face to face and interact with other vendors, both in the pressure cleaning industry and the window cleaning industry. I thought the auction was a great idea, and everyone certainly seemed to enjoy the opportunity to get some great prices on equipment, educational materials, and soaps. Plus, of course, spending a couple of hours with our toes in the sand in November certainly did not disappoint."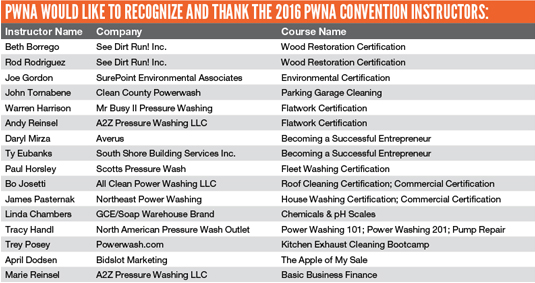 The attendees enjoyed the trade show as well as the educational seminars, and some of the attendees were very specific in their purpose. Stephanie Thayer is the owner and president of Harford Powerwashing in Abingdon, MD. She says, "I am looking forward to next year's convention. I found the educational sessions informative, and I believe the certifications will open many doors. I was able to talk to a few contractors and exchange ideas. Because of those exchanges of ideas, we will be expanding our services, purchasing the necessary equipment for the expanded services, and investing in a soft wash system this coming season. The convention was confirmation of the things we are doing right and taught us things that will be of value in the coming season. In addition to the educational sessions, I found speaking with the vendors informative as well. Overall, it was a great experience, and I am looking forward to taking a few more classes to add to the certifications I received this year and meeting other contractors in our industry. Thank you for putting on a very informative event."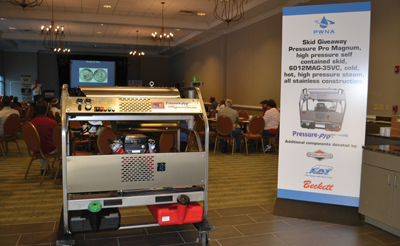 The certification classes were held on Thursday and into Friday. Friday also featured other seminar opportunities, as well as the opening of the exhibit hall, followed by the cocktail reception. On Saturday, the exhibit hall remained open with a few more seminar discussions taking place.  There truly seemed to be something for everyone's business, and new classes were also introduced this year.  Rod Rodriguez, President of See Dirt Run! Inc. in Germantown, MD,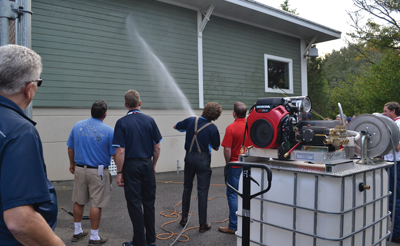 expresses, "It's great to see that people find the PWNA beneficial in their pursuit of knowledge to help their business grow. The leadership has evolved and grown to meet the needs of its members, and they continue to be committed to helping the members learn and grow." Rodriguez was also one of the instructors this year in South Carolina and co-instructed with Beth Borrego. "Beth and I were honored to be asked to teach the wood class and accepted without reservation.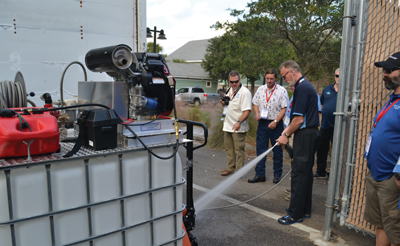 Wood care is the majority of our business. We have already accepted again for the 2017 convention in Nashville." 
Thayer adds, "The biggest difference I found between the PWNA convention and others is that PWNA offers certifications, which is important to me. I have found large organizations recognize the commercial certification, which I intend to pursue at the next convention. I found the educational sessions more comprehensive than the other organization events I have attended. I found the educational sessions very informative and the interaction with other people that have been in the industry for a long period of time valuable."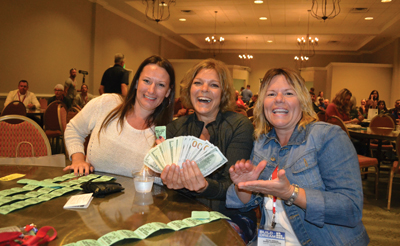 Bradly Varnell, owner of TC Mobile Pressure Wash LLC in Prophetstown, IL., specializes in kitchen exhaust systems and fire systems. His company also provides fleet washing and house washing services and owns an auto detailing company.  He notes, "I will be there next year. The people are like family and you get a different outlook on how you run your business no matter what. It has helped me significantly."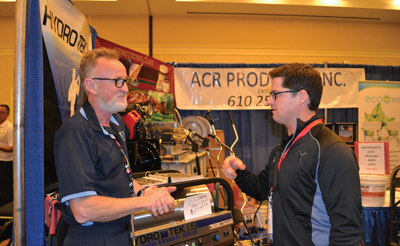 John Tornabene, president of Clean County Powerwashing in Long Island, NY, echoes the sentiment, stating, "The last PWNA convention I went to before this past one was exactly five years ago. The biggest change I noticed between the two is that this one had more classes to attend and also more certifications to be had than the one held in 2011. The biggest difference in my experiences from attending a PWNA Convention compared to other industry events is the level of experience most PWNA classroom teachers have. This year alone the PWNA had some teachers with close to 20 years' experience to almost 40 years' experience. With the PWNA organization turning 25-years old in 2017, this high level of teaching is considered the norm at one of their conventions because the organization strives for excellence and it shows in their classrooms. My wife and I plan on attending next year because we always learn from attending these events, and the networking and friends you make at a PWNA Convention are priceless!"
Tom Vogel, president of ACR Products in Easton, PA, remarks, "Even though it was the smallest tradeshow we attended, and we went to many of them this year,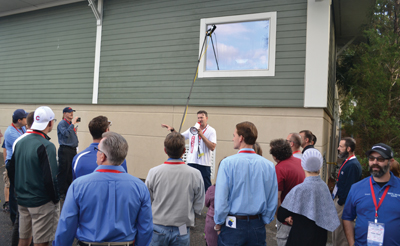 by far it was the best run, least drama-filled event we attended. It cost the contractors money to go to this event, but the ones who did go were of a different caliber than the free events. The setting was great, and we did not have any surprises at the end of the event. I am glad to see that the organization is doing so well."
There was a golf tournament attended by some of the men, who put down their lances in favor of golf clubs; and the first annual Wine & Wash was held for the ladies, sponsored by Allison Hester, owner of eCLEAN Magazine. Both events were very well received. Meg Josetti and Geaninna Pasternak worked behind the scenes on the Wine & Wash. Both are wives of board members and women in the industry themselves. Meg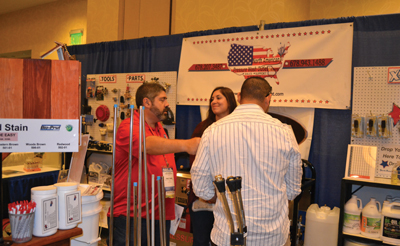 Josetti specifically say, 'Thank you, Geaninna Pasternak!' The day before the convention she rode with me into Charleston to run convention errands and put new meaning to the word co-pilot. I was in my husband's brand new F-350 King Ranch… navigating the tiny cobblestone streets of Charleston, not to mention the construction! If that was not enough, she jumped in and helped organize everything for the inaugural Wine & Wash. She proved herself to be a very valuable asset to the convention. Unfortunately for her, we now know this, and we are counting on her next year." This event offered the ladies of the industry a chance to meet and get to know one another. Allison Hester, the event sponsor, reflected on the event, saying, "The power washing industry has traditionally been seen as men's work, but the reality is that women play a huge role in this business. From the women who own and run their own cleaning businesses, to the women who help run the offices, to the wives who offer moral support and understanding as their husbands work long hours while cleaning, women play a huge role in this industry. So when I learned about the PWNA's plans to offer something special for the women attendees, I knew I wanted to be a part of it. I am so happy to have helped sponsor the inaugural Wine & Wash, which turned out to be a lovely and special time to celebrate and honor the accomplishments of this amazing group of ladies."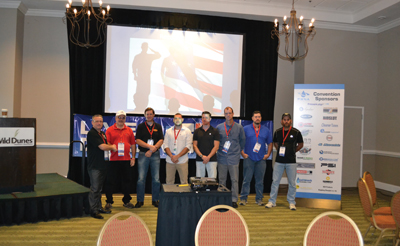 During the snack-and-chat round table lunches, everyone chose to sit at the tables that had the topics that most interested them. On Saturday, the lunch was followed by the vendor auction, outdoor demonstration, and, of course, the skid giveaway, which no one wanted to miss. The skid was generously donated by Pressure Pro, and the lucky winner was Jennifer Reynolds of HydroTech Solutions. The CANA Award (Clean Across North America) was presented to Jeff Otto, owner of Badgerland Pressure Cleaning in Waukesha, WI., and Excellence Awards went to both John Tornabene and Meg Josetti for their tireless work on social media on behalf of PWNA. The 50/50 raffle ticket sales were handled wonderfully by Jade Mirza. Enthusiastic excitement accompanied by an eruption of cheers and shouts of joy came from Trish Green, Heather Dietrich, and Joy Miller when the winning number
was chosen. There were high fives all around, and the ladies could be seen fanning themselves with the bills. We're not sure whose ticket it was that was called, but all three of them seemed to celebrate the win together. The convention concluded with the general membership meeting.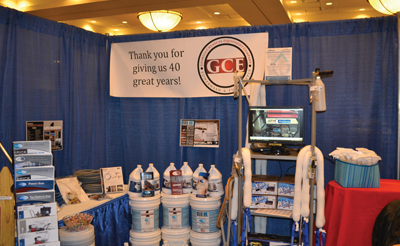 The PWNA's 2017 convention will be held in Nashville, TN. Paul Horsley, President of Scotts Pressure Wash located in Calgary, Alberta, Canada, has been involved with the PWNA for many years, and is a past president. He is always on hand and helping at these conventions.  Horsley says, "This last PWNA convention was one of the best I've attended in years. There was a great vibe and energy there. There were more than 200 people at the show. We sold out the vendors' booth space and will have to make it larger for next year. I met a bunch of new people as well as old friends. We had added a new commercial building cleaning certification class this year to add to our growing list of certifications classes. The classes were full, and the PWNA is planning new certifications classes for the future. Next year will be in Nashville, and that's been a fun city as well as a good location for us. I'll be there for sure. The PWNA has a wonderful board of new directors and new ideas! I can only see good things ahead for this association and members. I want everyone to know that this is the place to come and learn. Networking is a critical element here as well. This is where you will meet seasoned contractors and vendors to help you grow your business. I want to finish off by saying that I have had a great privilege of working alongside some of the greatest pressure wash contractors and vendors in our industry over the last twenty years and want to thank them for all their input into this organization. They know who they are!"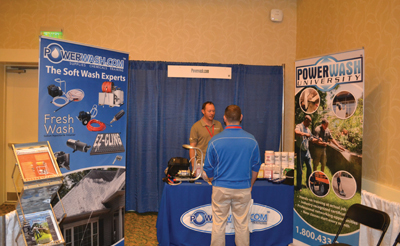 John Nearon, recent past president of PWNA, says, "The biggest changes I have seen in the annual PWNA Convention over the course of the last five years would be an increased focus by a board that has really tried to foster a positive vendor/exhibitor and member attendee experience. Education and networking opportunities are continuously improving, and the relationships that are forged in the type of environment created by the convention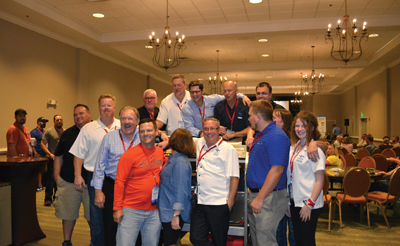 committee, the board, and our membership in general is always conducive to a positive experience.
"As for my biggest take away from the 2016 PWNA Convention in Charleston, I would say that the ever-increasing presence of the spouses of our members at our events absolutely adds a depth and richness to the quality of our convention experience. It speaks volumes about the true fraternal nature of the PWNA in general.
"In terms of my plans for next year's PWNA Convention I absolutely plan on attending. The relationships I have made over the years are priceless in terms of both the friendships and what I learn through shared experiences."
Nearon states, "Regarding the PWNA Convention and how this event differs from other events, I would tell you that I really believe we have a unique event that is truly focused on education and the sharing of information in a format that is truly one of a kind because of the quality and caliber of our members and their commitment to
one another."
The PWNA's new incoming president is Andrew Reinsel, owner of A2Z Pressure Washing LLC/Fiber Clean of Pittsburgh, PA. Reinsel stepped into the presidency and seemed to be everywhere at once during the convention, every single day.  Reinsel says, "The PWNA is the only organization that I have been a part of and never felt the need to go elsewhere because it has everything that I need. My first convention I did not know anyone, and I met a great group of people and was welcomed with open arms by members and the BOD. The PWNA is my extended family, and I enjoy the networking with true professionals. It was truly humbling to be asked to join the BOD. As a part of the BOD you see the hard work that they contribute to this organization as volunteers as they continually work to improve our education and trade shows. The current BOD is an amazing group of individuals who work well together, and without them the PWNA would not be where it is today! As you know, we work really hard to put on the best show possible and continue to improve on education for our members. We have a very rock solid Board of Directors! This group of vendors, members and the BOD make the organization what it is today. Thank you all!"