Power Washer's Guidebook: paint and Coatings Removal
Contributor: Gary Gilman, President, SteamMaster Restoration and Cleaning, LLC, Minturn, CO / Published November 2014

Editor's Note: This entry contains information from a chapter in the 2002 Power Washer's Guidebook, "Paint and Coatings Removal," which was written by Lance Nord, President, Phoenix Environmental Services, Phoenix, AZ.
Geographical Considerations
Paint and coatings removal can be done most efficiently when freezing temperatures are not a concern. The main geographical consideration would be the time of year in the northern tier of the country.
Typical Job
Because anything that requires maintenance—from automobiles to lines on parking lots to sealers on stone and tile—may be a candidate for coating removal, the breadth and diversity of jobs is great. [Note: Irrespective of the type of job, coating removal requires the same strict adherence to environmental regulations that any effort producing wastewater does. In addition, coating removal that exposes asbestos or decades-old lead paint demands that the contractor be prepared to follow local, state, and federal regulations for collection and disposal of the dislodged substances, which are categorized as hazardous.]
One method for coating removal that works well is wet abrasive blasting. When crushed, recycled glass is used as the abrasive, the method is very, very effective. It also keeps the dust down.
Wet blasting generally relies on a 185 cfm or greater air compressor with a blasting pot (tank). The wet blast method provides greater control over the application because it is easier to hit the target and to hit it with maximum coverage. Overall, for paint and coating removal, wet abrasive blasting is a good choice.
Techniques that Work Best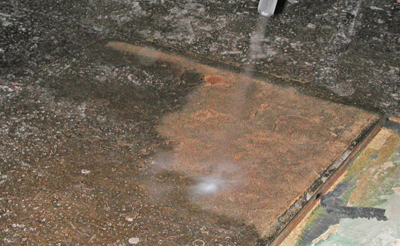 What is slated to happen after the paint or coating is removed will help determine the method used. For removal of loose and flaking paint as part of washing prior to repainting, use a pressure washer with a fan nozzle or a rotary nozzle. (This assumes the flakes will be collected and they do not contain a hazardous component.)
Even though the foregoing approach is straightforward, the contractor must know how the substrate will react to the pressure from the water. Grout, old brick, cinderblock, fiberglass, and wood may be damaged by higher pressures. Test in an inconspicuous area before starting to determine the type of nozzle and the maximum pressure suitable for the project.
Projects that require complete removal of paint or coatings are more complicated. Abrasives are deployed because they provide the energy required to remove the coating without damaging the substrate. Water at 5000 psi may remove a coating, but it would also damage most substrates.
Abrasives such as recycled glass and sodium bicarbonate are friendlier to the environment than sand or copper slag, but the collection of wastewater and dislodged material is still necessary. Different substrates and coatings require different approaches—test and plan.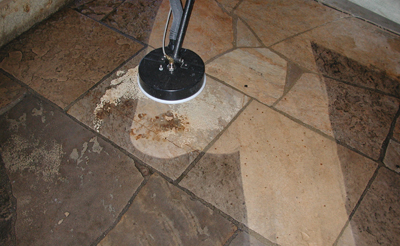 Even the "green" nature of sodium bicarbonate does not mean that it is without drawbacks. For one, it can damage landscaping (that should be covered in any case). And it can interact with masonry producing efflorescence. Sodium bicarbonate works well on iron and steel substrates because it inhibits flash corrosion. (In contrast, magnesium sulfate, another abrasive, promotes flash corrosion on iron and steel substrates.)
Even with the sophistication of abrasive technology, chemical strippers are needed for some jobs. [Note: Follow all instructions from the manufacturer when using a stripper. The MSDS [material safety data sheet] must be available on site, as it should be for any chemical in use. Personal protective equipment (PPE) required when using strippers may include respirators in addition to face and eye guards and protective clothing.]
Chemical strippers increase risk to workers and the environment. Use them with knowledge and care. (Some strippers used in the past have been banned in recent years.) Dwell time is a crucial component of getting a good result with a chemical stripper; and dwell time may be long. Follow the manufacturer's instructions
precisely—do not become impatient.
Do not apply the strippers too heavily. On vertical or overhead surfaces, the weight of the stripper can pull the top coats of paint away from the undercoats and stop the stripping process. Do not apply more stripper than can be removed by a crew in a single work shift. Typical removal rates with a pressure washer and rotary nozzle range from 250 to 500 square feet per hour.
Until you have enough experience, rely on the manufacturer for coverage rates for the chemical stripper. Most manufacturers can provide rough estimates.
Exceptions
Epoxy paints are often more difficult to remove (think bullet-proof). Allow extra time for the job if dealing with epoxy.
Equipment and Supplies
For washing: pressure washer with capabilities of 2500–3500 psi and 180F (heat for increased efficiency); rotary nozzles; wet vacuum. For stripping: chemical stripper applicator (high pressure, low pressure, or airless sprayer) or more sophisticated equipment for larger projects; chemical. For abrasive blasting: trailer, tow-behind 185 cfm or larger air compressor with blasting pot (tank).
For cleanup with all methods: vacuums and brushes. For any method: all appropriate safety equipment, PPE.
Some vacuums can be fitted with filtration units that filter asbestos. If working with asbestos, such a unit may be required even though the filtered wastewater must still go to a special disposal facility.
How to Bill
Whenever possible, perform test patches or spots (at least three to four tests) prior to bidding the project. These test patches will provide indication of the suitability of a method for the task and the amount of time the job will take. They will also help to determine the removal rate, which will allow for a good estimate.
Build in all costs. For example, a contractor will likely need to obtain a separate contractor's license to remove asbestos or lead. Bid bonds, performance bonds, and payment bonds may be required for state and federal projects.
Ancillaries
Resealing or repainting may be an ancillary. But many coating removal companies work in conjunction with painting contractors. If doing both removal and painting, consider offering repair (of minor substrate issues, e.g., replace a cracked tile) as an add-on.
Problem Areas to Avoid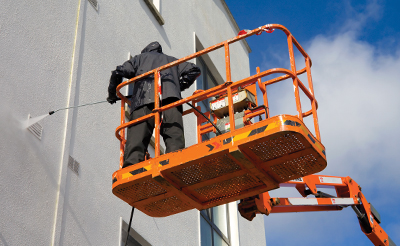 Containment of dust and debris is a potential concern on any job. Wet abrasive blasting helps reduce dust.
In the course of a project, especially a large one where some coating was applied over primer and some was not, lead-based paint or asbestos may be unexpectedly encountered, even though pretests did not indicate the presence. Acknowledge that the hazardous substance is there and take all precautions required by regulators. (In some jurisdictions, it will be necessary to notify authorities of the change in status at the job site.)
Wastewater collection is becoming the norm irrespective of region. Heed local regulations, which will include instructions for disposal and expectations for filtering or recycling.
Prices for disposal are based upon the degree of hazard, quantity, and Btu values of the waste (if it can be incinerated). Contact waste disposal facilities and waste disposal haulers for accurate, up-to-the-minute, disposal costs so that they can be part of a bid or estimate. Whenever possible, the cost for disposal should be broken out separately from the price for removal. The waste disposal price is then done on a cost-plus basis.
How to Fix Mistakes
Be prepared to return to remove coatings on spots that were missed. As always, reach an understanding with the client on expected outcome before work commences.
Gary Gilman is the President of SteamMaster Restoration and Cleaning, LLC, a company serving Vail, Aspen, Breckenridge, and other high-mountain communities in Colorado since 1978. SteamMaster won the 2014 BBB Torch Award for Business Ethics for Northern Colorado and Wyoming. The company specializes in remediating fire, water, and mold damage, and does soda blasting and pressure washing, textile cleaning, and more.