Power Washer's Guidebook: Kitchen Exhaust Cleaning
Contributor: Daryl Mirza, President, Averus, Chicago, IL / Published May 2014

Editor's Note: This entry is a revision of a chapter in the 2002 Power Washer's Guidebook, "Exhaust Cleaning," which was written by Ralph DeRose, Owner/Operator, Jenny Maintenance, The Bronx, NY, and revised by Daryl Mirza, Owner DGA Industries, Inc., Zion, IL, and Jake Jarvis, B&J Cleaning and Coating, Montgomery, AL.
Geographical Considerations
Every commercial kitchen needs exhaust cleaning to prevent fire. Consequently, potential clients—hotels, motels, hospitals, cafeterias, etc.—are everywhere.
Typical Job
Typically, our industry cleans the exhaust system in restaurants using a pressure washer, heat, chemical, and elbow grease. Our business has not changed much throughout the years—except for more comet ion and lower prices. (At our company, we self-perform 98 percent of our work. A couple of years ago, we changed the business model and began having trucks service all our accounts.)
[NOTE: Meeting the legislated standards for exhaust cleaning (i.e., fire code) and rules for wastewater disposal (e.g., NPDES permit), requires that a contractor understand the local, state, and federal regulations that apply to a specific job site.]
Techniques that Work Best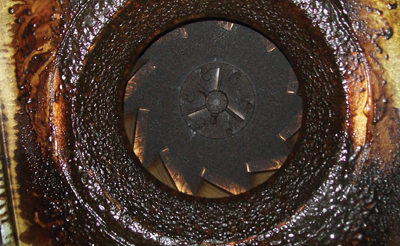 Stay focused on doing the highest quality work and doing it the same way every time. You are only as good as your last cleaning job. And, be careful about monitoring the weather and how it will affect the work.
Suppose the job is a restaurant kitchen and consider the general steps involved. To begin, cover cooking equipment with quarter-inch heat boards; and then, cover with plastic to provide extra protection. This provides a flat, sturdy surface for scraping and polishing. (When cleaning, avoid directly washing the plastic, which could be punctured.)
Remove grease filters, trays, and cups. Shut off power to hood, hood lights, and exhaust fan by utilizing lockout/tagout procedures. (Locking out involves placing a lock on the device being cleaned to prevent the equipment from being turned on accidentally.)
Cover and tape any electrical wires, outlets, or boxes near the area.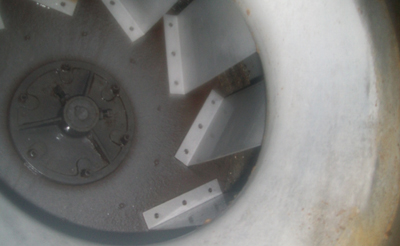 Enclose exhaust system in watertight, plastic film, draping the plastic to channel water into a wastewater capture/container system.
Disassemble exhaust fan housing on the roof. Be careful of electrical wiring. (Warning: Do not begin spraying roof drains unless the path of the drain—storm drain, drive-thru, etc.—is fully understood and appropriate to the cleaning method.)
Apply chemical to hood, duct, and exhaust fan. Degrease exhaust fan blades and exhaust fan housing to bare metal. Degrease ductwork from top to bottom using extension wands and duct cleaning nozzles. For inaccessible ductwork, access doors should be installed, cleaned, and resealed at regular intervals. (The ability to supply and install new doors should be part of the contractor's repertoire and billing.)
Degrease entire hood area, hood, plenum, and filter tracks to bare metal.
Degrease filters to bare metal. Dry and hand polish hood area with stainless steel polish.
Replace filters and exhaust fan housing. Clean every speck of grease off floor, counters, and equipment. Return kitchen back to normal.
Check the fan for proper operation. Supply certificate displaying "service completed by" and the date of service and next scheduled service.
Call the restaurant the next day to make sure everything is satisfactory. If there are problems, return as quickly as possible to fix them.
Exceptions
Multiple-story buildings with long runs of ductwork are the most challenging. They were not built to make cleaning easier, yet the contract cleaner must take responsibility for everything that could happen.
Take all steps before beginning a job to prevent problems. Understand complex hood design, for instance.
Equipment and Supplies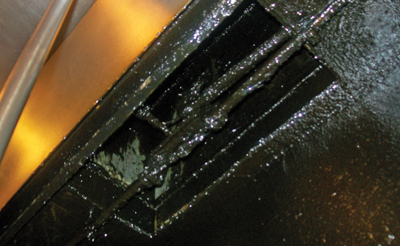 The basic equipment list includes: pressure washer—1500 to 3000 psi, capable of hot water temperatures 160 to 200 F (or higher); high pressure/steam hose (500-ft provides good reach); construction-grade water hose (200 ft); reels for hoses; water tank; nozzles—variety of spinner, rotating and strengths, and curved tip may be useful for ductwork; wands—variety (1 ft. and 3 ft. with two longer wands, such as 8 ft. and 12 ft., for long ducts) for cleaning ducts and fans; hand tools—variety, such as scrapers and extensions; wastewater capture system; wet/dry vacuum; step ladder; fiberglass extension ladder.
Basic supplies include: chemical cleaners and degreasers; polish and/or brightener for aluminum and stainless steel.
Washing grease from an exhaust system using a pressure washer can be very messy. Limit the amount of water that falls on the kitchen floor, using wet/dry vacuums, squeegees, and the proper preparation. Keep a lot of magnets and spring clamps handy. Duct tape is also a great way to attach plastic to a hood.
How to Bill
The best way to figure out how to bill is to determine how long it will take to get the job done and then multiply by an hourly rate (built on cost centers and experience). Bidding on an RFP [request for proposal] is more difficult and sometimes it can work out better than others—a contractor must take the good with the bad.
Ancillaries
Some companies offer exterior cleaning as an add-on service. (Our company generally does not.) Another application is drain cleaning. Many exhaust customers ask/want the contractor to also clean their sink drains and grease trap drains. Most ancillaries require another trip for service.
Problems to Avoid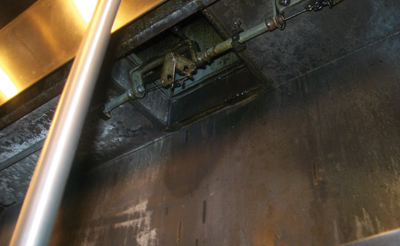 Liability tied to the cleaning and to the protection of the employee must be foremost in the contractor's mind. [All safety and personal protection equipment (PPE) procedures must be followed.]
Many jobs are lost, not because of poor cleaning, but because of a bad cleanup. The extra measure taken to ensure neatness goes a long way in avoiding problems.
Restaurants, in particular, are sometimes slow to pay. Build this into planning for projects and cash flow.
How to Fix Mistakes
Bidding the job too low is one of the biggest mistakes contractors make. Do not do it. Training and certifying employees, adhering to all environmental and safety regulations, and an exacting approach all add up and demand that bidding on jobs is done correctly.
Highlights of Daryl Mirza's more than 30 years in the industry include being the Founder/Owner of such brands as Facilitec USA, National Fire Services, Rooftop Solutions/Grease Guard, and ISM. A past-president of PWNA, he currently serves as treasurer of the organization.