Power Washer's Guidebook: Cleaning Zoos and Animal Enclosures
Contributor: Elizabeth Loesch, Owner/Estimator, AtlantaBlue Pressurewash Company, Marietta, GA / Published September 2014

Editor's Note: This entry contains some information from a chapter in the 2002 Power Washer's Guidebook, "Agricul-tural Applications," which was written by Cal Krefft, KEW Industry U.S., Inc., Clearwater, FL and John North, Alfred Kärcher, Inc., Elgin, IL and revised by Sam Humphrey, Mi-T-M Corporation, Peosta, IA and Mike Costa, Costa Barn Cleaning, Tulare, CA.]
Geographical Considerations
Zoos and animal enclosures (e.g., dog-boarding facilities, animal shelters) can be found in all parts of the United States. They require cleaning across all months.
Typical Job
It is best to approach the job with as small a footprint as possible. That means a pickup truck with a portable wash unit and a mounted water tank, if possible.
Zoos often require the work to be done at night. Therefore, be sure to check lighting at night; you might need to bring your own lighting. Also, identify water sources before you start. And plan your route and make sure you can pass clearances and make turns on pathways.
It's important to work with the night staff at a zoo so that they can maneuver animals and keep them calm (Some animals will become disturbed by the noise of equipment.) Make sure that detergents, wash water, and water pressure will not damage landscaping. Talk to the horticulturist and identify sensitive areas before beginning.
Techniques that Work Best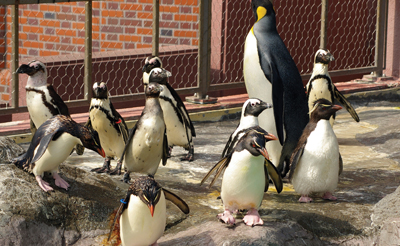 Work with the staff at a zoo. They know each animal and their tolerance level. If there is solidified or layered animal waste, use a zero degree (fixed or articulated) nozzle to penetrate the waste and create a hole. Then, undercut the waste through the hole. That results in less splatter. Because of splatter, cleaning the horizontal surface before any vertical ones (e.g., walls, "cliffs") saves time.
For areas with a great deal of animal waste, articulated (rotating or oscillating) nozzles are useful because they produce the impact of the zero degree nozzle with coverage of a 25 degree fan nozzle. (The increase in coverage saves time.)
The straw seen in some large animal enclosures is there to collect feces so that they do not harden  and urine so that it does not dwell on substrate and create a strong odor. Straw is regularly shoveled away by keepers. But there may be some straw on substrate that requires cleaning by a contractor; the substrate should be swept clean before washing.
If an enclosure requires sanitizing—e.g., small units in a petting zoo—wash first and then apply sanitizer. Sanitizer application method, such as warm to apply, hot to rinse, will be determined by the type of chemical used.
When given the responsibility of choosing or recommending detergents and sanitizers, choose the mildest ones that give the best results.
[NOTE: The compiler of this series once worked at a zoo and cleaned cages for small animals (e.g., rabbits) and enclosures for larger ones (e.g., goats and pigs) in the petting zoo. Routine cleaning was done with brooms, brushes, buckets of water, and detergents. Much routine cleaning of enclosures at zoos, even for larger animals, is done in this way. And some large animals, such as elephants, typically get rinsed with garden hoses. Built-in drainage systems that separate wastewater used for rinses from the public sewer system are also common.]
Exceptions
As a professional, you know how to wash all kinds of substrates. In a zoo setting, you want to take the utmost care to protect the landscaping. Many plants are rare and zoological parks make a big investment in the maintenance of their landscaping.
Where the hardscape being cleaned is punctuated by plantings, plan carefully. Plants might have to be covered.
Equipment and Supplies
The type of substrate (e.g., concrete, asphalt, wood) as well as the configuration of enclosures (e.g., steel mesh, iron bars) will determine what is needed. (See related articles in this series.) The specific zoo or animal shelter is the best source of information regarding which chemicals can be used.
A machine with adequate volume (3.6 gpm capability) and pressure (2000 psi capability) will serve in most settings.
PPE [personal protective equipment] needed includes non-slip footwear and eye protection or a face shield.
Accessories that might be useful include rotary brushes, rotary surface cleaners, and high-impact specialty nozzles.
A zoo or animal enclosure may have drains for the collection of wastewater that a contractor can use. If not, a collection system and a method for disposal (e.g., hauling off site, permit for releasing water collected into public sewer system) will be musts in most jurisdictions.
Zoos are expanding vertically with elevated walkways and tiered exhibits. Some work for contract cleaners may be high. Cherry pickers and ladders and certification for working high may be needed.
How to Bill
Many zoos have wash units built into enclosures and zoo staff operate them. But the zoos do use contractors who are qualified to supplement their staff. Animal shelters sometimes rely on volunteer efforts. Kennels and boarding facilities and other sorts of animal shelters may take bids from qualified contractors. Be open to bidding on such projects, but understand the amount of work involved before giving an estimate. (Volunteering to clean at an animal shelter, as some in our industry do, can provide insight into the level of difficulty cleaning animal enclosures and help refine bidding.)
Ancillaries
Zoos and shelters typically have parking lots adjacent, as well as administration buildings. Both are good add-ons. At zoos, the pedestrian trails that connect habitats and exhibit areas, benches, railings, and signage are also good add-ons.
Larger zoological parks often incorporate pools of water with concrete bottoms—either for the animals or as decorative flourishes for visitors. Occasionally, the ponds must be drained and the substrate cleaned, offering another possibility for cleaning contractors.
Problems to Avoid
Be sure to know where all electrical components are, even if at some distance from the work site. Take all necessary precautions to separate them from water.
My suggestion is to not wash during the day at zoos. There's too much foot traffic. Curious onlookers complicate the task and are at risk of injury if they get too close.
Watch out for wash water. Make sure that it is left neutral. Any wet surface left to dry must be neutral so that returning animals are not at risk.
How to Fix Mistakes
Avoid mistakes by having the correct equipment. Understand the nature of the job before beginning so that that accessories required for scrubbing action are available and there is no need to stretch equipment.
Elizabeth Loesch is the owner/estimator of Atlanta/Blue Pressurewash Company, servicing the metro Atlanta area since 2003. Her company is available for residential, commercial, residential community, and HOA projects.