Power Washer's Guidebook: Cleaning Shopping Centers
Contributed by Steven Button, President, CleanFast USA, Celebration, FL / Published March 2014

Editor's Note: This is a new entry in the revision of the 2002 Power Washer's Guidebook.
Geographical Considerations
Generally, any area that has a high incidence of retail properties offers possibilities. Abundant retail and shopping-center type properties are found in more densely populated urban areas with higher than average income demographics. The top three regions for shopping centers in terms of Gross Leasable Space are the Southeast, the Pacific, and the Northeast.
Typical Job
Depending on shopping center type, the approach to each cleaning project may be slightly different. The International Council of Shopping Centers (ICSC) identifies types and characteristics of shopping centers (The classification is available online via www.icsc.org/uploads/research/general/US_CENTER_CLASSIFICATION.pdf.) The main categories are general purpose centers (strip/convenience, neighborhood center, community center, regional mall, and super-regional mall) and specialized purpose centers (power center, lifestyle center, factory outlet, and theme/festival center).
A typical shopping center pressure washing contract scope of work will have a set frequency on sidewalk cleaning (e.g., monthly, quarterly, and biannually), possibly with an annual building wash and a pre determined frequency on dumpster-pad cleaning and roadside sign cleaning. Contracts vary according to property attributes, management philosophy, and common-area maintenance budget.
The approach to cleaning sidewalk and common-area surfaces is fairly consistent, but there will be unique factors to consider when planning a project at different types of centers. For example, a lifestyle center may contain big box and specialty retail stores along with a grocery store—all with operating hours roughly from 9 a.m.–10 p.m. However, consideration would have to be given to the full tenant mix, which often includes in-line restaurants and bars, fine dining, and nightclubs that could be open until the early hours of the morning. Such a tenant mix can be a scheduling headache in that it will necessitate stopping and starting for contractors in order to avoid the crowds. Perhaps more important, a contractor must avoid the risks associated with hoses, chemicals, and water running through or near operating businesses.
When bidding a shopping center project, it is wise to consider property characteristics, such as water supplies, substrates (surface to be cleaned), drainage issues, noise ordinances, lighting, tenant types, and operating hours. [Reminder: As always, know and adhere to all regulations for wastewater recovery.]
Some specific examples of issues to consider are the following:
1. Food establishments are likely to have grease tracking and food spillage at the front and rear entrances, often requiring degreasers and/or hot water to remove.
2. Sports bars and restaurants may have outdoor patio areas—are they to be included in the scope of work? If they are, who is responsible for moving furniture?
3. Pet stores are likely to have had animals urinating at the store- front—do you have chemicals to clean and neutralize odor?
4. Grocery stores often leave carts and merchandise displays at the storefront overnight—coordination between contractor, property manager, and tenant is crucial to avoid damage to merchandise and clarification of cleaning standards. 
5. Presence of grease cans on dumpster pads—what are the expectations for cleaning these areas? Property characteristics usually dictate the actual cleaning approach as it relates to equipment, chemicals, duration of project, and personnel. The most crucial element to being able to perform the pressure washing service is water supply; centers constructed from the late 1990s on have often been designed with maintenance in mind and will have numerous faucets spaced evenly throughout the storefront areas. This makes the contractor's job easier because it will not be necessary to locate alternative, more time-consuming, and often expensive, means of sourcing a water supply.
In determining the personnel required for a shopping center pressure washing project, there will be a number of factors to consider: how quickly the project needs to be completed; avoiding disruption to the tenants' business operations; the contractor's own work schedule and work route; scope of work to be completed; and condition of property (clean/dirty).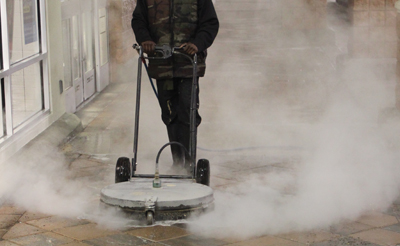 With a typical scope of work focused on sidewalks only and on a quarterly schedule, it is often most efficient to run a two- or three-man crew with three hot water pressure washers. This allows for multiple areas to be cleaned simultaneously and a faster work rate. However, with a more frequent cleaning schedule, it is often possible to run a one-man system and achieve the same efficiency due to a lower incidence of dirt and gum buildup.
A typical equipment setup for shopping center pressure washing would be mounted on a flatbed truck or utility trailer. This setup would contain a hot water pressure washer, surface cleaner, trigger gun and wand, variable pressure wand, equipment to allow chemical application, pressure hose mounted on a hose reel, and supply hose mounted on a hose reel. Depending on the nature of shopping centers to be cleaned, the equipment setup may contain multiples of each type of equipment.
Techniques that Work Best 
A key to success in shopping center cleaning is to recognize there are multiple stakeholders with a vested interest in the property being presented in the best possible light. They include owners/investors, potential buyers, asset managers, property managers, leasing agents, maintenance managers, tenants, prospective tenants, customers, and local residents. Keep in mind that the service being provided helps all these different groups: It is the best starting point in being able to deliver a top-notch pressure washing service. And it is an important concept to impart when training employees for shopping center, pressure washing projects.
Exceptions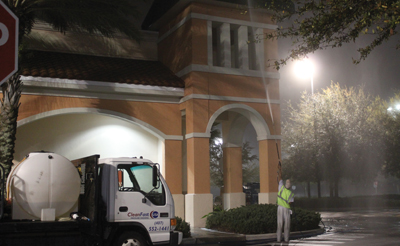 • Pavestone Areas—many new shopping centers are designed to be aesthetically pleasing. Pavestone areas may be restricted to small, inset areas on a concrete sidewalk or make up the whole sidewalk/common-area space. When cleaning pavers, it may be necessary to take a different approach so that sand is not dislodged from the joints that provide stability. (In an ideal world, the pavers would be sealed to allow the contractor to clean normally. Yet it is often the case that the pavers have never been sealed or the sealer has failed due to lack of maintenance.) Consideration should be given to the most effective way to clean pavestone areas within the scope of work and options for easier maintenance should be discussed with the property manager.
• Awnings—when washing building surfaces, it is important to recognize the different surfaces you are washing, their characteristics, and their ability to stand up to whatever detergent and cleaning method is being used. Awnings can be particularly sensitive to chemicals, detergents, pressure, and heat—depending on the material type. It is prudent to identify who the awning manufacturer is and then, to request recommended cleaning methods. Always ascertain whether the awning is vinyl or fabric, perform test spots, and adjust cleaning methods accordingly.
• Water Intrusion—when surface cleaning or washing down store-fronts, the contractor should be aware of the possibility of water finding its way into the tenant space. Faulty window seals, gaps between or under doors, and drop-box type openings are all areas susceptible to water being forced in. Precautions need to be taken to prevent water leaking into stores and leaving dirty residue or causing damage.
Equipment and Supplies
The basic equipment list includes: flatbed truck or utility trailer; hot water pressure washer rated at a minimum of 5 gpm, 3500 psi; water tank; pressure hose and reel; water-supply hose and reel; downstream injector; degreasing chemical; ball valve; trigger gun and lance; variable pressure wand; surface cleaner; 4 way water key.
How to Bill
As with any service project, it is essential to have a grasp of your own costs in relation to labor, insurance, fuel consumption, production rate (the area one technician can clean in one hour with one machine), and any other cost centers that affect your profitability.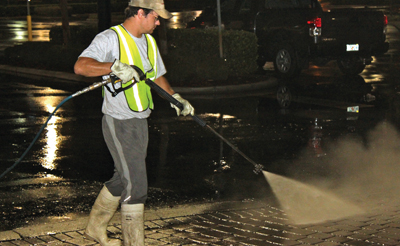 The most common method for estimating, and most accurate, is to calculate the square footage of actual area to be cleaned. This can then be multiplied by your own per square foot rate to calculate the project estimate amount. It is important to consider all property characteristics (detailed above) when creating an estimate as these will affect the profitability of the project.
Another method to calculate pricing for estimates is from the shopping center Gross Leasable Area (GLA), as this loosely ties in with the industry method of collecting Common Area Maintenance (CAM) fees from tenants. The CAM fees often pay for exterior maintenance services such as snow removal, porter services, landscaping, building maintenance, building management fees, etc. This is a more advanced method of calculating pricing and it should be noted that there needs to be a firm understanding of tenant types, lease types, and demographics when adopting this method. The contractor using this method will often ask questions of the property manager to ascertain the information they need to accurately create an estimate.
Ancillaries
Typically, when bidding on shopping center pressure washing projects, the scope of work provided by the property manager will detail all the services they want to be included in pricing. However, when creating their annual budget for the property, they will often take into account other pricing and service suggestions provided by bidding contractors. They may be able to allocate funds or prioritize future expenditures based on the pricing and service suggestions made.
Some ancillary services that work well with pressure washing service are: irrigation rust removal; roof cleaning; window cleaning; graffiti removal; downspout and gutter clean-out; loading dock cleaning; interior floor cleaning; porter services; parking lot cleaning.
Problem Areas to Avoid
Understand the ebb and flow of pedestrian and vehicular traffic so that as much of the work as possible can be done during closed or quiet hours for the shopping center.
How to Fix Mistakes
Have a thorough understanding of the property to be cleaned and those with a vested interest in the property before beginning. Look for areas that might present difficulties and discuss them with owner(s) prior to starting the job.
Steven Button is the Owner and President of CleanFast USA, a commercial pressure washing company located in central Florida. His company specializes in retail and shopping center pressure washing services, with multi-property contracts for REITs, institutional investors, developers, and property management companies throughout Florida and south Georgia.